30% Off Bookmark Coupon Code 2022
WebBuildersGuide.com earns commission from some of the web builders and hosting providers listed on this website.
Learn more
Feel free to use our Bookmark coupon code to get 30% discount for any first purchase on Bookmark.com. It can be any package for any time – from a month till a year – in any case you will save 30% of your money by using this Bookmark promo code.
For reference, what is Bookmark? This is one of the best modern website builder that works on the basis of artificial intelligence. This means that you can entrust the development of your website to this smart website builder and it will do almost all the work for you. But also, as in many other popular website builders, you can create your own website in Bookmark by yourself. This is possible thanks to a simple and intuitive drag and drop editor. And of course, this is truly simple – for this you won't need any additional technical skills. Considering that Bookmark is already one of the cheapest website builders, with an additional 30% off discount with our copuon code, you will get the most favorable final price.
How to use Bookmark Coupon Code?
1. Click on Coupon code:
2. Follow the link opened in a new tab
3. Register on Bookmark or log in if you already have an account.
4. Once buying a subscription to any package – in the field "Coupon code" – enter the following: coupon30off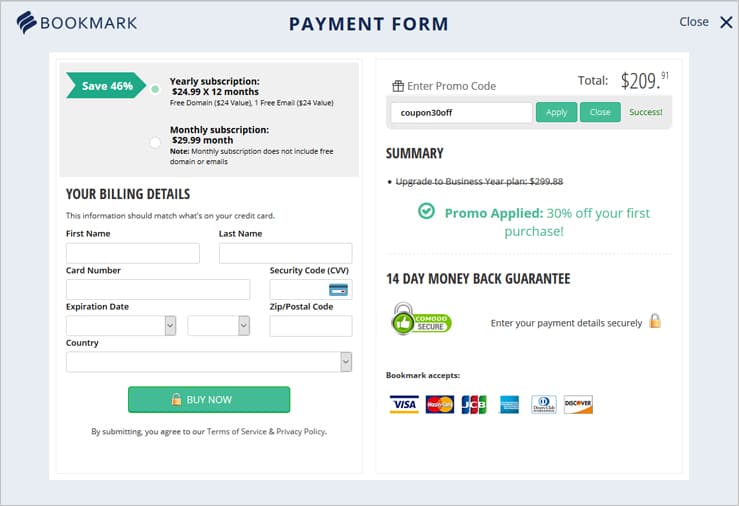 As a result you will get 30% discount to any package.
You might be interested in getting a 25% discount for Wix. Check out for this – 25% Off Wix Promo Code. Wix is one of the best online website builders out there, with extensive functionality and great web templates.
If you didn't get a discount by some reason – write us about this in comments below. We will found out a reason and help you.