Bookmark Website Builder Review
WebBuildersGuide.com earns commission from some of the web builders and hosting providers listed on this website.
Learn more
Bookmark – AI Powered Website Building
In the modern Internet age where every conceivable product and service can be bought online with the click of a button, the one thing that really sets an online business apart from the rest is the kind of website it has.
Business sites that have a clean, aesthetically pleasing design and high levels of functionality always score well with customers and attract new visitors. And when it comes to building websites that have all the features you need along with a user-friendly interface, Bookmark is one of the best AI website builders out there.
Read on for a detailed review of what Bookmark is, how it works, what its key advantages are and why it is your number-one option for building a customized business website.
Bookmark – An Overview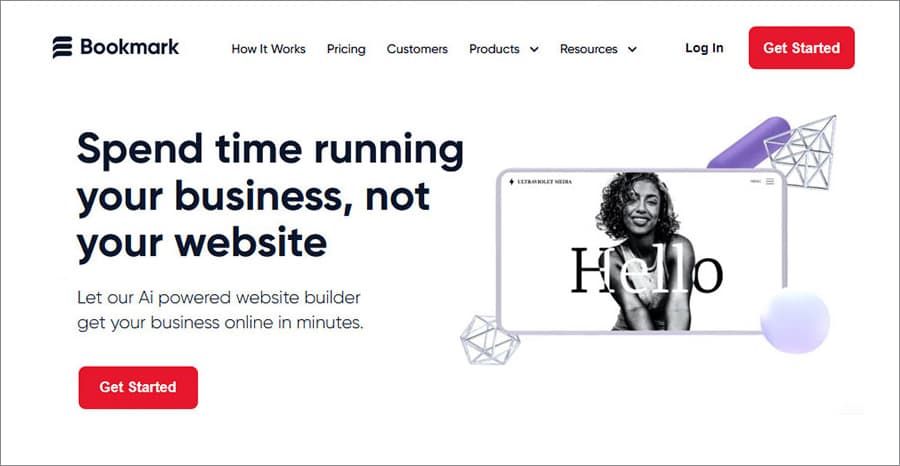 Bookmark website builder
Bookmark is a robust, user-friendly and visually appealing free website builder that is equipped with all the features you need to set up a business website that is customized exactly to your liking.
With its proprietary AiDA (artificial intelligence design assistant), it helps you create a website according to your needs and have it up and running in a matter of minutes. Bookmark currently powers over 40,000 stores around the world and is well known for its high-quality websites that enhance any brand.
Bookmark comes with thousands of customization options that allow you to adapt the look and feel to your exact preferences. While the free plan is ideal for artists or consultants to show off their portfolio of work, the paid plans allow you to sell different products from physical goods to digital products.
Bookmark allows you to sell as many products as you wish to your customers around the world, with customizable shipping options and adaptable taxation policies. With securely encrypted online payments and multilingual support, Bookmark truly is the all-in-one website building solution that allows even novice sellers to have their own polished and attractive online store and customize it the way they like, as often as they like.
What Sets Bookmark Apart From Its Competitor Website Builders?
When it comes to competing website builders, Bookmark undoubtedly holds its own as one of the best. With excellent customization options, reasonably priced packages and high user-friendliness, this website builder makes the setup process a cinch even for new users.
Websites can now be created in minutes with AiDA, which generates custom websites for you according to the preferences you feed in.
Setting up a new website with AiDA only takes around two minutes, so you can start selling without any unnecessary delay.
The intuitive drag-and-drop interface allows you to customize your site exactly to your liking without calling for any coding knowledge.
There are thousands of options available in terms of font size, color, backgrounds and interactive elements.
Bookmark offers a huge library of free stock images and videos that you can use.
All plans include free hosting.
The paid plans are affordably priced (starting at $11.99/month), which is excellent for new businesses who are operating on a budget.
The SEO and analytics functionalities included in the paid plans are ideal for business owners who are not very confident in managing analytics or SEO on their own. The Bookmark AI takes the user through the process step by step.
The e-learning course library allows users to pick up new skills and enhance their confidence when it comes to online selling.
Bookmark does not deduct any transaction fees from the sales you make – which is a considerable advantage for new businesses starting out and looking to earn the maximum amount from sales.
Some Downsides
While Bookmark's positives are strong enough to set it apart from most of its competitors, there are certain areas of improvement that should be noted and that may create some drawbacks for your business website.
The blog functionality is not as smooth as in competitor websites, which is a minus point for businesses that are focused on content sharing.
It is not always easy to move modules around on a web page.
For single-page websites, it can be difficult to create personal blocks of information.
Visual editors have rather small signature fonts.
The website currently does not support the creation of survey forms.
Customer support sometimes delays in responding to user queries.
It is to be noted, however, that the positives significantly overwhelm the negatives for Bookmark. The service is still being developed by the team and it can be expected to iron out the glitches soon – meanwhile, using the interface is extremely easy regardless of the minor downsides.
Reliability and Performance
When it comes to overall reliability and performance, Bookmark certainly scores high. The powerful AiDA tool creates relevant and responsive websites based on stated parameters within only two minutes. Moreover, it does not merely place a pre-set template – it adds menus, images and content that it deems relevant to the business in question. The drag-and-drop facility allows for easy maneuvering of site elements.
Performance-wise, the Bookmark ecommerce option allows multiple payment options, with all credit card transactions secured. It also allows you to connect your store and inventory with online marketplaces like Amazon and eBay, and sell to a global audience from there.
With seamless modules, you can host an event, start a countdown, offer a discount and announce a launch with ease. Moreover, Bookmark does not charge any transaction fees on the sales you make.
Top Features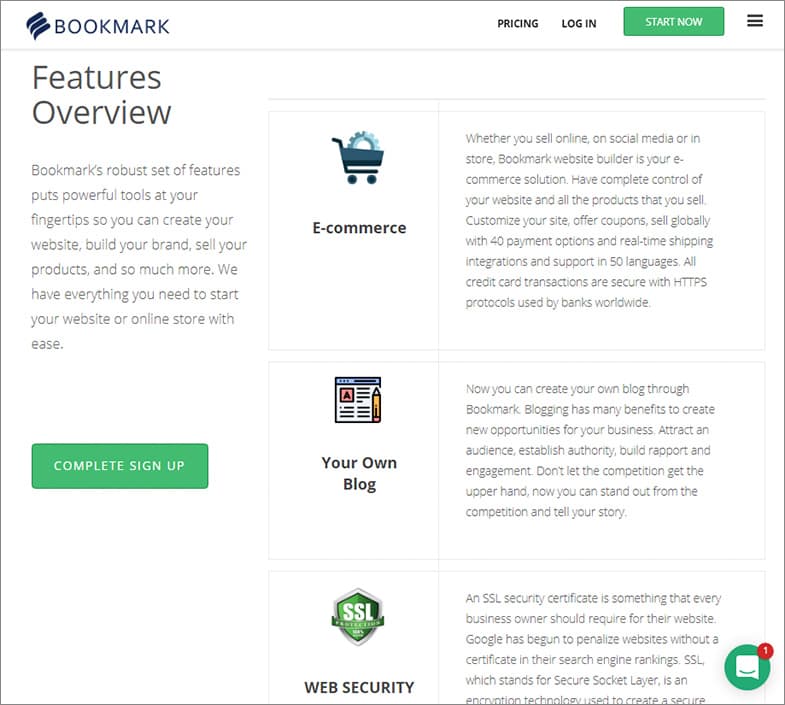 TOP features
Bookmark is undoubtedly a feature-rich platform that will delight both amateurs and seasoned professionals with its impressive functionality. The key features that set Bookmark apart from similar services can be discussed as below.
AI website creator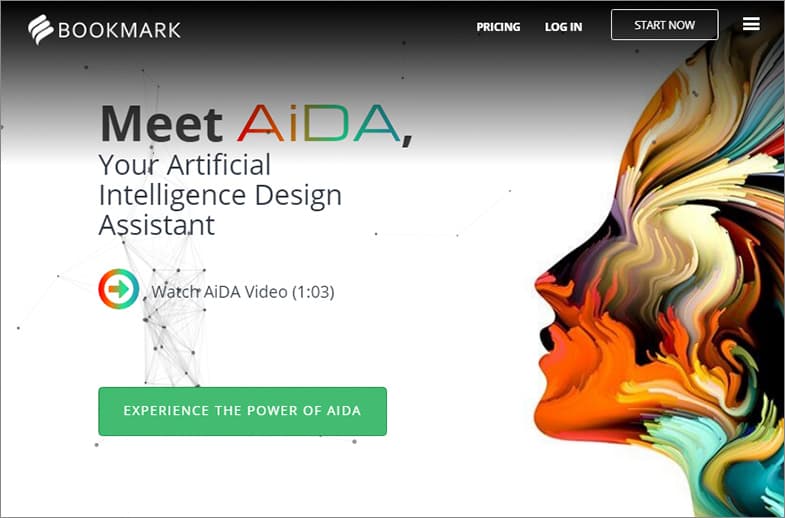 AiDA – Artifical Intelligence Design Asiistant from Bookmark
The foremost feature that Bookmark offers as AI website builder is its design assistant, AiDA. With over 650 business templates to choose from, all you need to do is to tell AiDA what you require – a portfolio, a merchant store or a consulting service – and you will have an attractive, customized website ready in just two minutes, including menus and sample content.
Moreover, if you are not satisfied with the results, you can ask AiDA to show new results again and again until you get what you are looking for. Every single website produced by AiDA is mobile-friendly, so your beautiful new website can be easily accessed by customers on the go.
User – Friendliness
Another top-notch feature of Bookmark is its excellent user-friendliness. After registering via Facebook or Google Plus, you get access to a sleek and simple dashboard that comes equipped with FAQs on website building.
It also features statistics and analytics on how your site is performing, and allows you to create multiple sites and switch effortlessly between them. Every step of the process is designed to cater to the novice without coding knowledge – and allowing him or her to create the perfect website.
Multi – Platform Selling
Bookmark allows you to sell your products not only on your own site but also on large marketplaces. You can set up a Facebook Shop to sell to the thriving Facebook community, and also allow buyers to shop on Instagram. You also get to sell via Google Shopping, eBay and Amazon, while the Square POS functionality allows you to accept payments in-person from your customers.
Learning Support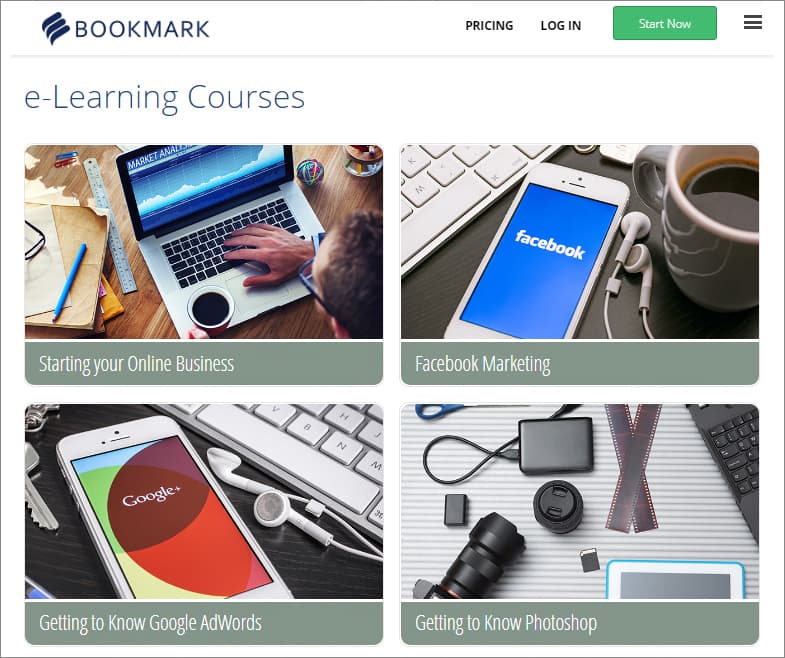 e-Learning Classes
Bookmark firmly believes in enabling all its users to build beautiful business sites on their own, even if they have no coding experience. For that purpose, Bookmark provides a set of useful and comprehensive e-learning courses on its dashboard.
These courses walk the user through all the aspects of using Bookmark, from creating a homepage to offering a discount on your online store. There are also multiple niche courses developed by industry experts on the various aspects of running a business.
Browsing through these courses will undoubtedly turn up something of value for every user – best of all, every single course is offered free of cost.
Ask An Expert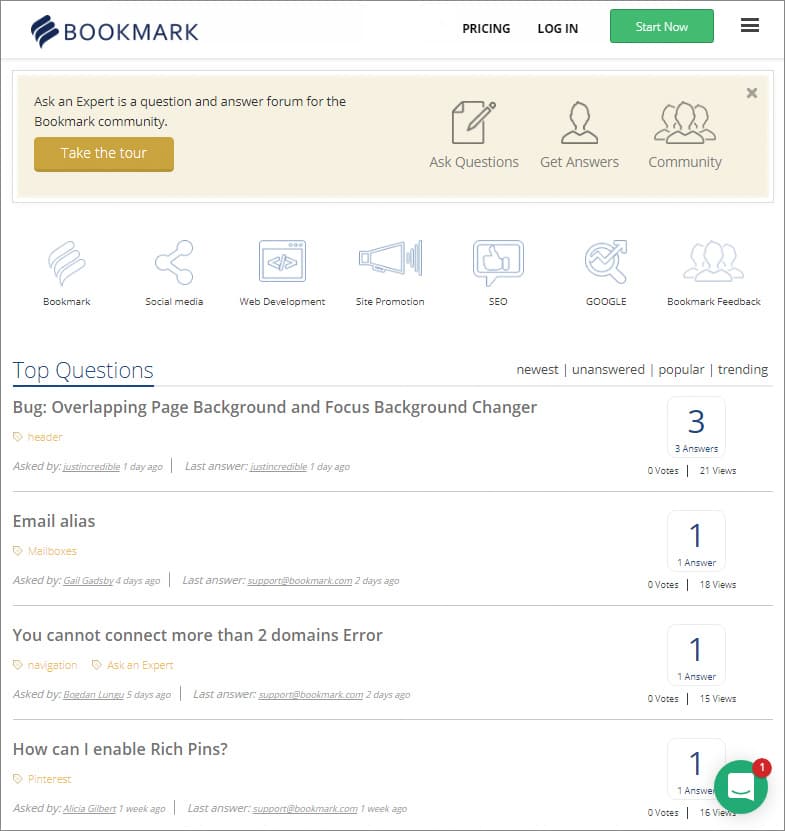 Bookmark community
Bookmark allows you to connect with a community of Bookmark users like yourself and find answers to any questions you may have. Bookmark's team of experts will be happy to answer any question you post on the public forum – and should you wish to have your query resolved in private, you can also drop a line individually to one of the experts.
Powerful Ecommerce Store
Bookmark's ecommerce platform is equipped with multiple top-notch functions that allow you to sell seamlessly. You can add an unlimited number of products and customize them to your liking, and also add shipping and discount options as you need.
Bookmark supports over 40 payment options and over 50 languages, thereby allowing you to connect with a truly international market base. Moreover, all credit card transactions are secured with HTTPS protocols, which are used by banks across the globe.
Plans and Pricing Options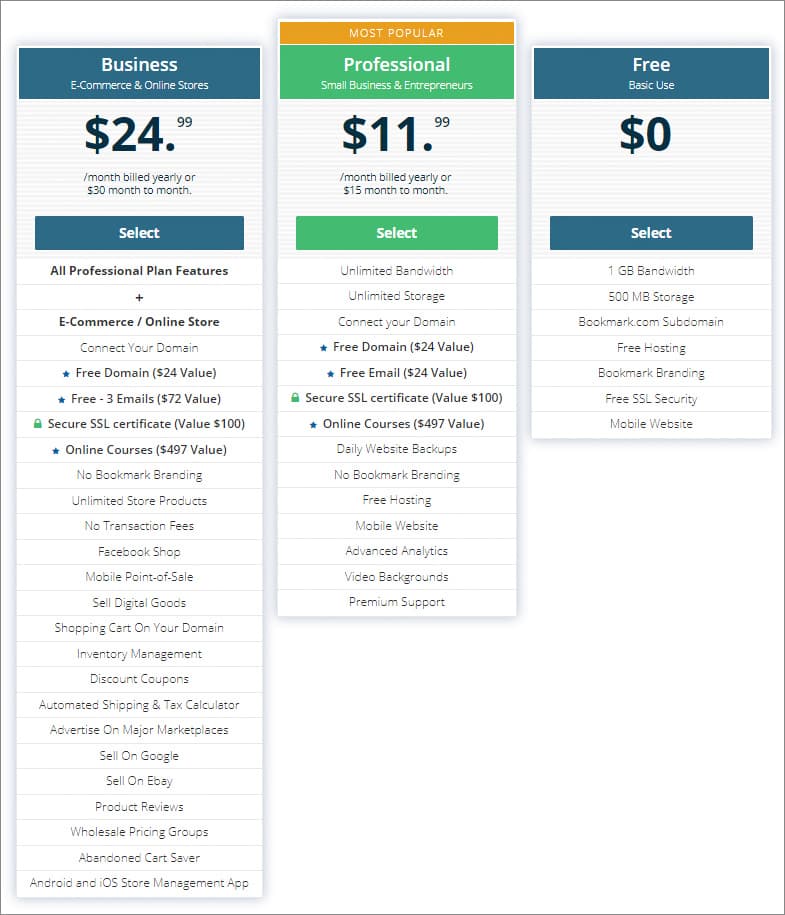 Check actual prices on Bookmark.com
Bookmark offers its users three plans to choose from. The scope for customization is the same in all plans, and users can build a highly detailed website according to their preferences even for free. Depending upon your business needs, however, you can choose from among the three options. The paid plans also offer free trials, so you can opt for those to begin with and make an informed decision on which will plan work best for you.
The Free Plan allows you to build a mobile-friendly website as per your preferences. It comes with 500MB of storage space and free hosting and subdomain. However, it is not possible to sell anything online through this plan. The Bookmark branding, moreover, will be visible on each page. This plan is thus ideal if you are an artist, blogger or consultant who does not immediately want to invest money on a site but wishes to showcase their creations on an attractive and user-friendly website.
The Professional Plan can be purchased for a monthly-fees, and you can get a discount on the per-month fees if you opt for the annual plan. This option allows you unlimited storage and web pages, along with the option to connect your own domain or use the free one provided.
It also allows you advanced analytics and SEO options, and removes the Bookmark branding from the pages. The chief highlight of this plan is that it includes a community forum and selected e-learning courses to help you boost your skills in website building and other aspects of running an online business. This plan, therefore, is ideal if you are looking for a nimble and responsive site that ranks high on search engines.
The Business Plan is the most expensive one. This allows you a significant amount of functionality as an online business, including nifty features like SSL security, three business email addresses and store management apps for Android and iOS. Through your online store, you can sell up to 1000 products, provide discount coupons, accept PayPal payments, customize your shipping and taxation options and also sell on marketplaces like eBay. This plan is hence an excellent option for any online business, regardless of whether you sell physical or digital goods.
Customer Support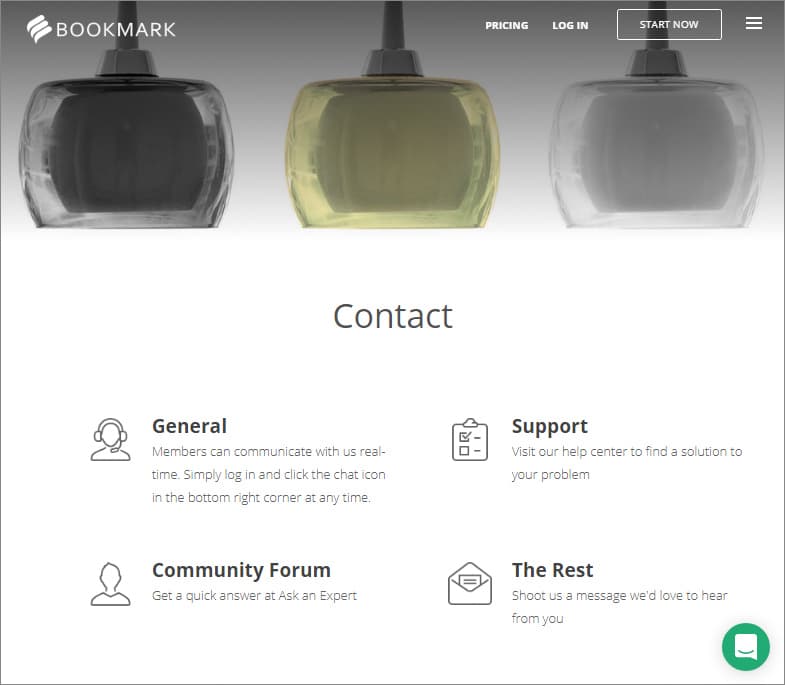 Bookmark customer support
Bookmark provides 24×7 customer support for all its users through either the live chat box or by filling out a query form. You can also connect with Bookmark developers through a feedback form under the 'Help' section on your dashboard if you need specific inputs on how the site works. For additional questions, the community forum is always on hand to help.
Bookmark Coupon Code
WebBuildersGuide has a special offer for our readers – Bookmark premium plan with a 30% discount. For this use Bookmark Coupon Code.
Is Bookmark Worth Your Money?
Bookmark is a website builder that goes beyond merely a do-it-yourself creator – it makes use of powerful AI and comprehensive features to create robust websites that attract traffic and enhance any business' brand.
The paid plans are highly affordable for a business starting out, and the free plan alone allows the user to build a fully customized website that makes an excellent portfolio. Bookmark, essentially, allows you to build a responsive, aesthetically pleasing website no matter what your business is, and provides you with top-notch ecommerce solutions and comprehensive customer support so that you can start selling without any delay.
Those seeking to establish a solid online presence, in short, should certainly opt for Bookmark's excellent website building service.