Best Website Builders of 2019
This article is a comprehensive review of the best website builders in 2019, including both free and paid ones. Many new website creators appear every year, which is the reason why we summed up all the actual data at this moment. We have compiled the most excellent website builder platforms as of 2019. Each site creator has its description, benefits, and drawbacks.
While searching for the best platform, which ideally fits your needs, it is important to understand that the platform you are going to use should have the broadest set of functional opportunities. Simultaneously, it should be simple and convenient to use. In our review, we have analyzed and created a list of the most helpful website creating platforms, comprising both free and paid ones that are available to use in 2019. The noted creators are intuitively simple and easy to use, so, you do not need to have specialized knowledge in programming or web design to create a website. Irrespective of whether you need a free Internet site, a blog or a multifunctional online store, these website builders will be the best to use. Therefore, we made special additions to each website builder emphasizing whether it fits a particular type of site better than the others.
The list of the best website builders with their benefits and drawbacks
Wix opens the list of our best website builder. Wix is often called the best because its opportunities are greatly higher than those of the competitors. It takes place for the reason that Wix works since 2006, comprising a tremendous amount of work dedicated to improving its service that still continues today. The Wix Company created a truly powerful instrument for building websites. They also managed not to lose simplicity and usability for users, which is quite important from our perspective. Wix takes advantage of using HTML5; it has one of the most comprehensive web editors, an easy to use interface, and the largest choice of website templates compared to the rest of web creators. All the Wix templates are sorted by categories while the selection of these categories is also impressive. Thus, you can find a suitable template for almost everyone regardless of whether you are a musician, a fitness trainer or a commercial company. It is important to emphasize that the templates are created by professional web designers, and they all look accordingly despite the fact that Wix is a free website creator and all its templates are also free. Besides, you can choose the template you like the most and register later, which is quite convenient too. The efforts of the Wix Company did not remain unnoticed. Today, more than 75 million websites all over the world are built using this free website platform.
Wix Advantages:
Wix Disadvantages:

It`s free;
A huge choice of templates – more than 1000 ones created on HTML5;
The quality of templates – one of the best among website builders;
Availability of fully responsive templates;
Extensive opportunities for template editing;
Functional and intuitively clear interface;
Availability of a convenient Drag-and-Drop Editor;
A vast majority of ready-made solutions: forum, blog, chat, mobile version of the website, etc.;
High indexation of sites by search engines;
Availability of the "SEO-master" allowing you to set SEO-options of the website separately;
Affordable pricing for paid packages;
Availability of working discount coupons;
A large choice of applications in App Market;
Ability to upload your templates;
Possibility to separately customize both regular and mobile website versions (a unique feature);
Option to move the site to another hosting (for paid package);
Availability of numerous training materials and video lessons;

There is no way to edit HTML/CSS
The development of online stores is available for paid tariffs only;
Summary: Wix is ideal for novice webmasters and for those who wish to receive a free, functional and beautiful website. – Read Wix Review.
Webnode is a multi-purpose, free website creator originally from the Czech Republic, which exists since 2008. During this time, Webnode developed more than 18 million websites. We cannot say that Webnode has some unique features or its web templates are professional enough. On the contrary, this site creator is not difficult to learn, and it allows you to create multilingual websites. It is an undoubtedly the major advantage of Webnode with which you can create websites in more than 20 different languages. In 2016, Webnode updated its services and became more comfortable to use than ever before. We hope that the work on the development of this website creator will continue in the future.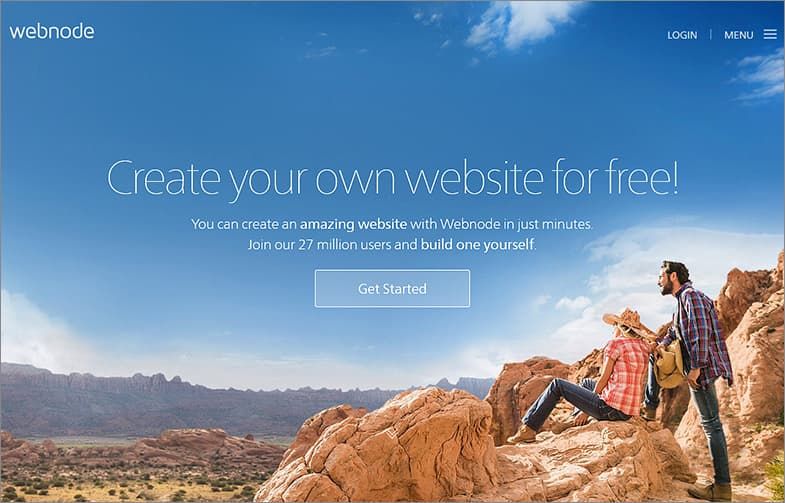 Webnode Advantages:
Webnode Disadvantages:

It`s free;
Wide choice of templates – more than 200;
Availability of fully responsive templates;
Availability of a Drag-and-Drop Editor;
Availability of the Automatic Mobile Versions for free tariffs;
Affordable pricing for paid packages;
Multilingualism – supporting more than 20 languages (a unique feature);
Ability to make changes in CSS;

Average quality of templates, many of them have an outdated design;
Functionality is on the average level;
There are no additional applications;
Summary: Webnode is beneficial for creating small websites at the lowest rate called Mini. It could also be considered a great solution for small multi-lingual projects. – Read WebNode Review.
Shopify is undoubtedly one of the best ecommerce website builder. Initially, positioning itself as a tool for online sales, Shopify allows you to create online stores of any difficulty. Consequently, it is not surprising that more than 200,000 online stores worldwide have been developed using this platform. It is an impressive figure considering that this website creator is only paid and not cheap. The customers using Shopify are not merely interested in saving money, but in having more opportunities for online business. Shopify has a free trial period of 14 days, but afterward, you will be offered to select and pay for one of the tariffs. A significant advantage of Shopify is its powerful WYSIWYG Editor and super rich functionality. It is explained by the availability of large collections of Shopify free and paid applications in App Market along with paid premium templates. Yes, do not get surprised – Shopify has both free and paid templates offered separately. The second ones are of a higher quality. All these paid additional applications and templates allow you to exceed the possibilities of an ordinary Internet shop to a highly advanced online store.
Shopify Advantages:
Shopify Disadvantages:

Wide functional opportunities for online stores;
An excellent selection of free and paid website templates;
A high-quality of templates;
Availability of supplementary applications in App Market;
Availability of a Drag-and-Drop Editor;
Ability to track sales statistics, order details, actions of website visitors, and more;
Unlimited hosting for any payment tarrif;
High indexation of sites by search engines;
Ability to upload and download the products using CSV files;
Ability to manage an online store through your cell phone;
Support of the Shopify experts in setting up a website;
Availability of numerous training materials and video lessons;

High charges;
All the paid applications and templates are paid apart from a chosen tariff plan;
The sales commission ranges from 0.5 to 2%, depending on the selected payment plan;
Summary: If you need a robust online store with the maximum functionality, it is unlikely that you will find anything better than Shopify. – Read Shopify Review.
Weebly is one of the oldest and most famous website creators, which has been developed since 2007. This free creator is made for the design of websites in many different areas, such as business card websites, blogs, and online stores. Weebly is a highly convenient and easy to use tool with great templates that have a high potential for editing and modernization. Apart from using colorful templates, Weebly has a powerful Drag-and-Drop Editor, which significantly simplifies the process of website creation. Being one of the most popular website builders in the world, Weebly has a solid choice of applications in App Market that provides you with endless capabilities for developing your websites. There are some more amiable options offered by Weebly, which is an ability to upload your templates and an opportunity to make changes in the HTML code of your website. Ultimately, it is not a formal option; you can edit the entire HTML/CSS code of your site. The free range of capabilities offered by Weebly is also great unlike other website creators, which have a free tariff merely as a requirement.
Weebly Advantages:
Weebly Disadvantages:

It`s free;
A high-quality of templates;
Availability of fully responsive templates;
Extensive opportunities for template editing;
Functional and intuitively clear interface;
Availability of a convenient Drag-and-Drop Editor;
High indexation of sites by search engines;
A large choice of applications in App Market;
Ability to upload your templates;
Ability to edit HTML/CSS;
Option to move the site to another hosting (for paid package);
Google Ads bonus of $100 for any paid tarrif;
Availability of numerous training materials and video lessons;

A choice of templates is not sufficient enough – around 100 items;
The development of online stores is available for paid tariffs only;
High charges for the development of online stores;
The sales commission is 3% for online stores;
Summary: Weebly is an excellent choice for novice webmasters, which offers extensive opportunities for creating free websites. – Read Weebly Review.
uKit is an easy and accessible web development platform that caters to small and medium scale enterprises that want to expand their business globally. Armed with an intuitive interface and a dashboard full of user-friendly tools, the website builder is perfect for first-timers and professionals alike. The simple and flexible framework takes care of 70% of the designing, you just have to give in the required input and the builder makes a web page for you. Anyone can work on the drag and drop editor to design a functional website without any coding skills. You get a wide range of templates, layouts, and themes to choose from. The template works well for landing pages, portfolios and web stores. From adding new content to inserting images, videos and integrating third-party plugins – everything can be done in a few simple clicks. It even allows you to make real-time changes to the content even after you have published it on the server. The preview option enables you to view the content on different screens before posting it online. Some other functionalities featured on the dashboard are, audio player, gift cards, blocks for headers/footers, contacts, building portfolios etc. The SEO tools, CMS support, and e-commerce solutions further work to boost your online visibility and performance.
uKit Advantages:
uKit Disadvantages:

Wide functional opportunities for creating small sites;
Great choice of free and premium web templates;
Absolutely adaptive templates;
Easy-to-use interface;
Drag and Drop editor;
Opportunity to change site templates after its creating;
Google Analytics integration;
Reasonable premium plans;

Similar designs of web templates;
Basic plan has limitations in templates customization;
No opportunity to edit HTML/CSS;
No opportunity to upload your own templates;
Summary: Ukit is a paid, affordable builder for developing websites for small and medium businesses.
Jimdo is an excellent free website creator developed in Germany. The company was founded by three friends in 2007, and since then it successfully presents SaaS services for creating websites. There are more than 15 million of existing sites built by Jimdo. This site builder allows creating a broad range of websites, from personal pages to online stores. Despite the universality of Jimdo, this site creator best suits for creating Internet stores. There are many attractive offers in the target market for creating business card websites while there is a significant functionality for developing online stores with Jimdo. It is vital to acknowledge that a free Jimdo tariff involves the development of a simple website without online sales option and insignificant functionality. If you need advanced options or you are going to create an online store – you will have to pay. In other words, the free features of Jimdo are not the best compared to other free website builders. However, it does not apply to the paid "Business" tariff for developing online stores.
Jimdo Advantages:
Jimdo Disadvantages:

It`s free;
A high-quality of templates;
Powerful and easy to use visual editor;
Functional and intuitively clear interface;
Availability of a Drag-and-Drop Editor;
High indexation of sites by search engines;
Affordable pricing for paid packages;
Additional applications offered in App Market;
Ability to upload your templates;
Ability to upload and download the products using CSV files;
Many useful options for online stores;

A small selection of templates – only 16 items;
The possibilities of a free fare are quite insignificant;
The development of online stores is available for paid tariffs only;
Complete access to SEO settings is available only in the largest "Business" package;
Summary: Jimdo is an excellent solution for creating online stores at affordable prices. – Read Jimdo Review.
BigCommerce is one of the most powerful SaaS platforms used for online sales. It is an old company that started its operations in 2003 and is currently widespread in more than 70 countries. The general number of customers in BigCommerce is somewhat less than the one at Shopify, but it is also impressive – there are more than 27000 active online stores. Some of them have a turnover of more than $100 million per year! BigCommerce has an extended functionality, including a significant number of options to customize your online stores. However, the main advantage of such website builder is its impressive ability to integrate with niche online stores in Facebook, Google Shopping, and Pinterest along with Amazon, eBay, Shopzilla, Beso, PriceGrabber, Shopping.com, MySimon and many others. You can manage (upload and download) your products to all these platforms automatically with the help of BigCommerce. You can add a product, or a group of goods to your BigCommerce store and these products are exported to the desired websites. It is noteworthy that such integration is available for any of its tariffs. Undoubtedly, BigCommerce has quite more advantages than we covered above.
BigCommerce Advantages:
BigCommerce Disadvantages:

Wide functional opportunities for online stores;
Wide choice of templates;
Availability of fully responsive templates;
Ability to track sales statistics, order details, actions of website visitors, and more;
Availability of a Drag-and-Drop Editor;
No limit on the number of products in online stores;
Unlimited file storage;
No bandwidth restrictions;
No commissions on sales for online stores;
Ability to integrate eBay, Amazon,, Facebook, Google Shopping, etc.;
Ability to manage an online store through your cell phone;
Availability of a personal consultant for each client;
Availability of numerous training materials and video lessons;

High charges;
The website builder is not the easiest to master;
The web editor interface may seem to be complicated for novice webmasters;
It is impossible to pay on a monthly basis, only a year or more;
Each rate has a limit for the largest amount of money paid except the top "Enterprise" package;
Summary: BigCommerce is a perfect solution for those who need a robust online store with an option to integrate Facebook, Google Shopping, Pinterest, Amazon, Ebay, and other platforms. – Read BigCommerce Review.
Volusion is a favorite website creator designed to create online stores for small and medium-sized businesses. Unlike other website creators for online sales, Volusion is cheaper with similar functionality. In particular, it has the basic tariff plan allowing you to create a small shop with up to a hundred products to sell for $15 per month. Besides, many modern website builders allow you to build online stores starting at $25 per month or more. Obviously, Volusion does not have a broad range of solutions for multi-channel commerce. It also does not have integration with the trading platforms, such as BigCommerce. The choice of additional applications in App Market is insignificant compared to the one at Shopify. At the same time, Volusion has its substantial advantages. Firstly, Volusion is quite convenient and easy to use. Secondly, it has an extended functionality and allows customizing your online store based on your preferences. Thirdly, Volusion has a large number of templates, comprising over 100 of free and more than 350 of paid premium templates. Finally, it also has built-in integration with Ebay, Amazon, and Facebook.
Volusion Advantages:
Volusion Disadvantages:

Wide functional opportunities for online stores;
An excellent selection of free and paid website templates;
Availability of fully responsive templates;
Extensive opportunities for template editing;
Functional and intuitively clear interface;
Availability of a Drag-and-Drop Editor;
Ability to track sales statistics, order details, actions of website visitors, and more;
Ability to integrate eBay, Amazon, and Facebook;
High indexation of sites by search engines;
Affordable pricing for paid packages;
Ability to manage an online store through your cell phone;
Availability of a personal consultant for each client;
Availability of numerous training materials and video lessons;

Functionality is on the average level;
The base tarrif (Mini) has a significantly limited functionality;
There are extra charges for exceeding the bandwidth limits;
Summary: Volusion is an affordable solution for creating small online stores and integration with Facebook, Ebay, and Amazon. – Read Volusion Review.
Squarespace is a paid website creator with wonderful templates. It is hard to insist that this site builder is the best on our list, but it deserves your attention at least because it has incredibly beautiful and high-quality templates. The themes of Squarespace look great, and they are considered to be some of the best ones among many other website builders even though there are not many of them. In other words, Squarespace has put everything in order with its visual elements and it does not have a common interface of a visual editor, which requires you to get accustomed. However, it is easy to customize the templates and edit your website. Overall, the customization opportunities are broad. It includes the ability to make minor changes to CSS, which could be useful for experienced webmasters.
Squarespace Advantages:
Squarespace Disadvantages:

The quality of templates – one of the best among website builders;
Availability of fully responsive templates;
Extensive opportunities for template editing;
Availability of a Drag-and-Drop Editor;
High indexation of sites by search engines;
No limit on the number of products in online stores;
Ability to make changes in CSS;

A small selection of templates – only 32 items;
The web editor interface may seem to be complicated for novice webmasters;
For further customization of the website, you need to know HTML and CSS;
Does not support PayPal as a payment option for online stores;
Summary: Squarespace is an excellent paid solution to create blogs and small websites with photo and video galleries.
Webs is perhaps the oldest Do-It-Yourself site builder, which started its work in 2001 as Freewebs. Currently, more than 57 million websites are built using this platform, and such number continues to grow. Webs is primarily known as an honest and free website builder. It means that you can create a free website on Webs and it will exist for years remaining completely free. Webs has a simple and intuitively easy to understand interface with a large selection (over 450 pieces) of adaptive templates and additional applications for customizing your websites. Webs is different from other website creators since it allows you to utilize a membership system on your websites. It means that you can make a piece of content on your site available only to a group of users who have special access. It should be noted that such unique functionality is available only at Webs. The other website creators do not offer such functionality.
Webs Advantages:
Webs Disadvantages:

It`s free;
Wide choice of templates – more than 450;
Functional and intuitively clear interface;
Availability of a Drag-and-Drop Editor;
Ability to develop Membership System websites (a unique feature);
Ability to change a template easily at any time without starting from scratch (a unique feature);
Additional applications offered in App Market;
Availability of the "SEO Booster" allowing you to set SEO-options of the website separately;
Affordable pricing for paid packages;

Not all the templates are available for free – some of them are only available in paid tariffs;
Average quality of templates, many of them have an outdated design;
Minor possibilities to edit the templates;
The possibilities of a free tarrif are quite insignificant;
The development of online stores is available for paid tariffs only;
There is no way to edit HTML/CSS;
Summary: Webs is a great website builder used to create websites with a membership system and closed access. – Read Webs Review.
Moonfruit was launched in 2000 and is known as one of the first online website builders. Moonfruit is a free, universal site creator with templates made in HTML5 as well as an inbuilt Drag-and-Drop Editor with over 100 high-quality templates. The main advantage of Moonfruit is that it is free and easy to use. Certainly, the functionality of this website creator is not as broad as those of Wix or Weebly, but this site builder is excellent for developing small personal websites or blogs.
Moonfruit Advantages:
Moonfruit Disadvantages:

It`s free;
Wide choice of templates – more than 110;
Extensive opportunities for template editing;
Availability of a Drag-and-Drop Editor;
Affordable pricing for paid packages;

The web editor interface is somewhat outdated;
Has a demand to free websites
they should be updated at least every six months or more often;
Average quality of templates, many of them have an outdated design;
There is no way to edit HTML/CSS;
The development of online stores is available for paid tariffs only;
Mobile Editor has quite a limited capacity.
Summary: Moonfruit is a simple and convenient website builder used for creating simple websites. – Read Moonfruit Review.
Why we did not mention Technical Support for these website builders
In reality, it does not mean that you should not pay attention to technical support while selecting a site creator. On the contrary, such criterion is highly important. Believe me, when you need an urgent answer, and you have to wait a few days without receiving any qualified support, you will be angry but helpless to change anything. Many sites devoted to the reviews of website builders show the level of technical support service. But it is not true since we repeatedly faced a situation when superior technical support becomes terrible later. The same happens vice versa, which made us omit the level of technical support available for the listed website creators. We highly recommend you to contact technical support and check its quality of service while testing the site creator. Simultaneously, pay attention to the usefulness of the answer and the speed of reply. The acceptable time response is up to 24 hours. The best website builders usually respond faster, which is up to 10 hours.
The review on the "Best Website Builders of 2019" would be incomplete without explaining the questions that may arise for novice webmasters while selecting and using the site creators.
What is a website builder?
Site creator or WYSIWYG website builder is online software allowing you to create websites on your own. It allows you to develop websites online without having any skills in PHP, HTML, JavaScript, etc. The WYSIWYG abbreviation means "What You See Is What You Get." The principle of website creation refers to a visual movement of site elements considering all the needs of webmasters. A direct analogy is dragging icons on the desktop with the help of your mouse. Such functionality is achieved with a contemporary Drag-and-Drop Editor that simplifies the process of creating your websites. Hence, even elementary school students can handle it without exaggeration!
What is the target audience of website creators?
Originally, SaaS (Site as a Service) builders were created for average Internet users. Most clients of website builders are novice webmasters with a limited or no budget. These users are not ready to wait and do not have sufficient knowledge to use standard CMS and hosting, which makes them search for the ready-made website solutions. Modern website creators correspond to all their requirements.
Another group of users is enterprises or entrepreneurs launching online businesses. These customers are not ready to invest a significant amount of money in developing corporate websites. SaaS solutions with their monthly payments are perfect for them. It is important to emphasize that the functionality of many specific site creators fully meet contemporary online business trends. As a rule, these website builders are not free but it does not make the target customers feel uncomfortable, and they are ready to pay for the features.
The benefits of website builders
Fast
It takes from 10 to 60 minutes (for business card websites) to register at the site builder and submit content. For example, developing a custom website using agency services could last several weeks, and it is difficult to predict the outcomes. For instance, if you use ready-made templates or a WordPress theme, you will spend at least a few hours to purchase web hosting and domain name, install the template and customize it. In this case, you will need specific skills and knowledge. Hence, a website builder is the fastest way to create your website.
Simple
Most modern website builders are made in such a way that people can handle them without specialized knowledge. Moreover, you do not need to know basic things, such as the ways to upload a website to your hosting, link a domain name to a website (configure DNS servers); set up your payment systems, contact forms and more. Everything mentioned above is made using a website creator by just a few clicks – you choose whatever you need, and it immediately appears on your website and begins to work. Neither website development agencies, nor website templates suggest anything similar. The model of creating a website using WYSIWYG site builders means the most simplicity for users. It applies considering the fact that the user is not an IT specialist. It is the main and most significant difference between site builders and any other ways of creating websites.
Convenient
The ease of using website builders comes from their simplicity. You set up your site based on your individual preferences. You can use a ready-made website layout, or you can edit any possible layout as you need. Try to do the same with a website created by a freelancer or an agency. You will have to contact them, consider specification to customize the site, pay for additional services and finally wait to receive a completed website. While working with site creators, you do not need to ask anyone for help or pay extra money. Everything is straightforward and convenient since it appears in your interface.
Cheap
Developing a custom website in a proficient web studio is not cheap. The services of freelancers are more affordable, but the quality of the sites is proportional to the price. In addition, you will have to buy a domain name and web hosting in both cases. Comparing the expenses, paid website builders are similar to shared hosting. The best website builders have higher monthly prices than standard hosting, but you do not have to buy templates or WordPress themes. Moreover, you do not need to pay for creating a custom website in a web studio. Besides, many website creators are commonly free with no time limit. Certainly, you can find free website templates, but their quality is mostly low, which finally creates more problems compared to using free website builders.
Risk-free
Website builders allow you not only to save money on site development but also to reduce all the possible risks. For example, you wish to start an online business, and you need an online store. Creating a professional online store at a reputable web development agency would be expensive. You spend the budget, but it may happen that your business fails and the money you invested are wasted. If considering such purposes you decide to use e-commerce website builders, you will receive a powerful and functional online store with technical support and without the need to pay full price but a monthly fee. Besides, the amount of payment will be considerably less. For instance, Shopify is one of the best-specialized website builders for online stores, which allows you to get an online store for $29 per month. It is a basic plan fee, and you can always upgrade your account to a different fare when your business demands more features from your website. Such are the calculations on your savings. Indeed, Shopify capabilities for online sales are broad, which makes many Western projects use this platform. Therefore, if it appears that your business does not justify your expectations, you will know that you did not invest much in the development of a custom-made website. You will only pay for the time when your online store was working. You can get even more benefits considering standard sites. Use a free fare, and if you like it, you can purchase a plan with greater functionality. If you do not wish to pay, you can continue using free functionality for as much as you need. For example, Wix offers such convenient services.
Summary: the risk to waste money is minimal similar to the necessary investment in the development of your website.
Possible drawbacks of website builders
It would be unfair to our readers not to mention the possible drawbacks of using website builders while listing their benefits. The possible drawbacks mean that not every website creator will necessarily have them. Some website builders will not have a number of possible drawbacks, but they could have their individual disadvantages.
Slow speed of loading pages
Commonly, such drawback relates to the famous website builders with millions of customers. However, it should be noted that such disadvantage usually applies only to free rates. As a rule, when the clients upgrade their accounts such drawback disappears. In many cases, slow loading speed could be explained by the fact that the client and servers are located on different continents. Thus, some website builders use the data centers in the United Kingdom or Germany, and if the customer is physically located in New Zealand or the United States, the user may experience slow loading speed of the website. At the same time, other users from Europe who visit the same site will not see such disadvantage.
The need for a monthly payment
In fact, many site owners interpret this drawback as a significant benefit since they do not wish to invest in website development and find it convenient to pay a small monthly fee. Besides, many website creators allow you to pay for a year or two at once with a large discount. Free website builders do not require payment, and you could have a beautiful and professional website for years without paying anything. It should be acknowledged that if you have a site without using website builders, you still need to pay a monthly fee for web hosting and an annual fee for a domain name.
No SEO optimization
Such myth remains from the old times when website creators actively used flash technology. As we know, it made web pages indexation difficult for search engines. In 2019, there are almost no site builders that use flash. Instead, they use HTML5, which does not have any problems with indexing. Most contemporary website creators are "SEO friendly"; search engines not only perfectly index the websites but also have an option to setup page titles, Meta tags, Meta descriptions, robot.txt file, a site map, and more, which is valuable for SEO.
Poor technical support
Such disadvantage similar to a slow speed of loading pages mainly refers to the free website builders. Apparently, some website creators cannot fully assist everyone who needs technical support while having millions of free users. Thus, technical assistance for free tariffs is offered mainly through either ticket system or e-mail correspondence and without telephone support. As a rule, the response from technical support will take time for the same reason – a huge number of free customers. Simultaneously, it is possible to understand free website builders since it is physically impossible to provide advanced technical support for all the users. Therefore, they prioritize paid customers who sustain such website creators.
Limits on website customization
The better the website builder, the wider its functionality and the more options are offered for editing web templates. Modern website creators allow changing the moke-up structure considering the user preferences. They also allow making changes to the color scheme of the design as well as changing the dimensions and content blocks. For this reason, such drawback applies merely to the old-fashioned website builders. All the best and latest website creators do not have such disadvantage, but you should remember that in many cases you may not be able to change a website template you have chosen previously. Consequently, you should be responsible while selecting the website template in the very beginning.
What should you consider while selecting the website builder?
1. Which platform is used by a website creator?
It is better to use HTML5.
2. How large is the selection of website templates (layouts)?
The answer is the more, the better. Some website builders, such as Wix have a collection of hundreds of great templates that are allowed for preview before registering on the website. In other words, you select any template you like for your future website and only afterward register at the website creator and customize the template.
3. How proficient are the website templates?
Along with the quantity, the quality of web templates is vital to consider while selecting a site builder. As the foundation of your website, the quality of available templates is one of the main factors to consider.
4. Availability of the Drag-and-Drop Editor
The Drag-and-Drop Editor allows you to move and adjust the blocks and the structure of your website with just a mouse. It is highly convenient since it simplifies the process of designing a website. As a rule, all the best website builders have an inbuilt Drag-and-Drop Editor.
5. A straightforward and intuitive interface
One of the main concerns of web builders is the need to in-build the broadest possible features and ease of use in one package. Some of the website builders can manage it better than others.
6. How well are website builders accustomed for SEO?
Before you select a site creator, you should find out how well the search engines index the sites built using this platform. As a rule, the vast majority of the best website builders is perfectly indexed by search engines and has a high potential for SEO.
7. Qualifications and responsiveness of technical support
Such factor often remains without attention when people select a website builder, which makes them regret their decision soon. Therefore, you should pay attention to the testimonials of other clients before starting to use a site builder. It also makes sense to remember that some of these testimonials could be placed for advertising purposes.
8. Considerable number of web pages
Some free website builders (free tariffs) limit the number of pages that could be used on your site, but almost all of them allow creating the websites with an unlimited number of pages.
9. The amount of disk space
The more space you have, the better. It means that you can upload more photos, videos and other content to your website. Almost all website builders allow you to purchase more disk space at any time, but you should observe the amount of disk space available in advance. There are also site creators offering unlimited disk space.
10. Age and success of the website builder
Select only trusted website builders that already exist for a few years minimum. It is imperative to understand that your site will be online as long as the website builder is working. It does not mean that all the new site creators do not worth your attention, but merely the recently created ones go bankrupt and stop working more often than others.
These are the main 10 factors you need to consider while choosing a website builder. We did not include the obvious factors that apply to the vast majority of website creators, such as the integration with social networks and the possibility to integrate electronic payments systems. Also, some website builders have unique capabilities, such as access to the software code, the ability to move your site to another hosting and upload your site template. It also includes the system of web analytics and free contextual advertising in Google Ad Words offered as a bonus.
How the industry of website builders emerged?
The first site builder appeared about 17 years ago (in around 2000). They represented downloadable software and instructions for its usage. Today, in 2019, such offline software model is used less frequently since most contemporary website builders allow you to develop websites online without the need to download any distribution program. An active development of cloud technologies significantly contributed to such changes.
The hosting companies added significant value to the elaboration of the website builders' industry. They started offering their website creators as an additional free solution to the customers who purchased their hosting. However, the giants, such as Wix and Weebly built the industry. These companies experimentally changed and improved the technical capabilities of online website development. Wix and Weebly created many distinct elements that are now used by most website builders for the first time. Refer to the examples below:
– Wix is one of the first website builders that replaced flash with HTML5 in its templates. It was the end of era for flash website creators. In a while, all the major players of the target market refused using the flash technology.
– Weebly once decided to go towards its customers and made it possible to transfer sites created on their platform to another hosting, which was revolutionary at that time. Currently, many other website builders provide such service.
– Today, Wix allows you to edit desktop and mobile versions of your websites separately, which opens broader opportunities for site owners with the growing popularity of mobile Internet.
– Weebly, in its new Weebly 4 update allowed its customers to use video background for their websites. Such innovation is currently available only at Weebly, but apparently not for a long time.
The success of both Wix and Weebly and a few other major website creators did not remain unnoticed. The figure of 75 million (!) of registered Wix users worry many other companies. It leads to the fact that dozens of new website builders are launched every month. Many of them are the copies of Wix and Weebly with only minor changes. The same happened previously. New website creators appear with the hope to achieve success and recognition, but they go bankrupt and close in a year or two. More experienced business people understand that copying existing business systems in the same niche is the path to nowhere. It made them switch to developing specialized website builders that allow creating websites for certain types of businesses, which is highly demanded by the target users. It does not make sense to offer a site builder for "creating websites in a fast and straightforward way" since the target market is full of competing companies and the rivalry is tough. However, efficient SaaS solutions for specific types of businesses are in need for the contemporary enterprises. The most admired target niche in this area is Internet sales. Shopify, BigCommerce, Wix, Volusion are the leaders among many website builders offering Internet stores. There are also specialized site creators for the restaurant business, professional photographers, blog development, wedding websites, websites-portfolios and more. The difference between their specialized capabilities is the essentials relevant for the particular types of businesses. For example, new website creators for restaurants allow you to develop a website in which you can see the weekly menu, place the order of chosen meals, and make reservations directly through the restaurant website.
The website creators as an alternative to WordPress
WordPress is often called the best website builder in comments of blogs and forums; however, it is not a site creator but a CMS or the Content Management System with an open source. The users without sufficient knowledge in HTML and programming find it incredibly difficult to create a website using WordPress. It is confusing for an ordinary person even with the use of ready-made WordPress templates since it is still hard to set up the site, upload it using FTP, fill it with content, and update the site. In the case of using website builders, it is much easier, and as it was mentioned earlier, it does not require any special skills. Refer to some disadvantages of WordPress that are not typical for the site creators:
1. Despite its seeming effortlessness, WordPress does not allow you to edit your website without specific knowledge and skills. For example, as a regular user, you will not be able to modify the dates of already published posts. The site creators are initially easier and more intuitive in nature. There is no need to cope with the HTML code of your website, setting up plugins, FTP, etc. Besides, many site builders usually offer numerous useful tips, which make it easier to create websites.
2. There are many plugins for WordPress, which are considered an advantage for this CMS at first glance. In fact, the installation of many plugins can slow down the speed of its work. WordPress is useful for creating simple blogs for which it was developed without the use of plugins. The website creators do not require the installation of plugins, and it does not affect the speed of loading pages.
3. WordPress is widely known for its exposure to hacking and spam. One of the main reasons is the same underdeveloped plugins with particular vulnerabilities. The site creators are more resistant to hacking since they take advantage of a centralized management system that does not allow you to install plugins from unreliable web developers.
4. Regular update of WordPress versions is aimed at improving its reliability, security, and ease of using WordPress. On the contrary, it leads to technical problems. For example, some installed plugins on the website are incompatible with the new versions of WordPress. Therefore, after updating the version of WordPress, your site may stop working correctly. The site creators do not need regular system upgrades. Certainly, the website creators make changes to improve their services, but unlike WordPress, the users do not need to do anything on their own. The professional technical staff takes care of everything related to the website builders.
Free or paid website builder?
Some website builders along with paid capabilities offer a free plan with an unlimited time usage. However, you should be prepared for the functional limitations. All free website builders have different terms of use that commonly refer to the following five restrictions:
1. The presence of advertising
Many site builders place ads on your website for the right to have it for free. It could be a banner, a block of contextual advertising links, a small logo or a text link in the footer. The last option is the most preferred because such advertising does not look intrusive as well as it does not spoil the design of your website. If you want to remove the ads, you need to pay for the basic plan, and the adverts will disappear, or you may also accept its existence on your website. In other words, either you pay for using website builders, or they place ads on your site. Many people want to find a free website builder without any advertising, but it does not exist. There were cases when some of the newly created website builders insisted they did not place ads on their free sites. It was so for the first time, but they started placing logos or links on your website like many others. For this reason, do not waste your time on searching for free website builders without ads. Instead, you should spend time on checking their functionality.
2. Restrictions on the number of pages
Many free website builders limit the maximum number of pages; usually no more than 10 pages. However, some website builders allow you to create free websites with an unlimited number of pages.
3. Limitations on the number of items to sell
It is typical for the free website builders offering online stores. It means that you will not be able to sell more items in the free version than it is specified in the Terms of Use.
4. Using your domain name
Almost all free website creators provide users with a sub-domain name. For example, www.name.webbuilder.com; the "name" is not necessarily your name but any word that you select out of available ones. You will have to pay separately to use a domain name, such as www.name.com. Frequently, the second level domain name is often included in base pay rate.
5. Limitations on the number of features
Obviously, the free options of website builders are not as good as they are in the paid versions. For example, the site creator may not offer to create back-up copies of your data in the free tariffs, but such feature is available in the paid plans. Therefore, before you select a website builder to use, you should attentively examine the capabilities of its free tariff. It makes sense only in case all the available options are enough for you.
Why do many web developers condemn the use of website creators?
When in 1908 Henry Ford produced the famous model "T," it started a new era in the development of personal transportation. The T-model was easy to maintain, easy to manage, and affordable for most average Americans of that time. It is not surprising that people fell in love with Ford vehicles all over the place. On the contrary, the competitors of Henry Ford criticized his car and technologies he used, and even tried to sue him. It is easy to understand them since the competing products were more expensive and the majority of customers could not afford them. The sales of competitors reduced while the sales of Ford's vehicles increased drastically.
The same happens to the situation with website development. Due to both SaaS business model and WYSIWYG solutions, the site creators greatly simplified, accelerated, and reduced the price for developing ready-made Internet sites. Moreover, many website builders allow you to create a website for free. Many professional web developers cannot be happy since the demand for their services decreased because those clients who could have purchased the services of web studios and freelancers have chosen a more affordable solution, such as website creators. In 2019, more than 200 million people worldwide have become the customers of website builders, and this number increases every year. A majority of clients do not want to pay more for the website development and tend to use ready-made solutions, such as web templates and site creators. Besides, for the last few years, there is a trend that the website creators are chosen more often than website templates. It is the first reason why many web developers condemn website builders.
Another reason is a stereotypical thinking. According to the opinion of many web developers, especially the old school, the site builders are considered to be ineffective and unprofessional. Perhaps, it was so 8 years ago when the Flash technology was used actively in website development, but now the majority of site creators take advantage of powerful Drag-and-Drop Editors and HTML5. The best website builders in 2019 are modern online platforms allowing you to create adaptive, multi-lingual, and SEO friendly websites with various functional capabilities ranging from personal websites and blogs to large online stores. Moreover, it is imperative to notice that the possibilities of specialized website creators are quite bigger than those of many custom-made Internet sites, and websites using standard CMS.
One more reason is an understandable desire of web developers to fully control their site. In the case of using website creators, there is usually no need in technical abilities to make changes in the website code. Also, there is no option to transfer the site to another web hosting (with rare exceptions), and it is unnecessary since all the website settings are made through a visual Drag-and-Drop Editor, which is simple and fast. Besides, the hosting service is already included in the tariff considering that both the site and hosting create a single unit. The advantage for webmasters is significant for the reason that the technical support solves any problems. The same applies for binding a domain name; the website builders can manage it automatically, and the user does not need to set DNS servers in the Domain Manager manually. It is also a significant advantage for ordinary people who are far from IT and professional website development.
Conclusion
Which website creator is the best?
In the beginning, you should decide on the type of website that you need as well as its functionality. In other words, you should understand what your website should do. The next step is to check out the list of website builders covered above and select the most suitable one for your purposes. Wix, Jimdo, and Weebly will perfectly suit for the corporate websites along with blogs and personal web pages. Shopify and BigCommerce are ideal for online stores. Alternatively, there are most appropriate website creators for each type of site. Whichever site builder you choose; you should test it first. All the paid site creators have a trial version, which is enough to understand whether it is precisely what you need.
There is no perfect website builder since it does not exist. All the site creators have their individual benefits and drawbacks. Considering your particular needs, some advantages may have a greater value than others similarly to the disadvantages that could be not as significant in reality. It is the reason we listed not only the best website builders but also their actual benefits and drawbacks. It will help you to select a site builder more consciously.
Latest website Builder Article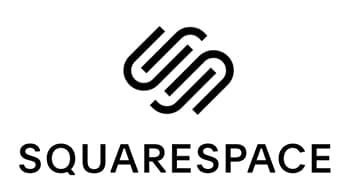 Squarespace has been a leading website builder platform for professionals and beginners for years. The premium design options and customization options make Squarespace the highest-rated site-builder in town. While the builder platform might take a while to get used to, you will receive a treat of spectacular templates, endless customization and premium features at the end of the wait.
Squarespace is the website builder for creative professionals. Currently, Squarespace is powering the business sites of Hollywood celebs, studio designers, fashion designers, and makeup artists. More than 2.7% of all active websites use Squarespace. Squarespace poses a fierce competition to Shopify and Joomla in terms of market position.
What IS Squarespace?
Since 2004, the easy-to-use, highly visual and no-code website builder has been leading the website builder market. The user-friendly content management system (CMS) makes the site builder accessible for website designers of varying levels of expertise.
This website building platform eliminates the need for expensive packages that require extensive knowledge of CSS and HTML for creating the basics of a site. With Squarespace, a designer needs little more than the templates and the style editor to create completely functional websites.
Its highly visual, click-to-edit interface allows the website designer to tweak with element placement, layout and designs by clicking on the individual elements of the template. For example, you can click on the background to change its color and pattern, or click on a piece of content to change its font color, size, and type. Editing is a dream with Squarespace's beginner-friendly user interface (UI).
Who Should Use Squarespace?
Interestingly, Squarespace isn't for someone who wants to build his or her site from the grounds up. It has one of the largest collections of ready-to-use templates for fast creating, editing and deployment. Squarespace is for the fast-builder, who wants to get his/her site up and running in a couple of hours with a minimal number of edits.
The leader in website design comes with the full array of portfolio options, blogging tools, SEO tools, analytics, apps and tools, and mobile editing. It is a one-in-all website design platform that enables a designer to create bespoke websites for different industries and professions.
Squarespace comes with the complete collection of marketing tools, email marketing options, advanced site analytics, promotional banners, ads, and pop-ups, social media marketing integration, customizable shipping options, additional discounts, abandoned cart recovery options, smart and integrated accounting, eCommerce analytics, and more.
What are the differences between Squarespace 7.0 and 7.1?
There are a few unmissable distinctions between Squarespace 7.0 and 7.1.
Squarespace 7.1 comes with more design options as compared to 7.0. These design options include additions to the global color palettes and text spacing.
Editing on 7.1 is much easier since all templates offer identical design options. However, in 7.0, the controls differ by each template.
7.1 supports design alterations in real-time alongside content editing. Whereas, in 7.0, editing options and design changes are in separate sections.
7.0 supports the edit of specific elements of mobile site design exclusively.
7.1 does not allow users to add sidebars to the blogs.
How to Begin with Squarespace?
You can begin a free trial of Squarespace by choosing one of the templates. To find the right one you can filter the templates by category and purpose. For example, when you click on "start free trial" Squarespace takes you to their templates section which has ready-to-use templates for portfolios, photography, online stores, blogs and podcasts, professional services, community and non-profits, events, musicians and bands, restaurants, real estate and properties, personal and CV, and small businesses.
The navigation of this page is simple, and the aesthetics are stunningly minimal. It is refreshing to see a website builder with no fluff of unnecessary options. It boasts a responsive design that you can access from your PC and mobile with equal ease. You can choose one of the popular templates too for beginning your website building journey with Squarespace. However, Squarespace needs you to create an account for beginning the trial. You don't need to provide your credit/debit card details.
What's Our Take on the Squarespace Editor?
The Squarespace editor is neat and clean, yet robust. It has the features and options necessary for a website designer, complete with demo content for each page. Squarespace uses a WYSIWYG editor that enables you to preview your website as it would appear to the end-user.
The templates already come with a contemporary feel, so modern site designers require minimal editing for clients who need a contemporary look and feel. One of the caveats of choosing Squarespace is having to settle for only around 90 templates that work better with professional photography. That is indeed easy with unabated access to Unsplash's image library.
Stock Images for Squarespace
Squarespace gives you access to Unsplash's elaborate library of images. The majority of the collection are royalty-free and you can add these to your template to personalize them. "Search for image" and choose a fitting photo from Unsplash. It is as easy as that!
Squarespace also allows its users to purchase images directly from Getty. These images can cost around $10 each. Both Unsplash and Getty images are useful if your client does not have professional images handy for their websites. Having ready-to-use images at your disposal indeed makes up for any lack of branding effort from the client's side.
The Selection of the Fonts
Squarespace users will find thousands of web-fonts, 1000 on Adobe and more than 600 of Google. The huge collection of readily usable fonts are perfect for any site you build using Squarespace.
Editing the Template on Squarespace
Currently, designers are using Squarespace 7.0 and 7.1. These are the two most popular versions, yet each has vastly different UI. Both versions make editing an easy task for all designers with a plethora of styling options. You can adjust almost every feature of a site including the font type, size, color and site width with minimum effort.
All Squarespace templates are inherently responsive, which makes editing the style, layout, and background easier than traditionally non-responsive sites. You have one site for all devices, and updating site elements on one version of the site reflect the changes for all devices and browsers simultaneously.
How Does the Squarespace Editor Look on Mobile?
Any user looking for your site on mobile or tablet will a viewing-ready version thanks to the template's responsiveness. Mobile responsive sites provide SEO benefits by making the site accessible for a wide range of devices. Designers can also enable accelerated mobile pages (AMP) on their Squarespace sites. Since AMP speeds up content delivery to mobile devices, it contributes significantly to user experience (UX) and site SEO.
Using AMP you can create faster-loading webpages for mobile users. it reduces the bounce rate resulting from extended page loading time. Google prioritizes AMP content to some extent in the search result carousel and that adds SEO benefit to all sites. Currently, you can only enable AMP on Squarespace for the blog posts. Contemporary website builders including Shopify and Bigcommerce allow the enabling of AMP for products too.
You need to be careful while enabling the AMP on the blog. Only a few forms of content find space on the AMP version of a blog post and any custom code or embedded forms will come in the form of "click here for the original post". Since it takes away from good UX, you might have to pay in terms of site optimization to Google. Go through your blog posts on a mobile device after you switch the AMP on in your Squarespace blog posts.
Does Squarespace Support Video Backgrounds?
Squarespace templates support video backgrounds even in the trial versions. The video background feature allows each designer to use a YouTube video URL for creating a magnificent looped background for your site.
Additionally, you can control the speed of the playback, and apply any filter from the Squarespace video background filter options. The use of the video background feature makes an already beautiful Squarespace template look stunning and sophisticated beyond measure.
How Does Logo Designing with Squarespace Work?
Squarespace comes with an inbuilt logo design app. You can browse through a huge collection of symbols and typefaces that can create professional logos from scratch. If you are anxious or confused about creating your very first brand logo with Squarespace, be sure to watch their video tutorial on the same. You should try their drag-and-drop builder. Download a high-res version of the same when the logo is ready and you can use it on your website as well as print marketing material.
Some limitations of the logo builder tool from Squarespace include –
The designer has access to only a few selected typefaces.
You cannot upload images to the tool even with the pro-Squarespace plans.
It is available to everyone, including those not registered with Squarespace.
How to Manage Content on Squarespace?
Squarespace brings a refreshing take on content management for all types of websites. Indeed there is a lot you will love about its content management strategies and options if you believe in building quality websites with a content-first and SEO-ready approach.
Here are a few features you will love about Squarespace's content development and management tools:
Content blocks

The "layout engine" is super simple, as it supports a complete drag-and-drop content building method. You can drag and drop content (images, videos, forms, and code snippets) anywhere on your website. Squarespace has one of the most flexible and easy-to-use content management UIs among website builders.

You can add myriads of content blocks to a page, including (but not limited to) text, images, audio, video, calendars, content summaries, code snippets, markdown, and maps.

You can peruse a wide range of preset page layouts for your About Us, Contact, Product/Features, Services, Pricing, and Team pages. These can prove to be incredibly time-saving for all website designers, who are tired of creating every page from grounds up for each category and sub-category.

Images

Image management is incredibly easy for all Squarespace users. As a designer, you will be delighted with the uncountable image manipulation and management tools for your site. Resizing, cropping, rotating, color adjustment, and adjustment of focus point are only a few of the editing options designers can leverage to create a one-of-a-kind, image-rich website.

Once you have checked out all the image editing options, you should browse the various gallery options. Select from slideshows, grids, and carousels to collate the images and imagery that best describe the brand you are working on.

Easy-to-use charts

Squarespace does not skimp on the different types of charts and the editing options. You can readily create pie charts, bar graphs, and line charts by using the Squarespace chart tools. They give you the option to lessen the text content and create a visual representation of the data.

Irrespective of the wide variety of charts, Squarespace fails to integrate tables into their design options.
How is Squarespace as a Blogging Platform?
Squarespace has several pros, beginning with –
You can add as many blog posts as you wish.
You can create blog summaries and "drop" them to any page of your site.
You can enable AMP on all blog posts for catalyzing their loading speed.
Nonetheless, here are some drawbacks you should consider as well –
There is no option to autosave your drafts.
You cannot access archives for your older posts.
Working on older posts is a pain since it does not support draft versions or archives.
These pose CMS problems that become quite unavoidable once the blog and website start picking up pace. With hundreds of pages and blog posts, you might want an add-on feature on Squarespace that supports the archival of older posts and editing of published blogs.
Does Squarespace Integrate with Other Applications?
Squarespace comes with multiple built-in integrations of apps. You can utilize the features of at least the following marketing and communications applications while using Squarespace:
Zapier – is a popular IFTT tool that aids in data management on a site and CMS.
MailChimp – is an email marketing and communications integration that enables brands to commit to their digital marketing campaign directly from their website.
Dropbox – now share large files, folders, and bulk data during site-building and management with in-built Dropbox integrations.
Google Drive – Google Drive integration further helps in data archiving, sharing of posts and page content, and better management of content files for your site without the need for installing more plug-ins.
Other integrations include Pinterest and Github, but you will need access to the Business plan to make the most of these app integrations. These integrations contribute significantly to data capture and management on any Squarespace website. the platform also supports a varied pricing range of email marketing plans
Does Squarespace Support Code Editing?
You can edit CSS and HTML codes, but we don't typically encourage it.
Both Squarespace versions do allow the addition of CSS to the website. Squarespace does not display the full CSS stylesheet to the designer, but you can include personal CSS rules for altering the appearance of specific items on the site. You should remember that if you add your own CSS, Squarespace might limit their customer support towards your site.
The only way to gain complete access to your template's CSS and HTML is by using the developer's version. Currently, the developer's version isn't available for Squarespace 7.1.
Does a Squarespace Template Contribute to SEO?
Squarespace templates are naturally SEO friendly. All websites powered by Squarespace get brownie points from Google for their optimization. These sites are visual feasts and they are easy-to-navigate for all users. additionally, they are mobile-friendly and have the option of AMP enabling on their blogs.
You can enable SSL for the site. Since Squarespace is a completely hosted solution, you don't have to worry about page speed, especially since Squarespace assures that their page loading speeds are well within optimization limits.
Sadly, the alt tags and URL redirects options for Squarespace users are confounding. Especially changing URLs can be a pain for the SEO team or webmaster since the entire task is highly manual. There are no options for adding rich snippets either. Moreover, you will find no SEO tool. A Yoast-like SEO tool would indeed be welcome from Squarespace by now!
Does Squarespace Have Additional Options for Ecommerce Sites?
Squarespace eCommerce sites have VAT Mini One Stop Shop (VAT MOSS) integration. It makes trading for EU-based sellers much easier due to their VAT MOSS regulations. You can create and add new tax rules, but it does not reduce manual intervention and often makes the integration of tax, pricing and shipping rules messy.
In short, if you want a full army of eCommerce integrations and functions, you might be better off with Shopify, WordPress, and BigCommerce instead of Squarespace.
What Can be the Deal-breaker When Considering Squarespace for Powering Your Site?
With round-the-clock customer support, and it super-easy web builder interface, Squarespace is rapidly gaining popularity among the beginner-level website designers. However, you should know that adding novel features or functionalities to your Squarespace site won't be easy if they don't come out-of-the-box.

Yes, Squarespace is easy to use and you can switch templates in 7.0, enjoy higher customizability in 7.1. However, according to veteran users, Squarespace can be quite sluggish and prone to crashing, and its lack of autosave options does not do bloggers any favors during such situations.