Webydo Review
The Webydo Website Builder that Helps You Make Perfect Websites, Effortlessly!
Creating spectacularly brilliant websites can take years to master, especially with the technicalities of coding, interfacing, hosting and content creation. In an age of internet media where a good website can make or break, it is crucial to stay ahead of the curve with intelligent interfaces and brilliant designs. The process, needless to say, can take an excruciating amount of time and effort: something most designers, entrepreneurs or even ordinary individuals cannot afford. There are, however, some solutions to the age-old problem of content creation: website builders that give just the right amount of control, freedom from HTML coding, and the perfect bit of pizzazz. With the help of a service like Webydo, you have the option to choose exactly the kind of website you want, but without the added difficulties. Before plunging in, let's take a quick over-view of Webydo's features. What's the best part about this service? From scratch websites with absolutely no prior knowledge of software coding! Webydo, the online professional website creator, is made just for designers who use PhotoShop on a regular basis, for website owners who are capable of content-management but not creation, and even non-technical students who can edit their webpages as easily as with a Word Document.
Webydo works on the basis of a three step process framework namely, design, management and publishing. Providing a wide range of features in each of these overarching categories it facilitates the following:
The ability to live life, code-free: pixel-by-pixel accuracy for switching web designs into HTML5 and CMS codes automatically.
Responsive Breakpoints: Single dashboard point of control for controlling website views on multiple device platforms.
Professional Design Tools: For greater amount of flexibility in the creation of an automated website.
Snap-to-guide features: Making it possible to be more accurate and create a cohesive design layout.
Online stores, ready-to-use theme collections and preset layouts, WordPress compatibility, and built in CMS are just additional features.
Built-in SEO tools, dashboard management, page rankings are also easily available with custom Webydo experiences.
A Step by Step Guide to Website Creation with Webydo
Webydo is a platform that helps you create and manage your HTML websites, without writing codes. Therefore, to get started, the first thing you need is an email account. After signing up for Webydo, you will have the option of choosing between a 30-day free trial (without credit card requirements) and paid plans. Once you log in, you will be shown to your Dashboard. This is the place which lists all your websites once you get started.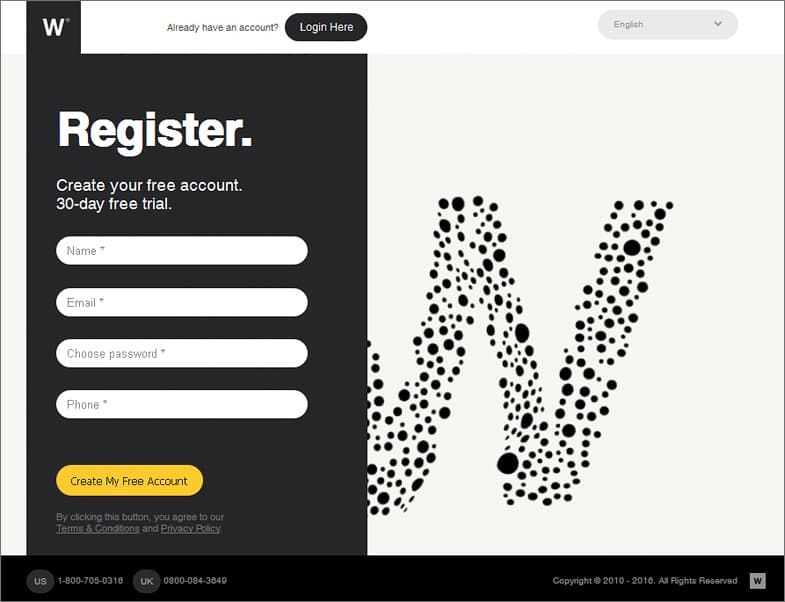 If you are just getting started, look for the + New website button on your Dashboard. From there, Webydo takes you to a screen asking you how you'd like to start. There are three different starting points to choose from: Blank Canvas, Inspiration, and Wireframes Mode. As the names suggest, blank canvas is the website-from-scratch experience, Wireframes provides you with a structure to start with, and Inspiration mode provides you with templates.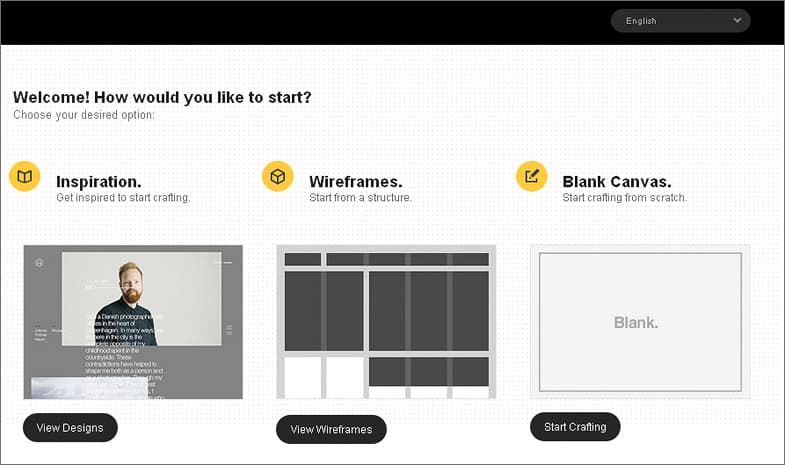 The next step is creating a new page, for which you need to look for the Plus + Button (in Page Tabs bar). Alternatively you can click on the Pages command. In the Pages & Navigation dialog box, click new Page for blank pages or Duplicate (select existing page to create a duplicate of it). New pages open as tabs under relevant menus (if Menu element is used).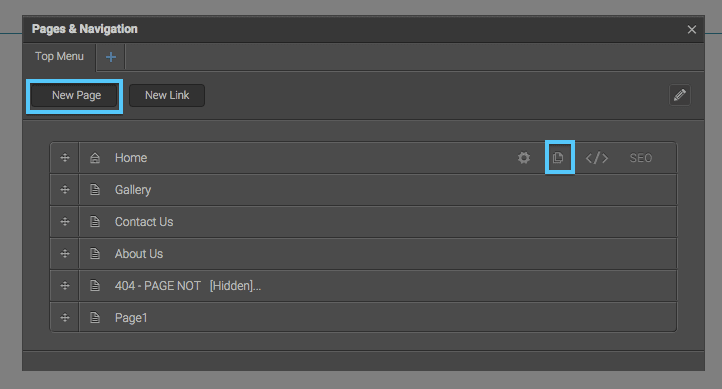 In order to edit a page, go back to Pages menu, select settings icon, and edit the required name, URL, etc. In order to remove pages which are redundant, click on the Pages link in the Top Menu, however over the page list, and then choose the Delete (bin) icon.
This is one of the most important aspects of the Webydo website builder. It comes under distinctly different sections, and requires a more thorough overview.
Managing Presents and Backgrounds – Site Presents window in the top left corner, found under the Settings option, is the easiest way of editing backgrounds. The Presets window has mainly three sections: page setup, color style, and sizing/positioning features. Subsections include colors, opacity, background images, size in pixels, etc.
Using Automatic Layout Tool, Paragraph Styles, Pin Positions, etc. – Webydo allows a Paragraph Styles window and a Properties panel to adjust design properties for text paragraphs. The automatic layout tool helps to automatically sort elements, reorganize layout styles, and adjust screen resolutions. The Pin position feature also helps affix certain elements so that scrolling can be made easier by it.
Using the Design Panel – All editing options are present on the Design Panel, with specific properties editable under only that panel. Position and Arrangement in terms of X and Y, and W and H properties, can be used to set exact positions/width and height. Arrange button can help align elements in specific orders. The stroke section can be useful in controlling borders, sides, etc.
Using Media Library Feature – This is an incredibly useful element from the Design aspect of using Webydo studio because it serves as a cloud digital media library. Providing access to images, gallery elements and textual elements no matter where from, it allows a completely cloud-based project system that works well for multiple points of origin. It also provides Details and Thumbnail View options, Sort options, Create New Folders options, Add/Delete/View/Arrange options for a more integrated experience.
Revision History option – This is a design feature that allows users to take back certain changes they may have done to their project over time. This is especially useful because of the Auto-Save feature that Webydo comes with. To use it, open Webydo Studio, Click on Revision History from top right menu bar, click on the timestamp button from the panel to see revision history, then revert to the version that you navigate to. To exit, just click the X button and resume work.
Elements Panel – The Elements Panel is useful for ready-made elements that can help create the building blocks of any particular website. Just placing them on a page and configuring them according to requirements can make a huge difference. The Elements Panel, present on the left-hand side of the canvas view, can enable easy creation for designers.
Interface Branding – One of the key features of Webydo is that it allows a full White Label feature set. This means that users can have the option of customizing their design, setting up backgrounds in grey-scale schemes and with vivid highlights. The Interface Branding window can be accessed easily from the Settings menu on the navigation (top) bar.
Under Site Settings, there are different options including connecting websites to domain names, adding Google Webmaster Verification codes, Exporting Websites from Webydo, adding Google analytics to Websites, integrating Google services and inserting 301 page restriction redirects. For instance, to add Google Analytics, all you need is to figure out your web-property ID (few lines of tracking code in the form of UA-XXXXX-Y or UA-XXXXX-YY. Accessing it from the Dashboard, clicking on Settings, going to Services, insert the same ID in the "Google analytics" field. Just click save, and you can return to studio to publish site again.
Adding Embeds and Add-ons – Webydo allows users to embed several objects including Google maps with interactive abilities, Facebook video, Twitter Code, Pinterest Button, Social Media plugins such as "Like" or "share". The process is fairly simple, especially because of the Webydo HTML widget that makes map-integration a breeze. How do you embed FB videos? Just copy the url, then select the 15 characters in red and replace in the provided embed code, after which you must drag a widget element (set to HTML), paste the code within the specified window to the right, and just hit Update.
Plugin Management – Plugins are a lot of trouble for website creators in general, but with Webydo, it is a rather simple process. You can add a Swiftype Search plugin, an Olark Chat plugin, a GetSiteControl plugin, a Tidio Chat Plugin, and also a Powtoon Plugin for your website. Also, there are other options such as adding a Disqus Comment Section plugin and a SimplyBook plugin, a Wufoo form plugin and a Compare Ninja table plugin, and of course, there's a PayPay button plugin. The last is really useful because it lets visitors have the freedom to make single purchases through PayPal.
Preview your website in Design mode. If satisfied, click on the Publish Button. In the design mode, this is present as the top right corner button and it immediately publishes the site under a Webydo subdomain. It is generally in the format of a site109405043.90.Webydo.com. You can change the URL as mentioned above. For a latest version of the site, navigate to the View Site option from your Dashboard.

The Plans and Comparative Aspects of Each
Quite obviously, this is the kind of service which deserves applause. It makes a website building experience as seamless as can possibly be. Webydo, in its commitment to making website-creation simple for a greater number of people, also comes with a 30-day free trial (no credit card information required). Beyond that, users have the choice of choosing from 4 different plans. These are: the Pro Version, the Team Version, the Agency version and the Enterprise version. Each of these has specific features and facilities that give them a distinct edge over the other.
The PRO version: This version comes with an annual billing provision. It is the perfect basic edition for most beginners, especially those who struggle with codes. Providing the option of building websites for 10 projects, this version also offers Revision History for 1 week, and additional support via Email and Chat.
The TEAM version: Designers who are moderately in-demand and expect to work on 50 projects or less can benefit from this plan. This is marginally better than the PRO edition because it allows three team member options, support, 50 site export facilities, one month revision history, white labeling options, and professional training features.
The AGENCY edition: This is the option which most mid-ranged businesses and website design companies can benefit from, because it offers up to 250 projects. There's a 3-month revision history option, up to ten team members, 250 site exports, client billing options, client wizards for DIY purposes, dedicated account managers, etc. Standard features including support and white labeling are also included within the package.
The ENTERPRISE edition: This is the customized option made for large companies who have unlimited demands and requirements. For instance, it offers API integration, Mass Site Creation, Dedicated Account Managers, Unlimited site exports, unlimited revision histories, team members, and projects. Pricing on request.
Additionally, Webydo also offers two other benefits: a) the Academic Plan, and b) Hosting services. It offers the choice of automated CMS and Hosting at just $5 per month only. This is a blanket price for any website at all, and it even offers annual billing services. Google cloud hosting, limitless storage facilities and Content Management Systems (CMS) provisions are part of the package here. Another bonus plan is the Academic Plan: discounted especially for students who wish to benefit from personal portfolios and academic websites.
A Few Final Words on Webydo
Webydo is one of the best services for people from non-technical backgrounds. The graphic and text-intensive experience it generates relies heavily on designs rather than HTML coding or CMS creating abilities. It benefits both up-and-coming designers and well-established design firms, because it eliminates the middle man: the website creator/software engineer. This opens up the ability to channel creativity and engage with the client's or one's own personal vision much more easily. The results are completely professional, revealing not a sign of their origin in an automatic website creator.
Webydo Review