WebStarts Review
WebStarts – a newbie's dream come true with ultra-light and simple to use interface
The competition among website builder service providers is as intense as ever, and the mark is still far from saturation. It's pretty natural for a website building service to make claims of being the 'best' in the business, but entirely another story for the claims to be backed with facts. WebStarts, thankfully, matches its words with real substance, and justifies its claims of being the number one website builder with its exciting basket of easy to use and effective features.
A quick run through the service basket of WebStarts leaves lasting impressions on the mind of prospective customers. Being a drag and drop website builder, it surfaces as the easiest means of building websites for newbies. The fact that users don't need to know even a single word of coding is among the USPs of this website building tool. Does this compromise on the customization quotient? The answer is a resounding NO. Of course, the focus on simplicity could put off adventurous coders, but this is a service tailor made for non tech savvy entrepreneurs looking to leverage the reach of Internet for business gains. The eCommerce readiness of the platform also makes it a terrific route to online success for web-entrepreneurs.
WebStarts offers its services in 'free' and 'paid' avatars. The free service provides you the basic features required to have a website up and running, giving you a decent taste of the amazing features brought to the table by Webstarts website builder. This service is ideal for small business owners looking to tread into the realms of online selling, bloggers trying to take their efforts a step further by managing a more expressive website with better features, and adventurous cyber freaks looking to test out if they can put the features to some innovative use. Purely on a basis of the extent of features and functions provided in a free website building service, Webstarts is right up the ladder.
The paid version of the website building service brings to you're the fully loaded service and feature pack. For users searching for affordable and feature rich website building, the paid website builder from WebStarts offers the Pro and Pro+ plans.
WebStarts Free Website Builder
The free website builder is what entices experimenting web designers the most, and Webstarts has done a pretty neat job at pumping in a fair exhibition of simple yet substantial features and functions into the free service. The surprises begin right from the first step, that of signing up for the service.
Cluttered and chaotic sign up forms are a great put off, and WebStarts seems to realize it pretty well, as is obvious from its ultra simple sign up process. You begin by clicking on the substantial Sign Up button on the home page, which leads you to a theme selection page, rather than a fill out form.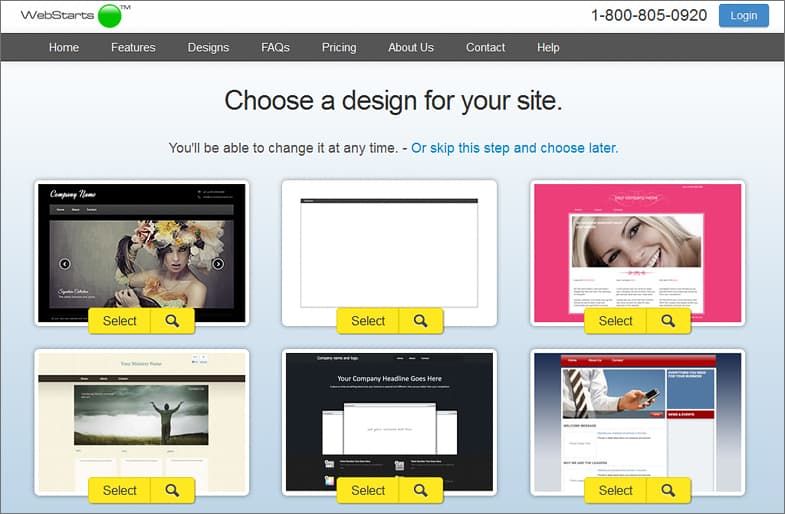 Before you can even share your name with the service, you are provided dozens of themes to choose from. Most of these themes are aesthetically impressive, and cover pretty much the entire rainbow in terms of the kind of color profiles, design complexity, boldness and content placement. So, if you have a purpose in mind, you will certainly have at least 4 to 5 theme options that will appear suitable. The great part – you don't have to commit to a theme, and can change your selection later. Moreover, even if you choose to stick to a theme, you will find numerous customization options when you get down to working with it. The screen that follows is, arguably, the smallest sign up form you'll ever have to fill, as shown below. That said, non tech savvy users would love to know that the theme options shown to you are more than sufficient for you to base your complete website on.
Once you fill out the sign up form, you are asked to key in the website address. Here, you have the option of either trying out with a free website based on WebStarts domain, or specifying a domain you've purchased. The second choice forks into another screen, where you can enter your already owned domain name, or go for purchasing a new one. This completes your pre development formalities.
The first sights of the interface of this CMS are bound to make you feel at ease, as there are no cluttered menus clogging the screen. Most of the important functions are provided in the form of colorful icons on a horizontal bar at the top of the page. The icon centric make up of the menu makes identifying relevant buttons easier and more fun. The My Pages section of this screen helps you take important actions on specific pages of your website. If you wish to get on with creating your website, then the Edit Website button is where you have to click.
It hardly gets any easier than simply having to drag the components you want on your pages to the places where you want them to appear, and then editing the contents in them! You see the complete overview of the web page in this view, and have all the page elements editing options (changing text, adding multimedia, etc) laid out neatly in a horizontal bar on the top of the page. You also have a vertical bar of several icons of the features that can let you create sophisticated web portals featuring eCommerce functionality, SEO features, social network integration, and what not. However, most of these are only available in the paid website builder.
You'll find pretty much anything you want to do to the page and the website available as a clickable option in the menu bar at the top of the drag and drop website builder interface screen.
The Page Drop Down button allows you to navigate to other parts of the website easily. Adding new pages can also be done from here. The free website builder allows you to make copies of the already designed pages, and make changes.
In the File menu option, you find all the settings relevant to the current page being designed. Apart from letting you make the website's content more aligned to SEO best practices, this option also allows you to make massive design changes to the page.
The Edit menu option holds a pleasant surprise for hardcore HTML freaks, and lets them make tweaks to the web page's code to make it look fabulously different from the preset layout. However, this is functional only in the paid service. Simple Undo and Redo changes options are also enlisted under this menu.
The Insert menu lets you add all kinds of multimedia elements into the page. What's more, flash content can also be added. The free website builder allows you 10 MB of space, which is pretty obviously not something that you can leverage to make your website multimedia rich.
Next, the Formatting menu houses all the simple formatting functions like bold, italic, underlining, all sorts of alignments, listing and bullet formats, etc. This menu makes you feel as if you are working in a word processor rather than a website builder.
WebStarts hardly leaves any chance of confusions and hassles hitting your website building plans. However, you have the email support offered by the customer care department to look up to for resolution of these problems.
Paid Website Builder
Why would you even want to consider the paid website builder when you have so much room for customization in the free version? We explore the answer later, and focus on surfacing out the distinctive benefits that the paid builder brings to the table for you. Most of these functions are packed into the Apps toolbar to the left side of the editor screen. It includes functions like Slideshow, Blog, Forum, Guestbook, SEO Wizard, and Form Builder, all of which can be put to innovative uses, courtesy the inherent ease of customization that WebStarts has built into these tools.
Sell Products – The four step process of setting up your online selling store with WebStarts makes it a perfect eCommerce solution for those looking to get off the blocks quickly. Customization with shopping carts and payment gateway integration are also provided.
SEO Wizard – If the thought of having to sweat it out in terms of managing the SEO aspect of your websites makes you nervous, the SEO Wizard built into the WebStarts framework is what you need to know more about. Apart from guiding you through the H1, meta keywords and descriptions, the wizard also lets you submit the website for indexing by Google.
Slideshow – Impressing your website's builders with a moving stream of images is guaranteed to work well, and the Slideshow app of WebStarts lets you do that within a few minutes. All you have to do is to add images from different sources, choose the playback controls, and enjoy the lively stroll of images.
Form Builder – If you need to create forms and surveys, you'd be served well with the easy to use and simple form builder, allowing you decent degree of customization along with pre-loaded fields of routine use.
Photo Gallery – The Pro and Pro+ paid accounts let you experiment comfortably with images, as you have ample storage space to play with. Adding many images in one go is made simpler with the Photo Gallery. Also, the in-built photo editing app allows you to add remarkably impressive effect with single click commands.
Blog, Guestbook, and more – Adding text heavy segments is made easy with the Blog app, although it might be found inadequate for you to create and manage a comprehensive blog. Then, there's the Guestbook app that allows you to easily add a section where guests can leave their signatures and comments. Making your website membership specific is also possible, courtesy the Membership app.
Why opt for the paid website builder?
As is pretty obvious from all the superb additional features discussed above, the paid website builder comes to you loaded with differentiated features that can let you reap amazing rewards within a very short span of time. If you are looking to develop a medium sized online retailing system, then the paid builder is enough to serve all your needs. Then, you have social media integration and forum management features to help you make most of your campaigns. Also, the SEO optimization functions result in added reputation and visibility for your websites. Apart from all these, the paid website builder also overcomes a few inherent limitations of the free service.
The paid website builder service comes to you in the Pro and the Pro+ versions. The latter gives you unlimited web page capability. Creating forms and slideshows is allowed in this service plan.
You get 5,000 MB of storage as compared to 10 MB in case of free service, thus landing you a lot more flexibility in terms of the media richness of your website.
You can add any customize domain name while using the paid service, whereas the free version adds the WebStarts domain into your chosen website address.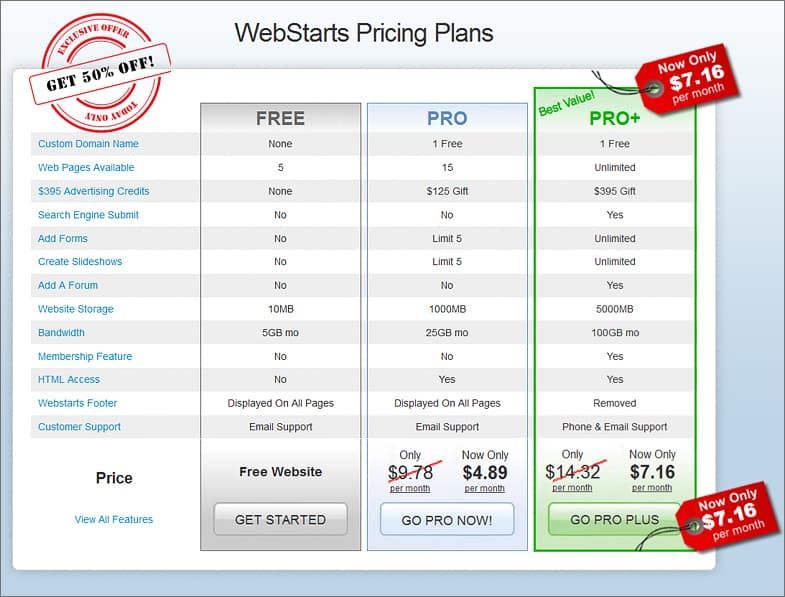 Check actual prices on WebStarts
Conclusion
The website builders' market is teeming with dazzling tools that can let users create heart winning web pages in no time. However, simplicity is not a virtue that's being focused on by many of these builders. WebStarts comes across as a refreshing and fully dependable service, with its free and paid versions of its intuitive drag and drop styles website builder. Whereas the free website builder enables users to create a few web pages without much hassle, the paid version allows them to explore the more sophisticated functions of eCommerce, forum management, social networking integration, multimedia focused content, and more. Being a terrific blend of simplicity and customizability, WebStarts is easily among the most lucrative options for those looking to venture into eCommerce, or website management for other purposes. If you're looking to solely depend on the free website builder, you might find yourself unable to explore the real powers of a website. But when you upgrade to the Pro or the Pro+ plans, that's when the full service bucket is open for you.
WebStarts Review