WebsiteBuilder.com Review
WebsiteBuilder.com – redefining the simplicity of powerful website creation
As complexities and information overload continue to dissuade web users from venturing into the alleys of website creation, what's needed is a selection of website creation tools that make things simple. Whether you wish to create a portfolio to flaunt your skills and services, need an online broadcast platform in the form of your personal blog, or are contemplating selling your products online with a web store – the ideal website creator should allow you to pick a killer template that goes well with the application of your website, create web pages and storefront without having to worry about messy layouts and tricky coding, leverage ready to use domain and hosting to bridge the gap between the concept and the live website, and then publish the creation with a single click. WebsiteBuilder.com does all this and more, and is hence the dream website creation tool that has been evading you till now.
There's a lot to like about WebsiteBuilder.com, and the fact that it keeps the most essential features at the front, so that web users are not overloaded with the options that they have, and can structurally go about creating a perfect website. Bank upon the mouth-watering collection of thousands of swanky website templates coming to from all kinds of categories, shades and themes to put you on the highway leading to a wonderful looking website. Aiming to make it effortlessly easy for newbies to enjoy website building rather than be blown away with too many concerns, WebsiteBuilder.com brings in free web hosting and domain service. Then, it makes the website designing phase an effortless and entertaining excursion, courtesy the amazing drag and drop styled builder. So, all that you need to do is to drag the content you want to use and place it where you want it to appear on the page. Then, to ensure the most fulfilling website building activity, WebsiteBuilder provides dependable and responsive customer support service. Once you are socialized with the website building environment, WebsiteBuilder impresses you with its capabilities, with features such as full-fledged ecommerce, social media integration, and integrated blogging and web promotions on offer.
Let's delve deeper into the world of website creation with WebsiteBuilder and understand how you can quickly create your functional website using this intuitive and power packed tool.
WebsiteBuilder.com – How to use?
The WebsiteBuilder.com home page tells you a lot about this tool and successfully conveys the focus on simplicity. The 'Start Your Free Website' button is prominently positioned; click on it and begin your journey to what could be, arguably, the quickest way to create a website.
No lengthy and cumbersome forms pose any hassles with WebsiteBuilder.com, and all you need to provide is your complete name, your email address and a password for your account. Click on the 'Let's Get Started' button when done.
You are now warmly welcomes to the WebsiteBuilder.com. The first, and quite possibly the most momentous step towards creating your website needs to performed now – that's the selection of a superb template. Thankfully, WebsiteBuilder.com offers you a whopping number of options. To make your selection process easier, you can select a category from the drop down or can even key in specific words to search templates. Once you identify a template that's worthy of being the base of your website, click on it and take a preview of the same or begin editing it.
The website editor screen will not be loaded, after you select a template.
The WebsiteBuilder.com interface is so neat and well laid out that you will feel being in control of everything right from the first glance. The top of the screen is occupied by a horizontal bar that houses several easy access buttons. The vertical sidebar on the left hosts five prominent buttons that encompass several sub options.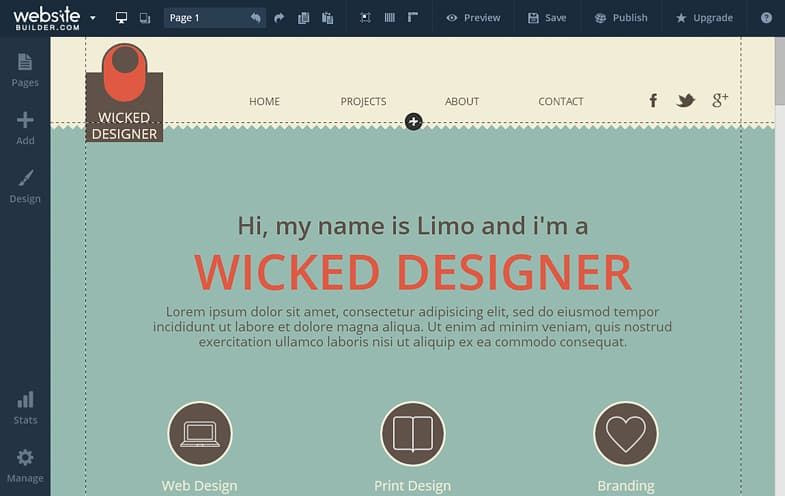 You might be prompted to choose a website name pretty early into your website design phase.
Let's understand the sidebar in more details, in terms of the 5 buttons it shows you.
Pages – A website can't do without certain pages, primarily the Home page, Services, Contact me and About Me. So, WebsiteBuilder.com provides you all these pages in predefined layouts. Of course, you can choose to have any number of other pages, delete these standard pages, change the order in which they appear, and play around with HTML coding for each page. Also, you can set any page as a home page, and can even govern as to which page is visible in the mobile version of the website and which is not.
Add – Here's all the action; choose any and every possible content element from the sub menu that this button opens up into, drag it on to any position on the web page screen, and make changes then and there to freeze the design – it hardly gets any simpler. With each content element, you will have several customization options.
The most important among these are as follows:
Image – Set up default images folder for easy upload, link to web images easily, and select from the hundreds of category wise free images on offer;
Text – Headings, sub headings, paragraphs and text boxes – you get it all here;
Video – Choose whether or not you want a Youtube player to play your videos on the page, decide on aspects such as auto play, loop play and image preview, and even define content element SEO;
Ecommerce – Add all kinds of easy action buttons such as Buy Now, Check Out, Donate and Add to Cart, and customize them further;
Gallery – Add an image or video gallery for multimedia heavy website, and play around with options such as column and row spacing, transition effects and more
Apart from all these elements, the Add button houses icons, shapes, buttons, containers, menus, map, forms, social links and more.
Design – Easy and effective design options are encapsulated by this button. Use the Page Background option to either have a solid colour background or any of your images as the background for the website. Then, play around with headings, sub headings and paragraph text styling in the Text Style option. The Fonts option provides you a preview of several swanky fonts that you can use to beautify the content on the web page. Then, you have the option of experimenting with preset colour themes to being out the best from the web pages' design.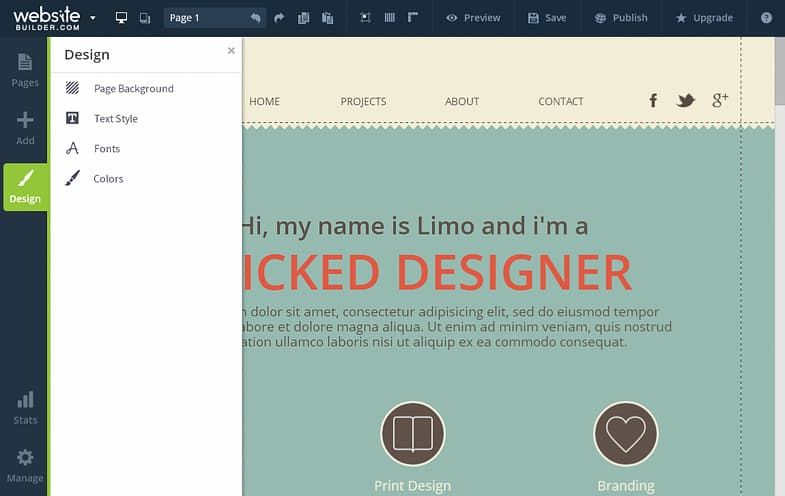 Stats – For the success of a website, it's imperative that the webmasters get actionable and intuitive reports about the performance of the web pages. WebsiteBuilder.com provides you powerful analytics that you can depend on for the fine tuning of your website. These options are accessible from the Stats button when you use a premium WebsiteBuilder package.
Manage – Head over to the Manage option to make site-wide settings such as header, footer and more. You can add your Facebook profile link here, and can also explore the exciting world of ecommerce, provided you are using a premium package. The Favicon option under this button allows you to upload a great photo to serve as an icon for your website.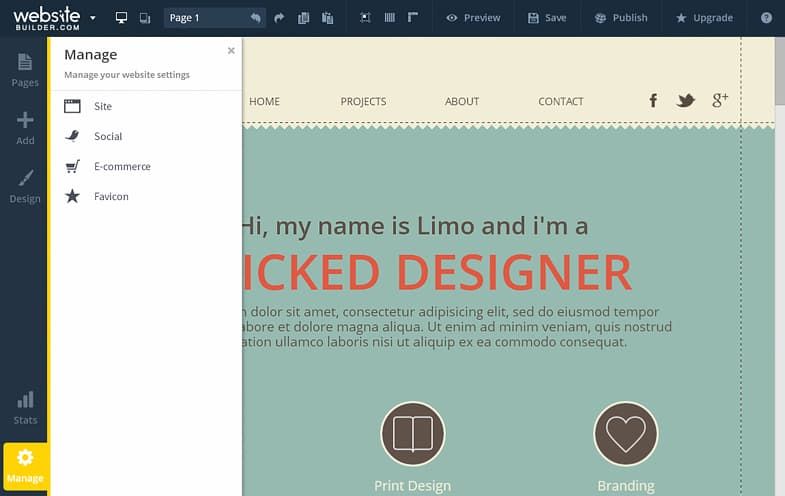 Let's hop back to the vertical men bar on the top of the website building interface and understand the options it provides. Quick action buttons such as Undo, Redo, Copy and Paste speed track your website design phase and allow you hassle free experimentation flexibility. Then, buttons such as Snap to Grid, Columns Grid and Rulers ensure that you get the architecture of the web design perfectly right. The preview button offers quick sneak peak at the progress you've made with the web design. Of course, you have the Save and the Publish buttons to complete the ensemble from the top bar
We're sure you're excited to try out this ultra light and power packed interface. But before you do that, let's tell you something about the premium service packs offered by WebsiteBuilder.
What do the premium WebsiteBuilder.com plans have to offer?
WebsiteBuilder.com targets all kinds of web users, and hence provides its services spread across 3 superb service plans. Choosing the right plan for your web project ensures that you get the best out of WebsiteBuilder.com at the most reasonable prices. Here's a round of up the three different plans that this amazing website building solution offers – Personal, Pro and Premium
All the three service packages come with the advantage of being completely ad free, which ensures that you are able to showcase your website as a dedicated, professional and credible web presence to all stakeholders. Also, in order to ease out the learning curve for beginners, WebsiteBuilder.com also provides free hosting and domain for you with all the premium plans. However, the best part about going premium with WebsiteBuilder is the fact that you can access thousands of swashbuckling web templates. These well designed templates ensure that you can present your web content in the best possible manner. In addition to all this, you might also want to use your free Ad credits gifted to you when you opt for any of these premium plans.
To make your website truly accessible and relevant, and to gather substantial web traffic in minimal time, it's imperative that you consider any of the Pro and Premium plans, as they come with really useful marketing and SEO help tools. Whether it's about devising a coherent and long term marketing plan, or about getting the SEO for your website spot on, these plans will sail you through tricky waters. The Pro and Premium plan can actually prove to be smart and viable options over the alternative of hiring SEO and web marketing consultants to make your website successful. Apart from the marketing and SEO edge, these plans also ensure that your website is relevant for mobile devise viewing, which is integral in the contemporary digital environment.
The Premium plan is the pinnacle of website building with this terrific building tool. If you are really looking for a differentiated website building experience, look no further than this plan, as it brings you the best customer support from the dedicated WebsiteBuilder teams. Not only can you leverage the design prowess and expertise of WebsiteBuilder professionals, but can also ensure that your website will be 100% same as what you desire, and not what you can adjust with. Priority Support service will also go a long way in ensuring a seamless and hassle free website building phase and ready support for the same.
Conclusion
Whereas you'll never feel any dearth of website builders in the digital marketplace, finding a tool that literally makes it as simple as 1-2-3 is not easy. WebsiteBuilder.com is just the elusive tool that actually makes website building a matter of few clicks. Again, what makes it special is the fact that it does so without making you compromise on any prominent feature that any fully loaded website building tool can boast of. Finding website building solutions that uncomplicated matters and give you all the power and features you need is really tough, and WebsiteBuilder differentiates itself on this front.
Free images, a completely drag and drop interface based website building experience, and responsive customer support – all blend well to make WebsiteBuilder.com a refreshingly simple tool for those who wish to taste the flavours of web projects. Novices will love the fact that WebsiteBuilder.com also offers free website hosting and domain to make it easy for newbies to jump on to the web bandwagon.
More demanding web enthusiasts can explore the complete range of empowered features packed in the WebsiteBuilder.com catalogue. Right from SEO friendly website building with easy indexing, guided keywords and URLs, and more optimization tools, to no holds barred social media integration connections to all your networks, WebsiteBuilder allows you all the flexibility. All these features, along with advertising tools, coupon management options, blog maintenance, etc., make WebsiteBuilder a coveted website creation package for those who wish to make their websites really successful over the long term.
WebsiteBuilder.com Review