Webs Website Builder Review
Webs – a well made recipe with all the essential website building spices
Even though we are well into the third century of the inception of Internet in the form that we all know of and love today, building a website is not something that anybody can claim to be an expert at. Well, if one travels back a decade in time, it would be clear that building a website can easily be thought of as a skill limited to those with knowledge of languages such as HTML5 and CSS. Of course, website builders have made the situation entirely different, allowing Internet users to create superb and even professional looking websites within minutes, without requiring any knowledge of complex computer languages. But then, where do users look when they find their search for a website builder made tough because of the presence of editors that look like complex cockpits? For all those of you out there who want nothing but the necessary and value adding features from a simple website builder, Webs comes across as a tailor made website builder. Here's more about this simple yet stylish and powerful tool.
User experience is something that is widely cherished yet hardly practices, and website builders are also among the culprits. Complexity is almost as bitter for Internet users looking to create their first websites as an advanced tutorial of CSS! In such a scenario, drag and drop surfaces as more of a necessity than a luxury. Whereas Webs is certainly not the only website builder to be offering a drag and drop styled website editing interface, it certainly is among the ones that keep it simple and effective. Whereas creating fancy layouts becomes a headache with heavily loaded website builders, Webs keeps things neat and puts together intuitively simple buttons that can be used to create columnar layouts. That's just the starting of a thoroughly enriching website building experience.
Most Internet users and enthusiasts might not realize this, but sailing you through the website creation process is just half the job of the editor. To be successful and make you successful along side, a website builder needs to equip you with tools to market and promote your website. With social integration tools, SEO Booster, and mobile optimized website, Webs rises and registers itself in an elite class of free website builders. Also, for those business minded individuals, Webs offers eCommerce functionality as well. Let's take you through a journey through the features of this website builder.
Webs website builder
A telltale sign of a killer website builder that means serious business is that it will not separate you from the action, and a quick registration process is a vital part of this experience. Webs get it right, and offers a super quick sign up process after which you can immediately begin with the website building work. The home page has a prominent Sign Up Free button at the top right corner, and that's what you need to click.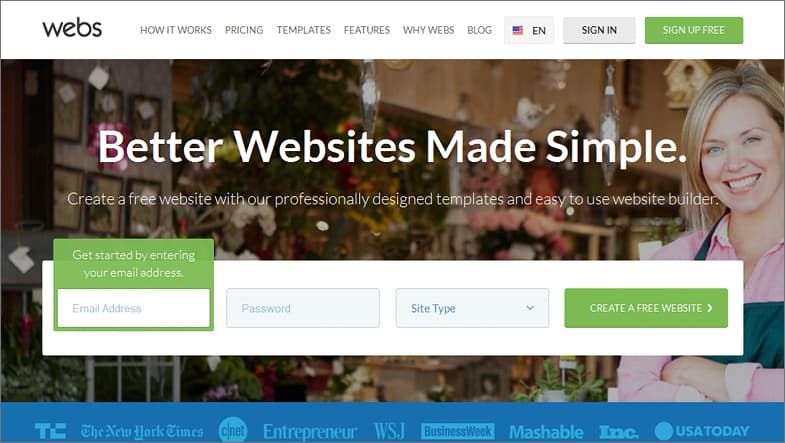 The next window is a one page, three-step procession leading to your first website building experienced with Webs. Just key in your email address and other details in The Basics section and choose one from the several swanky website templates that Webs offers. The best part about the templates offered by Webs is that they cover a wide spectrum of categories and also are extensively customizable. Once all this is done, choose the pages you wish your website to begin with. Of course, you can rename, add and delete pages later on.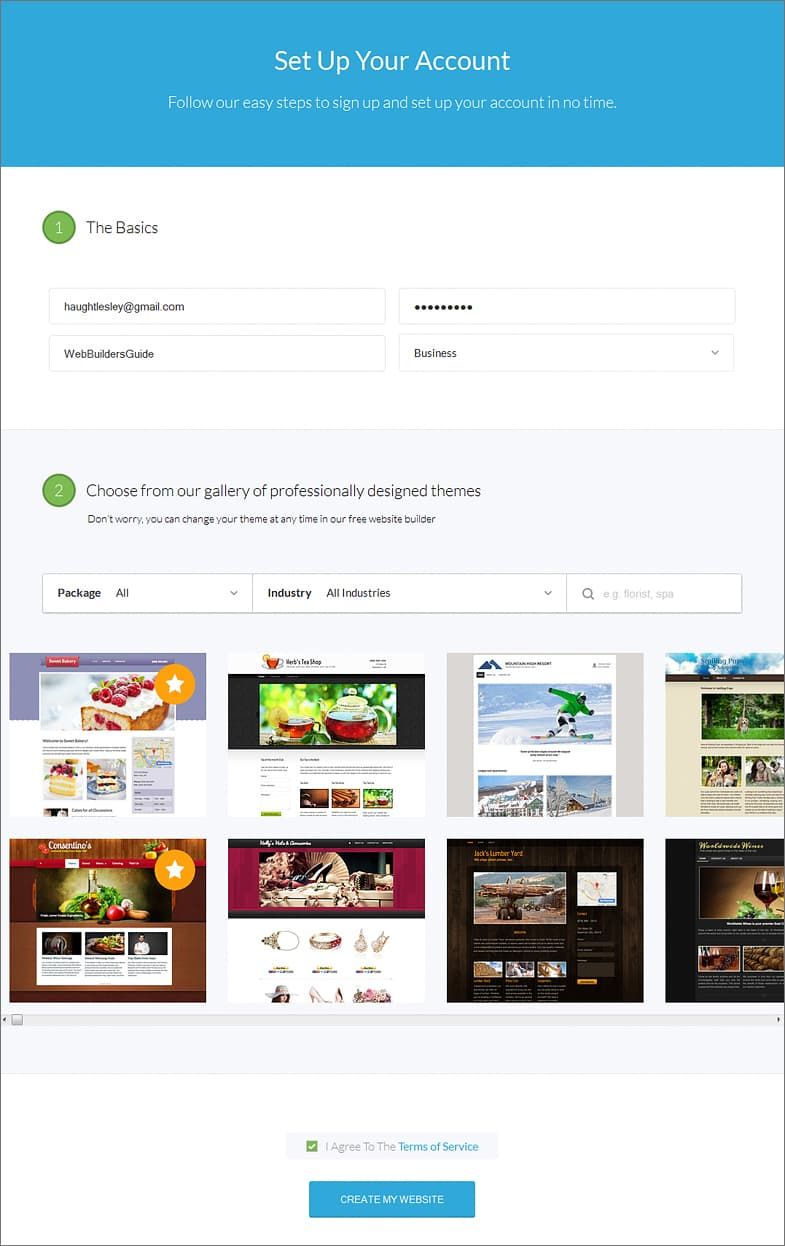 Next, you are asked to choose a domain name for the website. If you don't have a domain, you can use the Webs sub domain and get on with the website building job.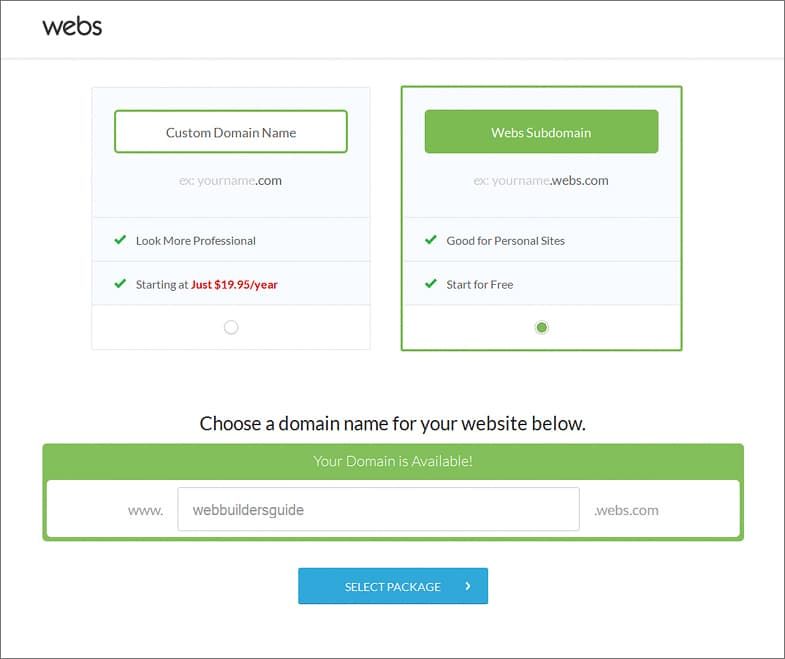 Now, you are taken to the editor, the real deal.  The editor interface is what makes or breaks a website builder. In the case of Webs, users are in for a pleasant surprise in the form of a light yet efficient website building interface that takes technicalities out of the game and leaves you with a pure drag and drop styled interface herein you just need to pick up the content element you want to include in your web page and place it where you want it to appear. Here's what the editor looks like.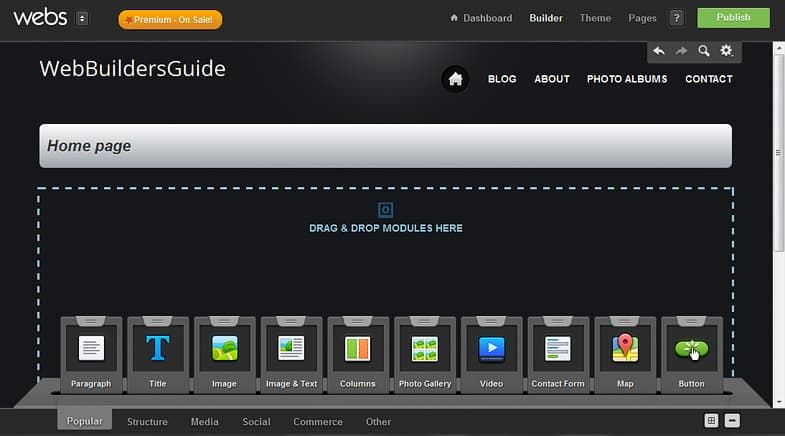 Most of the action awaits you at the bottom of the editor in the form of the little horizontal dock of buttons. These are the different content elements that Webs allows you to use in your website. All these elements are neatly organized under various tabs such as Popular, Structure and Media, allowing you to take on a step by step approach towards creating content rich web pages. Here's a quick look at all that you can do with the editor and its drag and drop ready content elements.
Under the Popular tab, you get the following options:
Paragraph – Add all the content you want just by dragging this content element to wherever you want. You also get options to change the font and alignment of the text that appears in the paragraph.
Title – As is pretty evident from the name, this is what you use to add a prominent title to any section of the page being designed.
Image – Adding images could not have been easier. With this drag and drop ready button, you can add an image wherever you want to and can also specify the preferred alignment.
Image and Text – Building upon the image button, Webs also allows you the Image and Text option wherein you can add an image with accompanying text to make the message clearer.
Columns – Here is an ultra powerful feature in the form of a columns divider. You can branch off the content flow into two separate columns using this and can even go on to add different content elements in the two columns.
Photo Gallery – Image management becomes easier with the help of the Photo gallery that lets you add multiple images in one go.
Video – Want to add some multimedia oomph to your website? Look no further than the Video button that lets you add a video at a suitable place on the web page.
Contact Form – Wish to keep a record of queries and suggestions or want to give a channel to your visitors to contact you? Use the contact form with all its convenience. You can even add additional fields into the form to make all the more suitable for your website.
Map – If you are working on building a website for your local business, it will make all the sense for you to add a Map to explain your location to visitors, and that's what you can easily do by just dragging the Maps button to wherever you want the map to appear.
Button – Another powerful feature, the Button feature allows you to place a button with some text anywhere on the web page. You can then link the button to other pages and hence offer a well connected website to your visitors.
The Structure tab houses all the buttons that you can use to tweak the basic layout or structure of the web page being built. You can choose among several options such as 2 columns, 3 columns, tables, dividers and spacers to ensure that the web page looks absolutely like you'd want it to.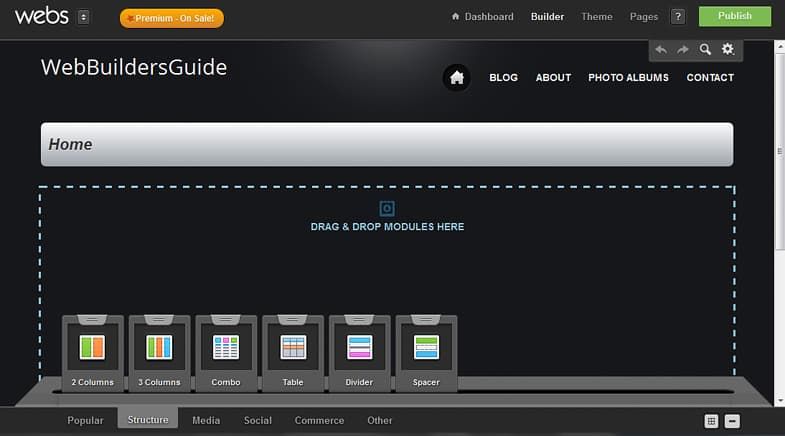 The Media tab houses all the buttons that can help you make your website rich in terms of multimedia. Whereas you'd have seen the Photo Gallery and Video buttons earlier, you'd like the looks of the Slideshow and the Audio buttons, respectively used to add a sequence of images and an audio playback file to the webpage.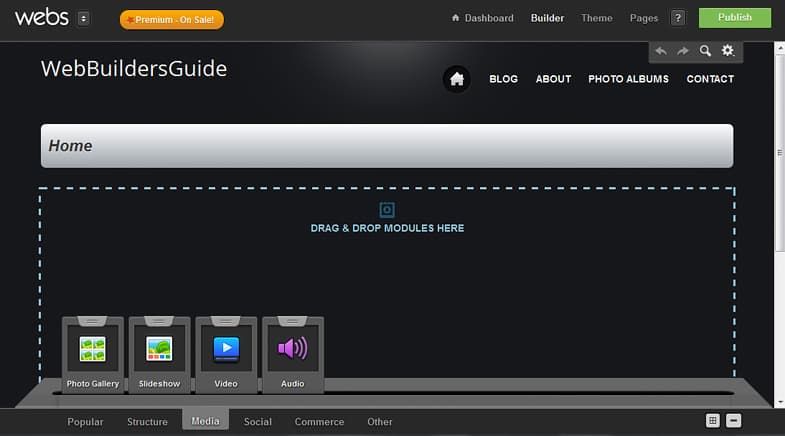 The Social tab is where all the Facebook and other social media artillery rest. You can make great use of the classy little buttons such as those for linking to Twitter feed, adding a Facebook Like or a Comment option, or placing a button for visitors to click on to follow the author and all other social media relevant features.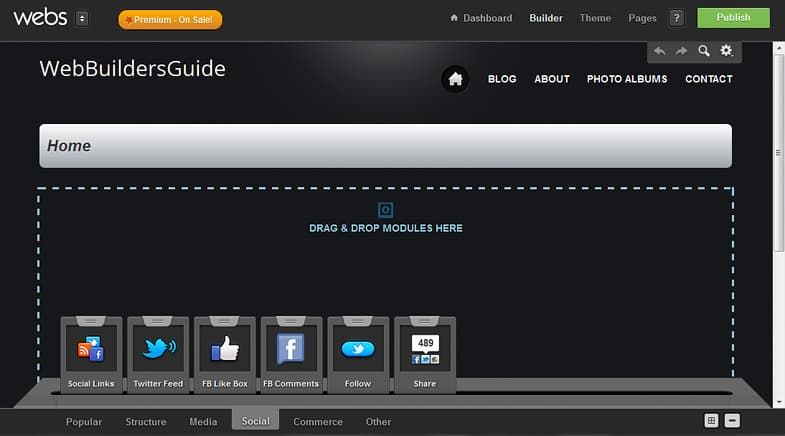 If you wish to leverage Webs to create an online store where you can sell goods, you need to use the Commerce tab that houses the PayPal Buy Now and PayPal Donate buttons, both of which come with extensive customization options.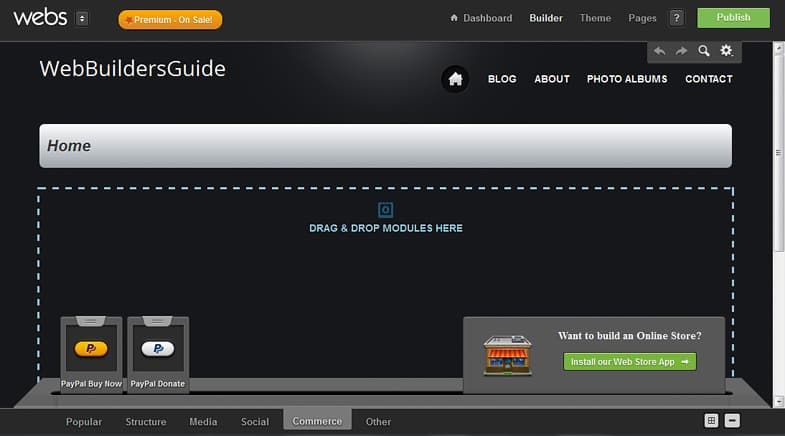 The Others tab hosts, apart from the Map button that you are already aware of, the buttons for adding custom HTML code to make your website all the more differentiated, a Subscribe button that helps you gather loyal audiences, and a Members Area button using which you can make it mandatory for a visitor to be a website member to be able to access certain content.
Apart from all the tabs discussed above, you will also want to check out the Settings menu from the top, which offers you the following options:
Rename Page – Allows you to change the name of the page even after you've made it and finalized it.
MetaTags/ Descriptions – Helps on the SEO front by letting you add MetaTags and Descriptions.
Hide From NavBar – If for some reason you wish to take off a page from the navigation bar of the website, you can use this option.
Password Protection – As is evident, this is the option you'll need to use in order to add password protection to a page.
Change Page Layout – Not satisfied with the way your page is looking? Use this option and set things right.
Site Builder Tour – Takes you on a quick tour of the site builder.
Create a New Page – Use this option to begin creating a new page.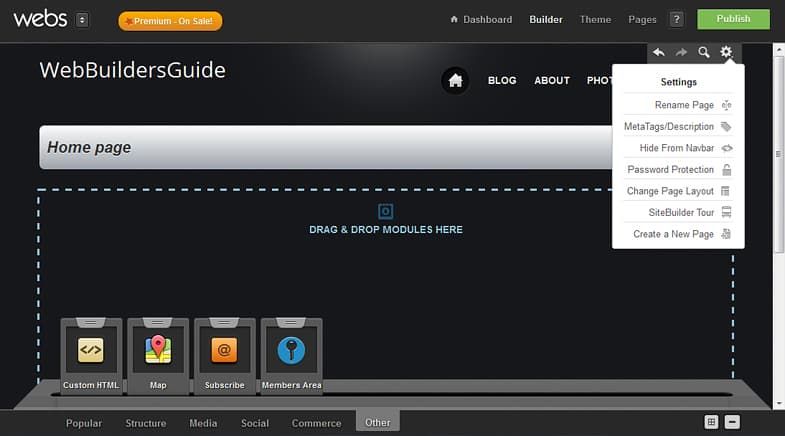 Top reasons to opt for Webs – the advantage in your hands
Webs doesn't miss out on any of the contemporary pillars of a website's success, be it the social sharing functionality or the mobile presence of the website. Here are some of the most attractive advantages offered by Webs.
A drag and drop builder that lets you create content rich pages – Drag and drop is just the beginning of all that is great about Webs. Along with the terrific interface, you also get some sparkling content elements to make your pages come to life .You can add calendars, maps, galleries and contact forms to the pages to make the most of your website. What's more, you can even host HQ video files as well as document files to offer a content rich browsing experience to your visitors.
The SEO impetus – Your website, especially if you are looking to market localized services, is not even worth half its weight if it doesn't get the eyeballs. For that, you need to either hire an SEO expert or undergo the painful learning curve yourself. Thankfully, Webs offers you the SEO Booster advantage, using which you can optimize your website to feature highly on Google, Bing and Yahoo. All this leverage, without any technical SEO skills being required!
Dynamically updating mobile website – Whereas many website builders fail on this front, Webs provides you the most seamless transition possible, with a mobile version of the website automatically updating as you make changes to the desktop version. With the world surfing on mobile devices, this feature makes Webs a top priority for all those looking for success in the virtual world.
The social edge – Social media is as much as necessity as a dose of X Factor for your websites. With Twitter feed integrated with your website, you can grow your traffic quickly. On similar lines, the Facebook candies such as Like, Comment and Share can help you multiply your website's visitors. With Webs, all these advantages are always just a few clicks away from you.
Other features that you'd love to know more about:
Infuse life into your website through a powerful gallery and slideshow functionality that lets you crop, resize and rotate images on the move without closing the builder
Feedback is of the prime importance for you to fine tune your content, and the analytics support from Webs is monumental in this sense as it offers you inputs about the kind of traffic, the concentration of the same and the effectiveness of campaigns
Ecommerce is too lucrative an incentive to ignore, and Webs' ecommerce features are powerful enough to help you grow your business to its full potential
Check out the different plans offered by Webs and pick the one that suits you the most.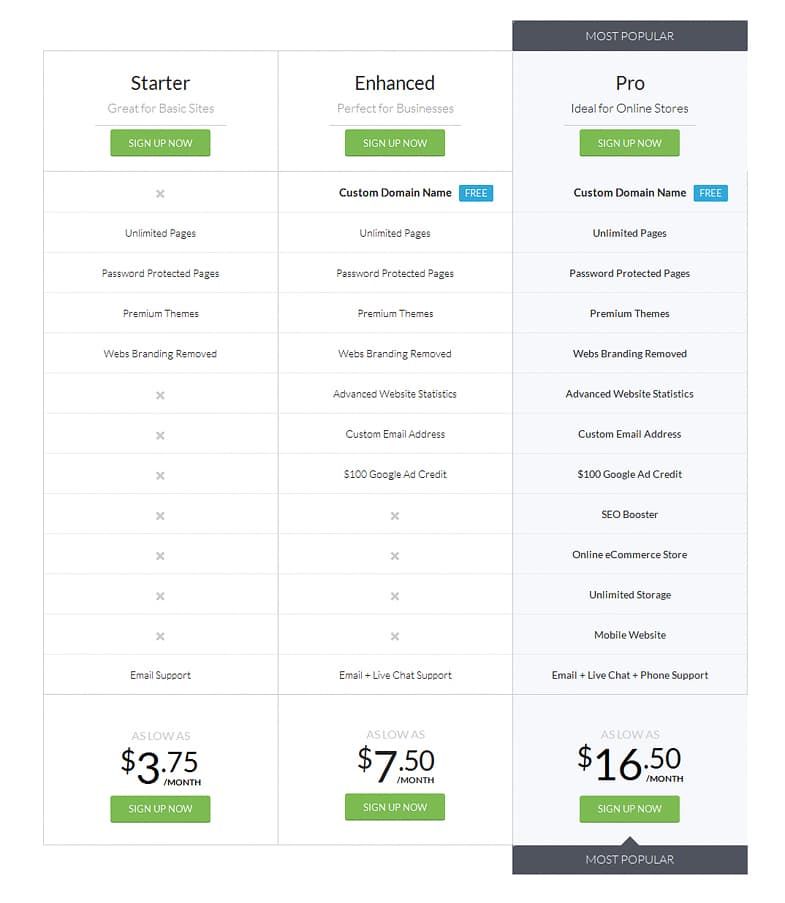 Check actual prices on Webs
Conclusion
Knowing what to offer and what not to shove across at the users is a valued skill, and it is more than obvious that not many website builders are able to showcase this coveted skill of selectiveness. Webs, thankfully, gets its screws at the right places, and puts together a thoroughly enjoyable user experience for you that is evident both in terms of the substance of the website building service as well as the philosophy cutting across the entire package. Whether you consider the neatness of the interface that is bound to make first time adventurers fall in love with the website builder, whether you make note of the fact that there are post development tools such as SEO Booster in place for professionals, or caste light on anything in between – everything about Webs leaves the fragrance of professionalism and user centricity. Dive into this website builder and check out its flavors on your own.
Webs Review