Sitey Review
Sitey – unmatched flexibility built upon mesmerizing templates for effective website building
Finding one's way in a market that is witnessing an ever increasing number of website builders can get tricky. Considering the implications of your choice of a website builder and taking note of the fact that switching between them is rife with complexities, it can get really intimidating for newbies to make out the great from the good. Whereas it's easy to be dazzled and misled by website builders that market almost redundant features with all the glitz and glamor of the world, finding one that can match the marketing with the reality is somewhat tough. Sitey solves this puzzle for you, and does so in style. Backing all the hype with real substance, Sitey has quickly made a name for itself in a jungle with much bigger and lethal predators. This has been a direct outcome of the fact that Sitey does the most things right, and never detracts from two of the most important attributes that user look for from a website builder – simplicity and effectiveness. Sitey boasts of a really enviable and adorable collection of website templates that can even make the most seasoned web designers drool. The best part – these templates are spread across dozens of categories, and hence make Sitey a relevant solution for a variety of web projects. To make things more enjoyable, the website building interface from Sitey is purely drag and drop based, and hence takes the technicalities out of the website creation. After making users glide effortlessly through the website building phase, Sitey showcases swanky functionalities such as top class image galleries, integrated blogging, social media connections, Google Analytics integration, and mobile optimized website for smart webmasters to leverage. By enabling website creators to get on with the more value adding and differentiating aspects of website management, Sitey qualifies as a complete and empowering website building platform for newbies as well as professionals. Read through the subsequent sections to know Sitey more thoroughly so that you can objectively weight its suitability as a website builder.
Using Sitey to build a customized website
The home page of Sitey greets you with some pretty colorful images and neat presentation of the best features of the website builder. The 'Get Started Free' is an enticing button prominently placed around the middle of the screen. Click on the button and kick start a super convenient and enjoyable website building journey.
You're immediately taken to the next screen where you need to choose one of the several terrific templates offered by Sitey. These responsive templates boast of rich colors and life like images, along with well laid out content blocks to act as guiding stones for you. Use the categories' drop down, the search box, or filter out templates as per criteria such as relevance and hit upon the one that's just made for your website.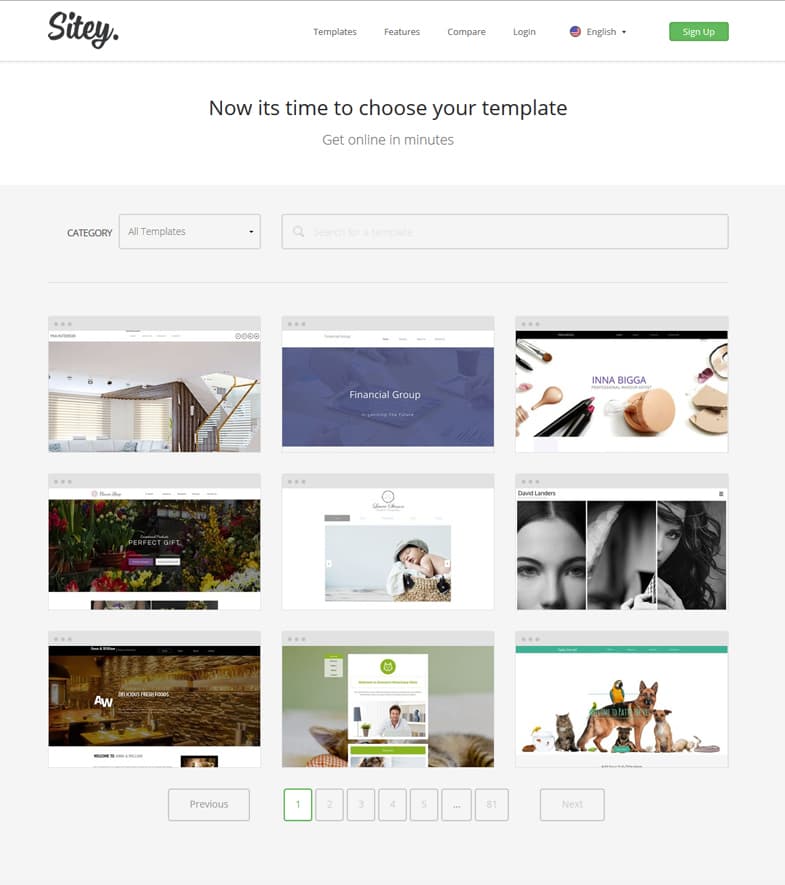 It's after you've seen the swanky templates and lost your heart to one that you are asked to register for Sitey. When you hover your mouse button over a template, you get the option to either Edit it or Preview it in all its glory. It's upon clicking the Edit option that you are asked to sign up, which in itself is a breezy process. Of course, the sign up is free. Just key in your name, email address and a password to get access to the website editor from Sitey.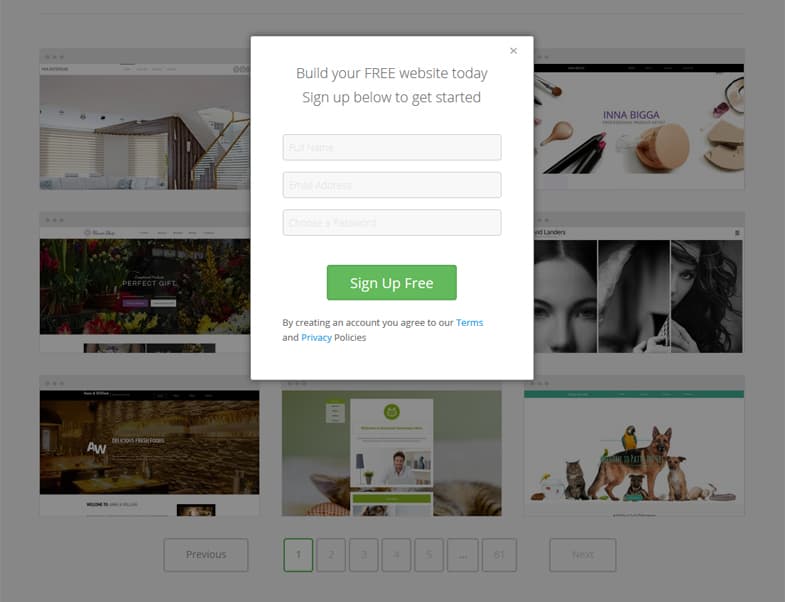 Your selected template is shown in all its classiness with the website building interface superimposed on it.
The options you need to access in order to explore the full quiver of Sitey's bows are organized under intuitive icons in a vertical and horizontal menu. However, before you can access them, you'll be shown a pop up asking for the name you want for your website. When you're using the free version of Sitey, the website you name will be hosted on the Sitey sub-domain.
Now, let's tell you everything about creating a website with Sitey, using the top horizontal menu and the sidebar to the left of the screen.
Add – For adding all sorts of content elements to your web pages, this is where the action awaits you. Not only does Sitey offer you a massive number of content elements that you can just drag and drop anywhere on the web page template, but also provides you baffling customization detailing for individual content elements. Use text blocks, images, shapes and buttons, apart from containers to add content to your web page. The level of customization with all these elements is amazing. For instance, you can select from hundreds of free images from across categories, your system saved images and others, and can play around with their borders, backgrounds, shades, and finer details. Similarly, you can select from presets of text blocks, titles, paragraph texts, and what not, and can then experiment with all sorts of text styles to make your web pages' content meaningful as well as beautiful. Styling options such as backgrounds, borders, roundness, padding, opacity, overlay, and text labels are available for almost all content elements, and you can be certain that if you wish to have every atom of your web pages' design in control, Sitey lets you do that.
Adding YouTube videos is a child's play with Sitey, using the video content element. Similarly, you can add Facebook Like, Share, Follow buttons using the Social icon from the Add menu option. Not only this, there are other empowering content elements such as Maps to point out directions, Contact forms to facilitate quick contact with users, Image Galleries with amazing effects for you to showcase your visual content with, Flash files to add unique content, Documents to make your web pages truly information rich, and Menus of links to make your website look like a coherent and organized content repository. What's more, you can even manage a fully fledged web store with the ecommerce prowess of Sitey, although that would not be allowed with the Free version of the website editor.
Pages – Manage everything about your web pages from here. The icon unfurls a sub-menu with some default pages such as Home Page, Projects, About, and Team. You can add any number of pages, and can change the name of the default pages, or set any of your pages as the home page. Moreover, there are advanced settings such as specifying title, description and meta tags for every page, using customized HTML codes for headers and footers of different web pages, and deciding their order.
Design – Now that you've blown yourself out with all the endless customization and content options laid out by Sitey, it's time to fine tune the design, Use page backgrounds, text styles, fonts and colors to make your web pages look truly special. Of course, the degree of customizations with these design aspects is as impressive as is with content elements.
The other icons on the sidebar are Stats and Settings. Use Stats while using premium Sitey package and leverage precise and detailed information about several aspects of your website to improve the content. The Settings icon encapsulates some important options such as SEO attributes for the website, Facebook link, Ecommerce and Favicon options.
The menu bar at the top of the website builder interface encases some important quick access buttons. Use the Undo, Redo, Copy and Paste buttons to edit and enhance your web pages effortlessly and quickly. Also, there are buttons to add grids and rulers so that you can have finer control over the placement of content elements. The Preview button allows you a look at how the web page will look when published, whereas the Save button lets you bank a session so that you can come later and take things further before using the Publish button to put out the web pages in the public domain.
Know more about the different service plans from Sitey
The Sitey pudding comes in 4 exciting flavors, which allows webmasters to buy what they need and leave the rest. What makes the offers all the more special is that you get a 30 day full refund guarantee with all, which should reinforce your peace of mind and confidence with the website builder. The 4 service packages – Free, Starter, Pro and Ecommerce, put together features and resources that appeal to specific interests. Here's a quick analysis of the finer variations in these plans to help you pick the one that's just made for you.


Check actual prices on Sitey.com
The great news with Sitey is that most of the really important functionalities and features are included in all packages, right from the expansive and alluring range of templates to the mobile optimized website. Social media links, image libraries and free hosting are offered across the 4 plans. The resource allocation with the Free plan is just enough to satisfy first time adventurers into the world of websites, with 50 MB storage, 5 MB file upload and 1GB bandwidth. Resource allocation increases to 10 GB storage, 50 MB File Upload, and unlimited bandwidth with the Ecommerce plan, which ensures that users have the complete rainbow of options.
The Starter plan is ideally suited for people who have a plan in place, and are looking for a supportive website builder for your plans. With 1GB storage space, 10 MB file upload size, and 2 GB bandwidth, the Starter plan has you covered in terms of resources. Apart from the standard features, this plan offers you the option of connecting your own domain with your website, removing ads from your web pages, and integrating Google Analytics for an improvement oriented website building and developing experience. Also, this plan connects you to the superb support center of Sitey, with 24×7 customer support to have you sail across treacherous waters.
The Pro package is the most popular offer, and with ample resources (5 GB storage, 25 MB file upload size, and a whopping 10 GB bandwidth), it is right up the alley of discerning web masters with really long term content plans. In addition to all the amazing features of the Starter package, this one comes with support for having a Favicon, along with free advertisement credits for the most popular websites to send across customers scuttling your way.
The Ecommerce plan really puts limits out of the window and comes with 10 GB storage and unlimited bandwidth, which is truly in sync with web store requirements. Obviously, this plan is tailor made for all those who wish to leverage the swanky ecommerce features of Sitey. Apart from the ecommerce features mentioned in the previous section, this plan also endows users with Priority support so that a sale is never lost from your web store.
Conclusion
In the world of website builders, whereas some builders have progressed on to targeting niche markets, there are some that appeal to those who like to keep most doors open. If your web success plans are built upon flexibility and dynamism, Sitey is bound to be a worthy bet for you. The range of its features is enough to impress novices as well as professionals from the website development sphere. With Sitey, you have the confidence that there would never be a gap holding you back. Right from the fluidic drag and drop website building experience to mobile optimization of the website, Sitey's arsenal is fully loaded with the most empowering functionalities that contemporary website builders have to offer. To top it all, the fact that the responsive templates on offer from Sitey cater to all niches such as music, photography, construction, business, and more really places it as a single stop solution or webmasters with long term content strategies. Of course, the house of ecommerce features is studded with all that powerful functionalities that businessmen can ask for. On a whole, Sitey impresses with its coverage and quality of features, and manages to shine as a credible website builder in a fiercely competed marketplace.
Sitey Review