SITE123 Review
SITE123.com – a really simple, user friendly, and fully loaded website builder
The virtual world of Internet is full of wonders, a great platform to put forth your ideas and share them with a global audience. But the complex coding, scripting and other technicalities that accompany conventional computer language based website creation often deter people from building their own websites. This is where website builders come into the picture, saving you from the trouble of hiring professional web developers. SITE123.com is one website builder tool that comes in pretty handy while constructing your own website. One of the easiest web builders out there, it offers a simple step by step guide to construct your own website.
Innovative and user friendly, this revolutionary tool has simplified website designing considerably, so much so that anyone can create their own website. Whether you're a blogger, an entrepreneur, or want to promote a product or a service online, SITE123.com offers personalized and practical solution to suit all user requirements. Also, its SEO features and range of well thought design layouts make it a reliable option. Replete with high tech features and advance tools, SITE123.com is every web enthusiast's utopia!
Popular among both professional and budding web entrepreneurs, this free website builder allows greater flexibility of operation. From choosing the correct website topic, improving the visibility to web hosting services and getting a domain name, everything is available with just the click of a button. The advanced wizard set up, ready-made templates, easy-to-use editor interface and cross platform compatibility make SITE123.com a comprehensive designing tool . And this is just the beginning; SITE123.com has a whole array of perks to offer! Discussed below are some features offered by SITE123.com and steps involving website designing. Check them out:
How to create a website using SITE123.com ?
You don't have to be a tech geek or software engineer to master SITE123.com . Just follow the simple steps given below and create your own website within minutes!
First of all you need to have a clear plan and decide what kind of website you want to create, Google similar website for some inspiration. Once you've decided the nature and content of your website visit the SITE123.com 's home page, the "START HERE" button is clearly visible clicking which you can begin the step by step journey to construct your own website.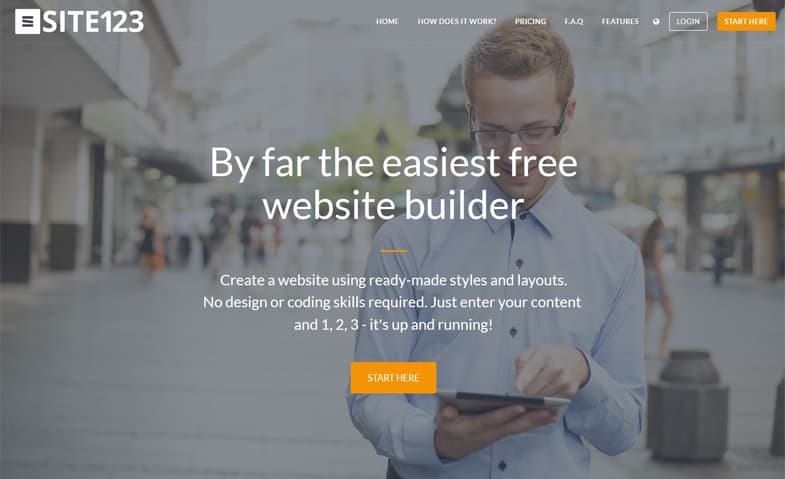 Next you will be redirected to the page where you will have to choose a category that best suits your requirement. From the list of options varying from business to event and even blogs, music, photography and marketing there's something for everyone here!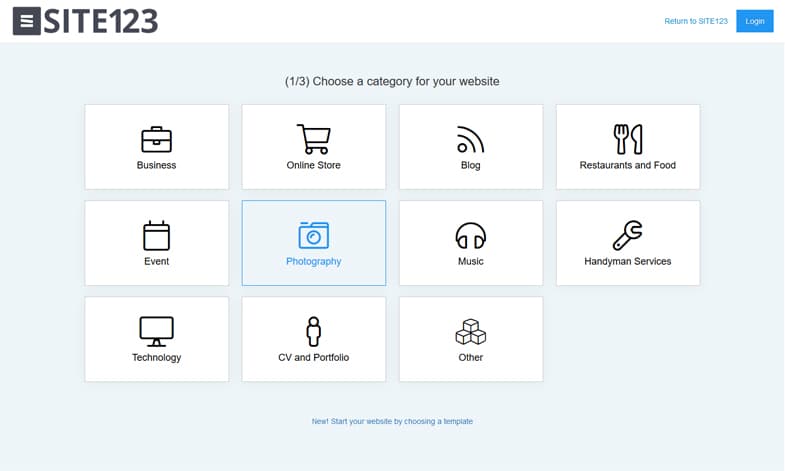 The next step is to choose a name for your website.

Next you need to log in; first time users have to register, fill in your full name, email id and password to create an account.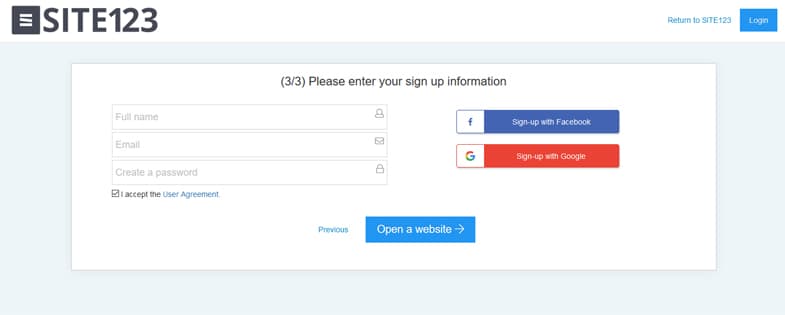 After creating an account you get redirected to the page where you can finally begin with the designing process.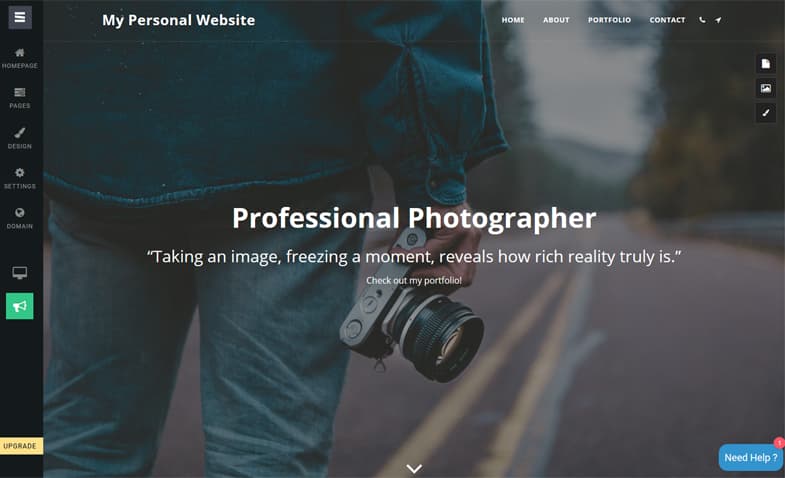 On entering website editor, you'll notice a chat head open at the bottom; this is customer service and support that would assist you in the entire process of website building.
The website designing includes various headers:
Homepage
Pages
Design
Settings
Domain
SITE123 claims that it's "By far the easiest free website builder", and you instantly know why, when you see that the builder offers a wizard to talk you through all the options. Let's take you through the sidebar, from where you control everything about your website.
The "Homepage" panel houses options to let you edit the website name, create page title and slogan, apart from managing the text options for the same. Then, there's the "Background Design" sub panel here, using which you can tweak the background image, alter page height and width, upload image for background, switch parallax effect on and off, and more.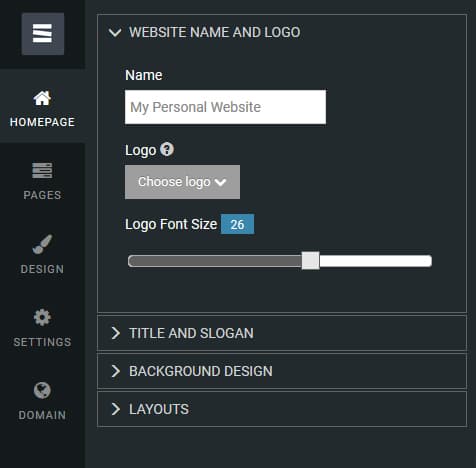 The Pages module allows you to add web pages to to your website, provide SEO meta descriptions and titles for each, add and delete pages, and more.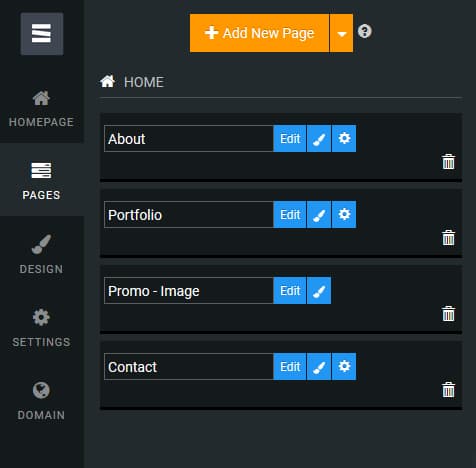 The "Design" panel houses options pertaining to Layouts, Styling, Fonts, Footer, and Social Images. You get several preset options inside each menu, which makes it a breezy affair for you to give finishing touches to your website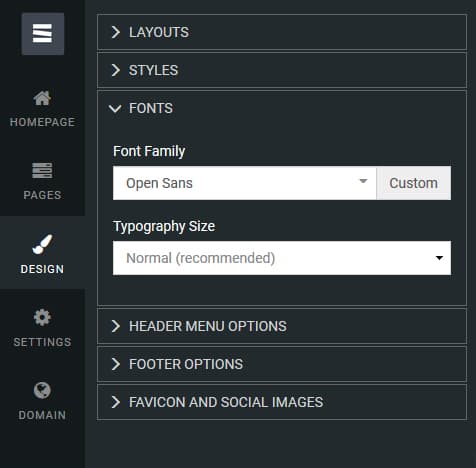 In "Settings" panel, you can define website type, switch between Terms and Privacy disclaimers, play around with SEO and webmaster tools, and set languages and countries. Use the single scrolling option inside "website type", because single page scrolling websites are popular among mobile users. It increases the flexibility of your website, widening the reader base drastically.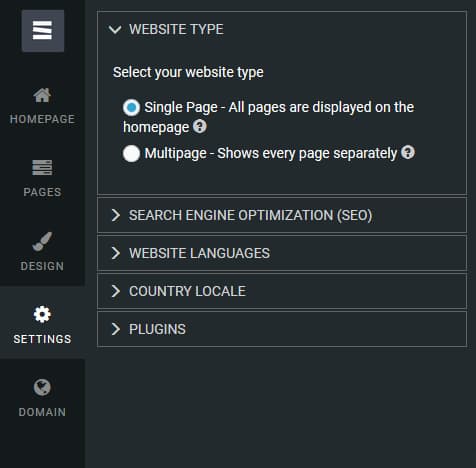 Apart from these options, the side panel houses icons for Preview, Publish, and account Upgrade.
With these steps, you've finished the designing of the website, and now need to register it and get a domain name. SITE123.com offers free web hosting and domain connection to users!
Once you get your domain name you're free to launch and use your website, SITE123.com even allows you to create multiple websites and manage them all with one account. And there's more! Your website is functional on all platforms; the layout is adjusted according to the device so that the viewer can easily access your website on a laptop or smartphone alike!
With the professional support, you can add design and manage your website easily. It supports ecommerce helping you promote your product and linking your website to PayPal account for quick transactions. In case you have a blog, SITE123.com helps you increase and manage traffic. You can even record videos and podcasts, or shoot documentaries, the advanced audio tools can sync your audio visual content, enhancing your page ranking.
Why go for SITE123.com ?
Listed below are some perks offered by SITE123.com that make it such a rage among users across the globe:
Quick and easy website construction
5 GB bandwidth and 10 GB storage
Responsive web designing, and high tech tools
SEO tools, content management and free images library
Free hosting and inexpensive domain connectivity
Customisable layouts and template designs
An endless list of attractive Google fonts to choose from
Add images, audio and video content
The popular one page interface
Smart ecommerce and blogging solutions
Easy linking to social accounts
Flexible and optimum utilization of web traffic
Can make unlimited web pages
Innovative newsletter package for practical email marketing
Effective communication with the audience via mail box service
inSite widgets for engaging and easy interaction
Excellent team of responsive and helpful technicians for customer support
A comparison of different plans offered by SITE123.com
SITE123.com offers website builders 3 premiums plans to choose from.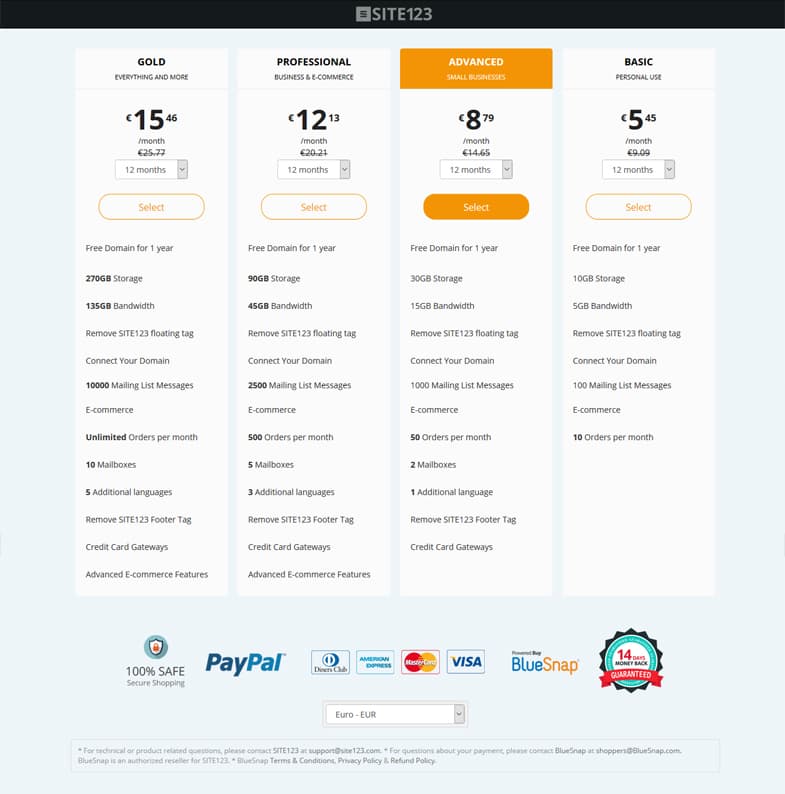 Check actual prices on SITE123.com
Basic package: allow users to connect a custom domain, remove floating promotional banners and some more options.
Advanced package: offers a larger storage, if you will buy this package for one year you will also get free domain name and 2 email accounts.
Professional package: offers even more storage and annual subscription will include 5 email accounts.
Gold package: offers a great list of features, 10 mailboxes and unlimited orders per month, which makes it a perfect choice for successful online stores.
Conclusion
The advanced tools, flexibility of operations and top quality customer services make SITE123.com a comprehensive and complete website builder ideal for fulfilling all kinds of customer needs. Very convenient and user friendly, this website builder offers excellent services at pretty nominal rates that is perfect for newbies. The customisable and responsive interface allows easy editing and website construction. No complex coding or scripting required, simply follow the systematic stepwise guide and you're set!
SITE123 Review