Mozello Review
Mozello – The Reinvented Modern Website Builder
Whether you're starting a new business or wish to move your existing brick-and-mortar store on the Internet, you must choose a good website builder to generate a strong online presence. Website builders are a boon for individuals with zero to little technical skills. Not only can you edit your web pages anytime, anywhere, but also you're also able to come up with attractive websites without any design talents. If that's not all, a useful website builder will make sure your page is up and running in a matter of minutes. You will find lots of options available – both free and paid – but it's important to figure out which service suits you and your company.
One company that's making quite a splash in this segment is Mozello. Headquartered in Latvia, Mozello allows you to create something unique – a multilingual website, that too free of cost. Now, it is true that this website builder lacked many features offered by key industry players, but that was in the past. Several updates have attempted to rectify the problem, and from the looks of it, they seem to have done a superb job. So, now you have a powerful website building tool that offers a rich, rewarding user experience, and makes your dream of owning a website reality.
So, take a deep dive into all the offerings of the new and improved Mozello, and find more information on building a personal website below:
The first thing you notice when you open the website is how easy-to-use and organized everything appears to be. Mozello has opted for a minimal clean, minimalistic appearance to their website and it works to give the home page an air of professionalism.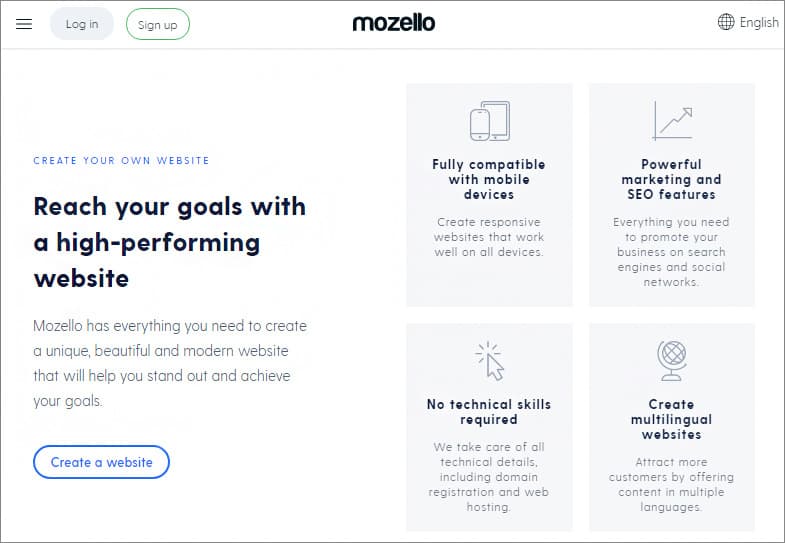 Mozello does not beat around the bush when it comes to highlighting all the features that make it such a hot favorite among DIY website creators. The company clearly spells out the benefits of using this website builder, from its multilingual capabilities to its advanced SEO and marketing features, personalization options, and its compatibility.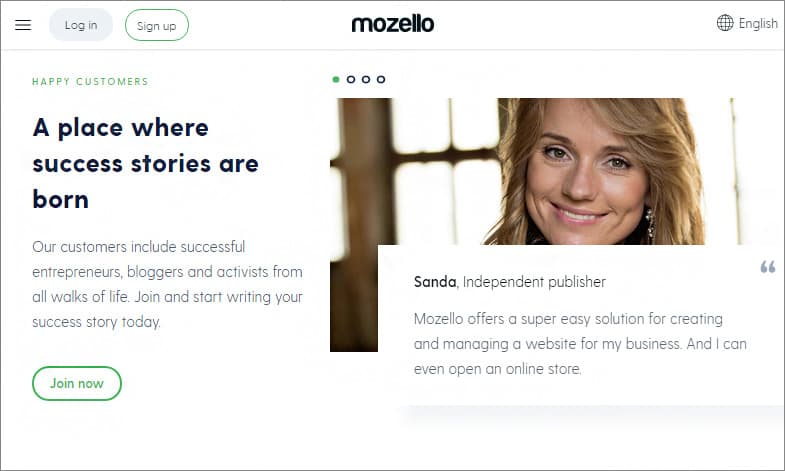 If you're still on the fence about selecting Mozello as the website builder for your business, the company has included several customer testimonials that speak volumes about its benefits, accessibility, and the different ways it has contributed to the successes of different individuals. It's a good way to gain some perspective into what features you can expect, and how you can harness the full power of this website builder to create a website that stands out easily from the competition.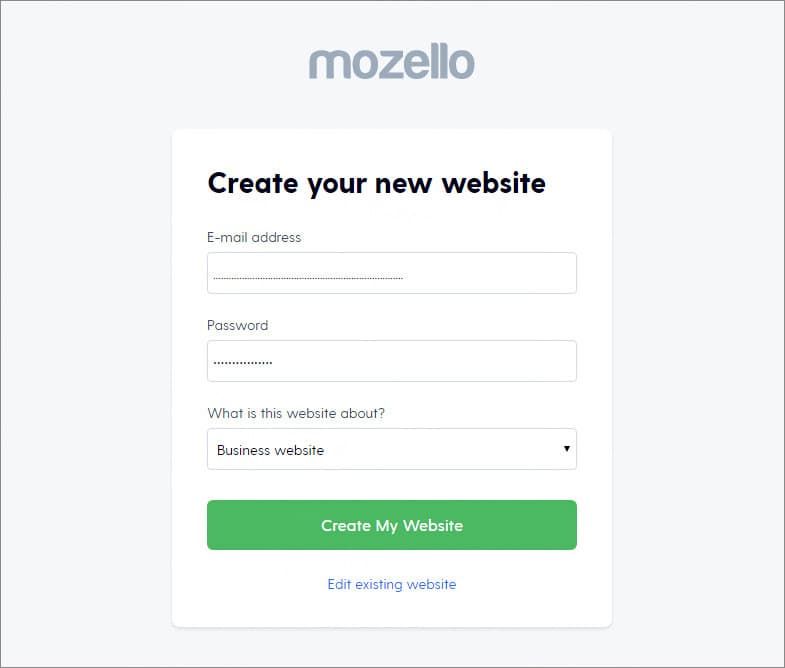 The moment you click the "Create a website" button on the home page, you are redirected to this Sign Up page. The overall look is clean and simple without any unnecessary graphics or information to detract you from filling in the details. Simply enter a valid email address, followed by the password of your choice. Under the section marked "What is this website about?" you will find a dropdown list offering five different options – Business website, Blog, Online store, Freelancer's website, and Other. Choose the category your new site will belong to, and then click the "Create My Website" button. Mozello does not collect any unnecessary details from users, so the entire process hardly takes a minute or two.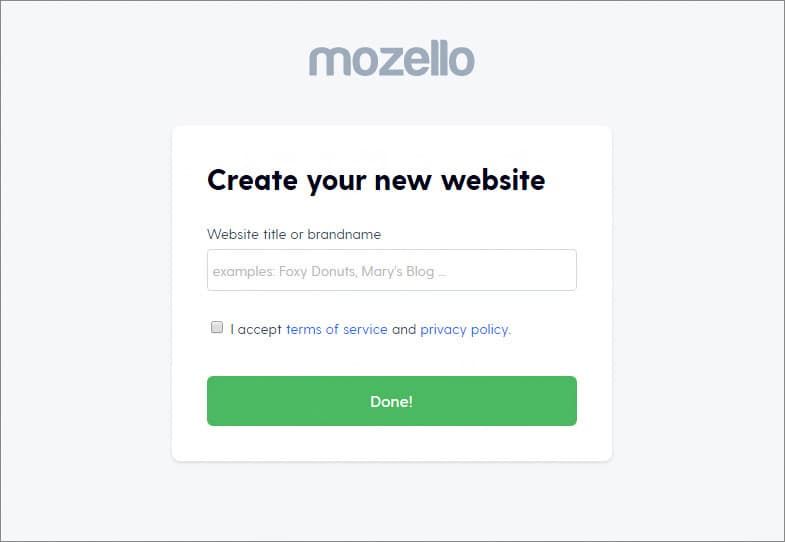 The first thing you must do is pick a suitable design for your website. There are 48 unique designs on offer, each with its own unique look and feel. It is possible to enlarge the designs to get a better idea. If you like what you see, go ahead and select it. But if you change your mind later, you are always free to edit the design. On top of that, Mozello allows you to customize every aspect of the design, including the layout, images, and colors.
At this stage, a message will show up on your screen asking you to confirm your email address. Head over to your inbox and click the link in the confirmation mail to get verified by Mozello. However, if you've yet to get the message, click on the "Re-send my account confirmation e-mail" and Mozello will once again forward a mail to the email address you entered.
Your website is complete, and on first glance, it might seem kind of busy. But everything is arranged methodically, so you just need to know what to look for. There's a lot to unpack here, so you need to go about it step-by-step. By default, six pages were created by Mozello – the first being Home, then News, Products, Services, About Us, and Contact – in that order. You can add more pages, if necessary, or even delete them.
Home Page
At the top is the name of your website. It is possible to add images and hyperlinks in this section. Or, there is an option to clear the formatting. Right below is the ribbon showing the pages available on your website. You can clear out the default picture and enter any graphics of your own. Plus, default spaces are provided so you can enter the slogan of your business as well as any captions or additional information below. Keep in mind that the layout varies from one design to the other, so what is applicable for this particular design might not be true for another.
There are two blocks created on this page – one on the left side, and one on the right. There is additional space below for entering text or tables or images. At the bottom right-hand corner of the page are the social media buttons. Three websites are supported – Twitter, Facebook, and Google+. You can link your pages to these buttons.
At the top right corner is the language button, which allows you to add languages to your site. What this means is, visitors from different countries are able to switch the language as per their convenience. Not only does this make your site feel more international, but it is a good way to entice visitors who speak a different language to visit your site.
There is also a floating tab on the below right corner of the page that lets you change or navigate the layout of your new website easily.
When you press the "Change Layout" option, a popup shows up on your screen that presents you with ten different page layouts for the new website. The best part is, you have the opportunity to change the layout later at any time as per your discretion.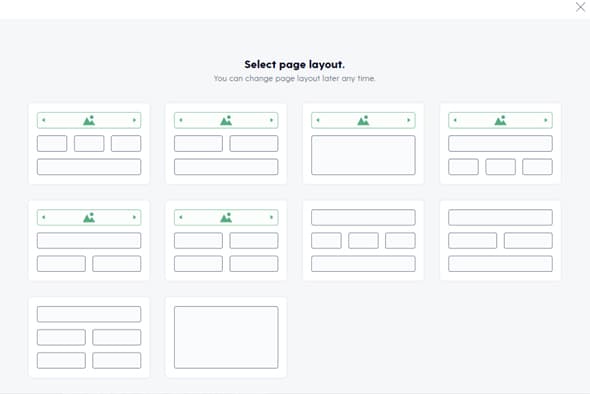 Once you choose the new web page layout you want to switch to, and click on the same, you will see a new notification at the top of the page.
The pop-up window confirms whether you wish to proceed with the changing of your page layout as there is a possibility of data loss. Once you press "OK", the look of your website will be changed accordingly.
News
The News page is a good way to let your customers and visitors know what's happening in your business. It could be something related to a new product, or an announcement, or even blogs. So, anything of relevance that happens with your business or your site should be posted here. Make it a point to keep this page up-to-date. All the entries are dated and users can even leave comments on your stories.
A list of the last few posts is displayed on the top right, while any extra information regarding your business can be presented to customers below. If that's not all, the bottom right-hand corner of the site features an RSS button that allows users to subscribe to your news feed so they can be alerted about the latest news and updates.
Products
The products page isn't much to look at initially. But that's the beauty of it – you are free to mold it any way you want. You can present a list of your products for visitors in this section and that doesn't just include text. You can easily format the text and insert videos, images, tables, Google maps, buttons, symbols, codes and other exciting elements to make your inventory seem more enticing.
Mozello gives you complete control over the text type, style, and size along with alignment, bullets, hyperlinks, and other formatting options.
Ecommerce Features
Now, logic dictates that every good website builder offers a solid set of ecommerce tools to users. After all, the reasons why most people create business websites in the first place are to boost sales and gain exposure in the industry. Unfortunately, the majority of free web builder offerings give access to a limited number of tools, which are frankly inadequate to set up a full-fledged online shop. But Mozello shines here with its impressive list of ecommerce features that allow you to sell items easily.
Go to Pages and click the "Add New" button.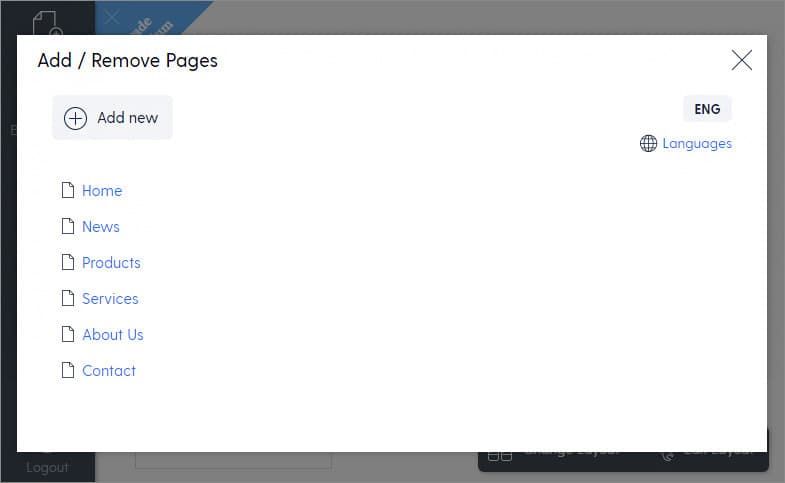 A new window will pop up asking you to choose the page type out of several options, including "Normal page with text", "Front page or special page", "Picture gallery", "Blog or news", "Web form", "Catalog or store", and "Link to other page".
Choose the "Catalog or store" option, and then enter the page title and page address. You may even click on "Advanced settings…" if you wish to play around with options like "TITLE tag", "META keywords", and "META description". Once you've entered the right information, click "Save".
You will immediately notice a few changes to the user interface. For starters, a new "Catalog" option shows up in the left column. The page also makes an appearance at the top.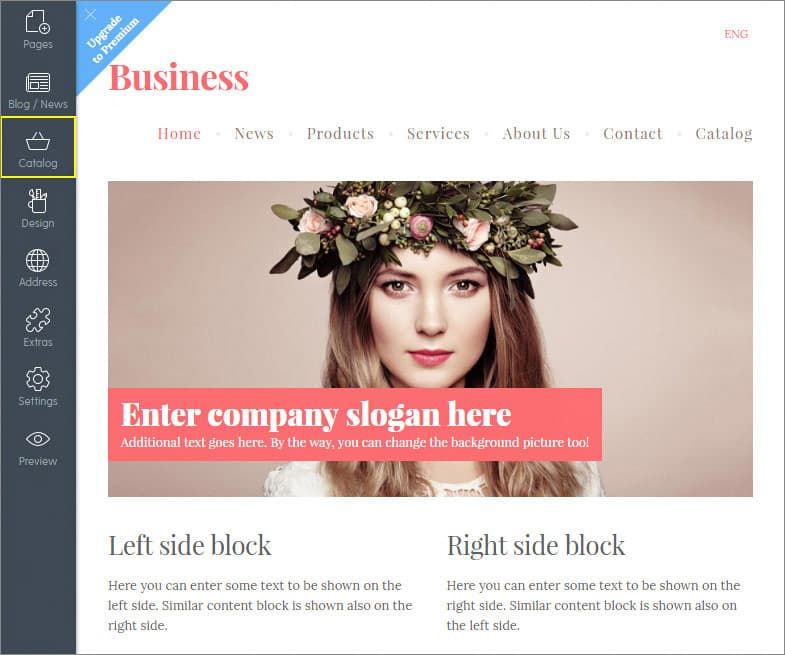 Head over to the "Catalog" page and you'll notice there are four sections – Catalog management, Orders, Discounts, and Catalog settings.
Catalog Management lets you add products and categories, so customers get a closer look at your products. A placeholders item labeled "My First Product" with a EUR 10.00 price tag is created by default. You can edit both the product details as well as the pricing later.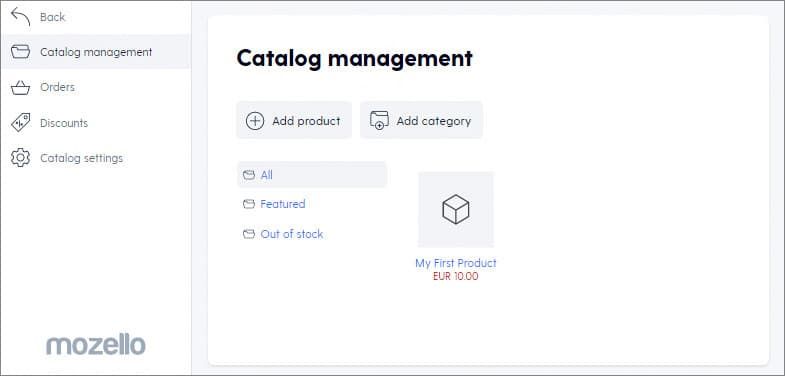 Click on "Add product" and you're immediately navigated to a page that allows you create a new entry for your website inventory. Fill in the category, product title, and description of the item you wish to sell. You may even add images to pique the interest of your site visitors. Customers may add new variants and options.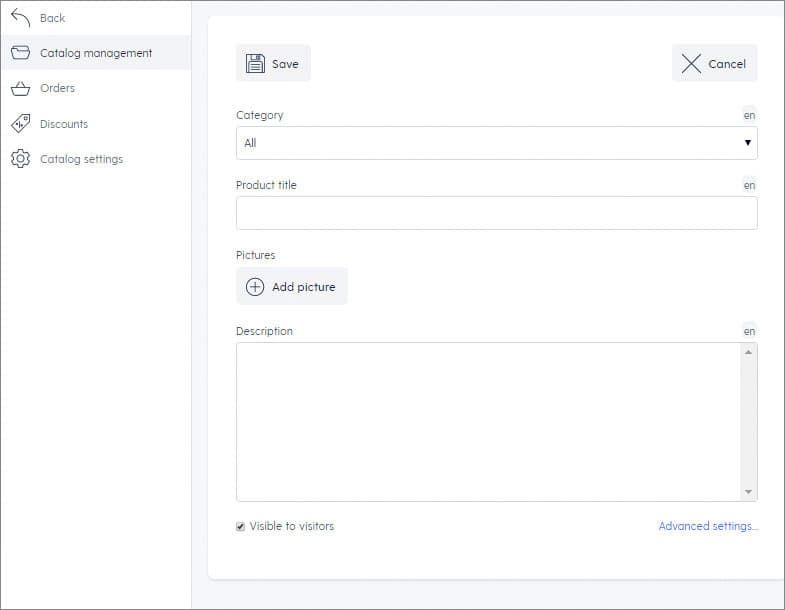 Now, for situations where you've already made a new entry but are unsure about a few product details, untick the "Visible to visitors" box. Verify and input the correct information later and mark the box, so potential customers can check the offerings.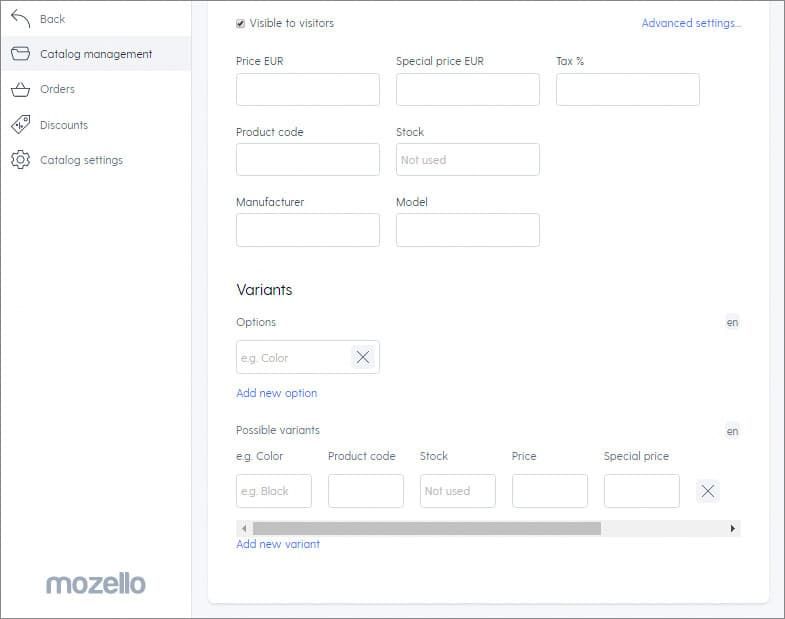 For further details, click the "Advanced settings…" link. Here you can provide information related to EUR pricing, special price, tax percentage, product code, stock, model, and manufacturer.
If there are variants of the same product, submit the correct information, such as color, product code, stock, price, and special price.
The Orders section is a great way to keep track of any open orders you have to fulfill. The Order archive subsection lets you monitor the details of past orders.

Similarly, the Discounts section lists all the discounts active on your products. Keep in mind, however, that discounts can be created only by Premium Plus plan subscribers.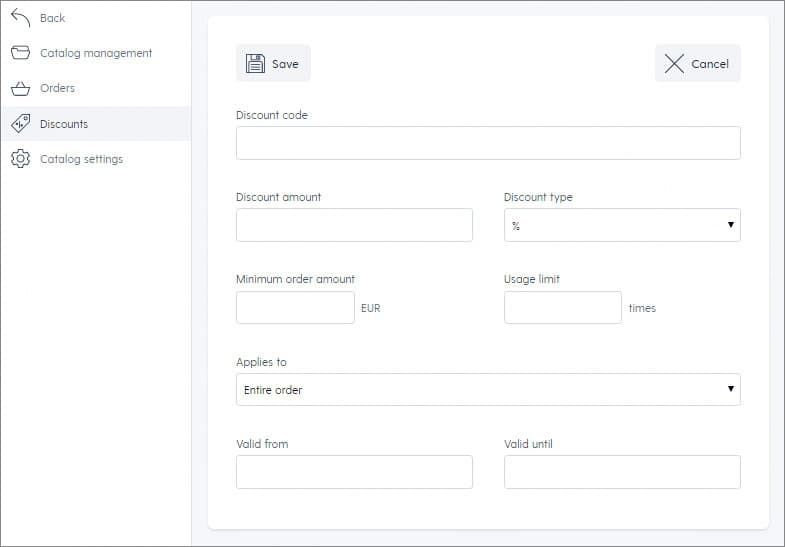 Make sure you include all the relevant information, such as Discount code, Discount amount, Minimum order amount, Usage limit, and Validity.
The Catalog Settings section offers you a host of features that make creating your ecommerce page a piece of cake. Look for subsections like General, Delivery, Payment, Taxes, Checkout form, and Legal terms.
In the General subsection, choose the currency you want displayed on your website from a dropdown list. Type in the name of the seller and add the address, and other tiny changes that make your site seem more credible and accessible in the long run.
The Delivery subsection lets you add new delivery methods by choosing the cost and minimum order value.
Set up your customer payment options. Mozello supports a wide range of payment modes for your convenience, from PayPal to cash, credit cards to payment platforms. Just fill in the appropriate details and link your accounts, and you're all set to witness the moolah flow in with every sale.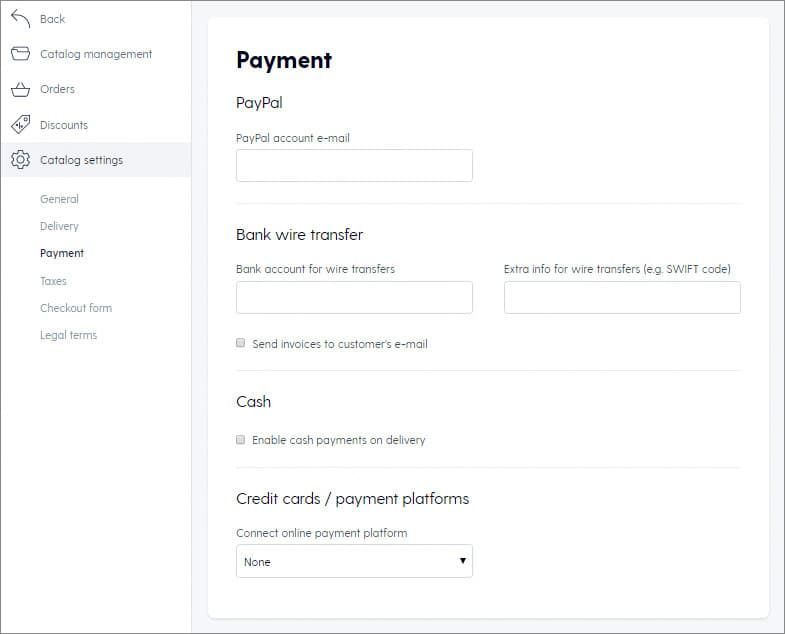 Choose your site's preferred Tax system from the dropdown list, including VAT/EU, VAT/outside EU, Sales tax/USA, and GST.
Select what options you want featured in your product checkout form. You even have the option of adding custom fields to this form.
In the Legal terms subsection, tick the box if you want your visitors to accept the terms and conditions of your website before enjoying full access.
No other website builder gives you so much freedom when it comes to editing the layouts by moving around the various content blocks. Mozello even lets you create an Image Gallery from the "Add New" page option. Also create image groups according to your site requirements.
Mozello prides itself on its customer-centric features, and the ability to surpass their expectations. For that reason, they've made the process of creating your own online store a piece of cake. Just click the Catalog or store option and you're ready to begin.After that, it's all a matter of creating your list of products and arranging them in the correct order. You can manage the whole store without hassle using the shortcuts and the ticker on the left.
Once you're done editing and changing the elements, you should have an Ecommerce page that resembles something like the one below.
Notice how crisp and clean it all looks. The hot buttons for changing or editing the layout of your store are still present on the bottom right, so you don't waste time making the necessary alterations.
If you click the 'Edit Layout' button, Mozello now provides you the option of editing whole chunks of content at the same time. In the picture above, for example, you can add new sections to your page, or edit the existing chunk by clicking the 'Setting' tool on the right side. Next to it are arrow buttons that help you rapidly switch the positions of the content as per your discretion. So if you need to move the last section upward and bring down the previous chunk of content, it's just a matter of clicking the arrow pointing topside.
The Store option will show up on your screen after you've completed your catalog. You can change the layout according to your needs.
Services
This section is pretty self-explanatory. It's where you state the services provided by your company. Think of it as a sales pitch, meant to woo customers for availing your services and buying your products. Format the text with images, videos, and other elements as per your discretion.
About Us
Provide details about your company in this section. If you're confused regarding the type of content to be included in this section, the website builder has included a handy guide for you to follow. You may even include pictures, videos, and other media related to your office building or company.
Contact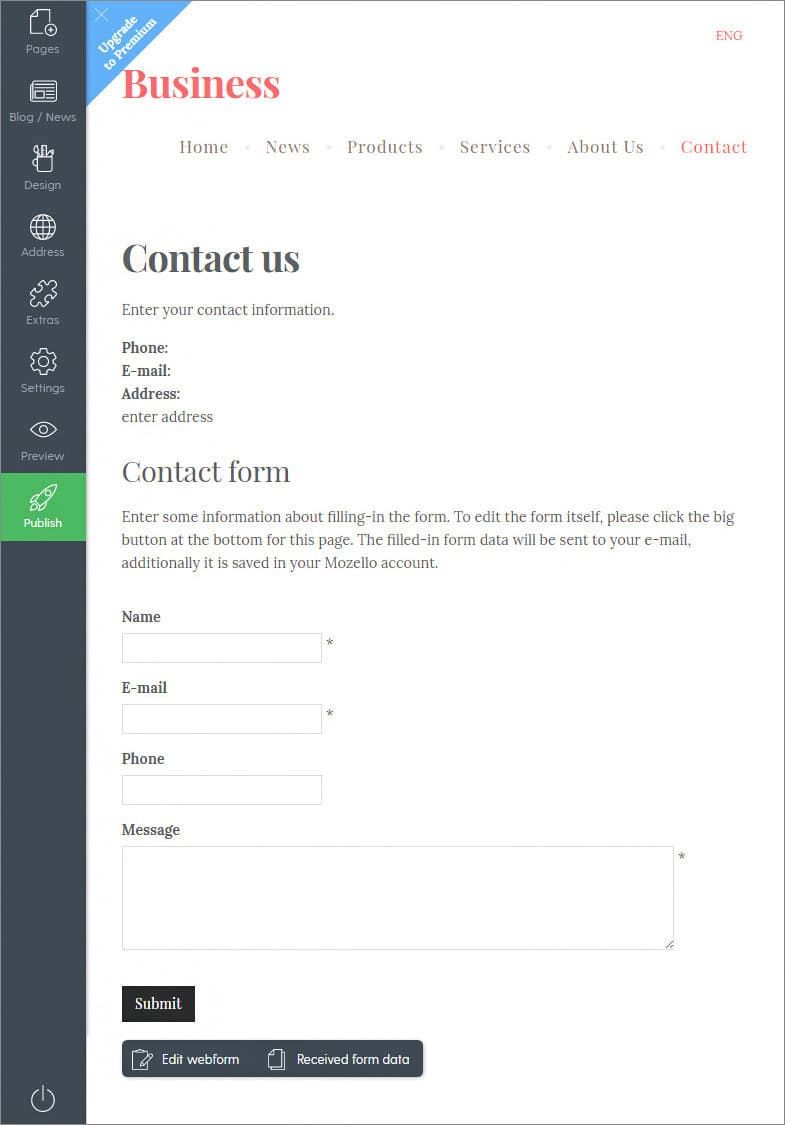 Last, but not the least, we have the contact form for your website. Provide your customers with a simple way to submit their queries and suggestions. The default form allows visitors to only enter their name, email address, and phone number, along with their comments. However, you are free to edit this form, adding new controls or changing the web form properties.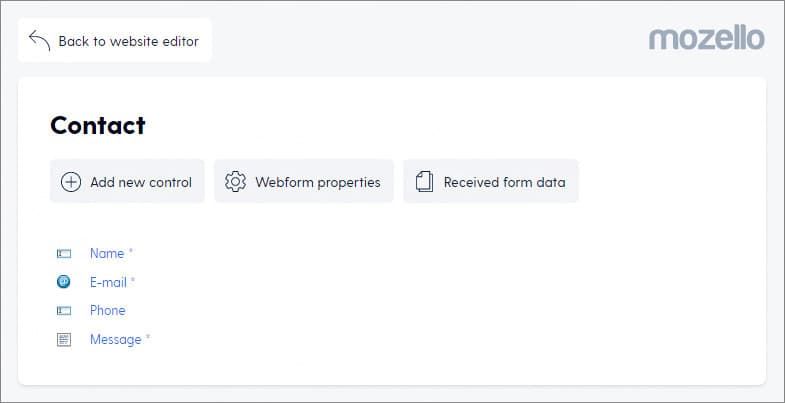 Any data entered by your visitors can be viewed by clicking the 'Received form data' button at the bottom of the page. Aside from that, the information is also sent to you via email and saved automatically in your Mozello account so you have a backup copy.
Features on Offer
Now that we've covered all the various sections of your new website, it's time to look at the features offered by Mozello.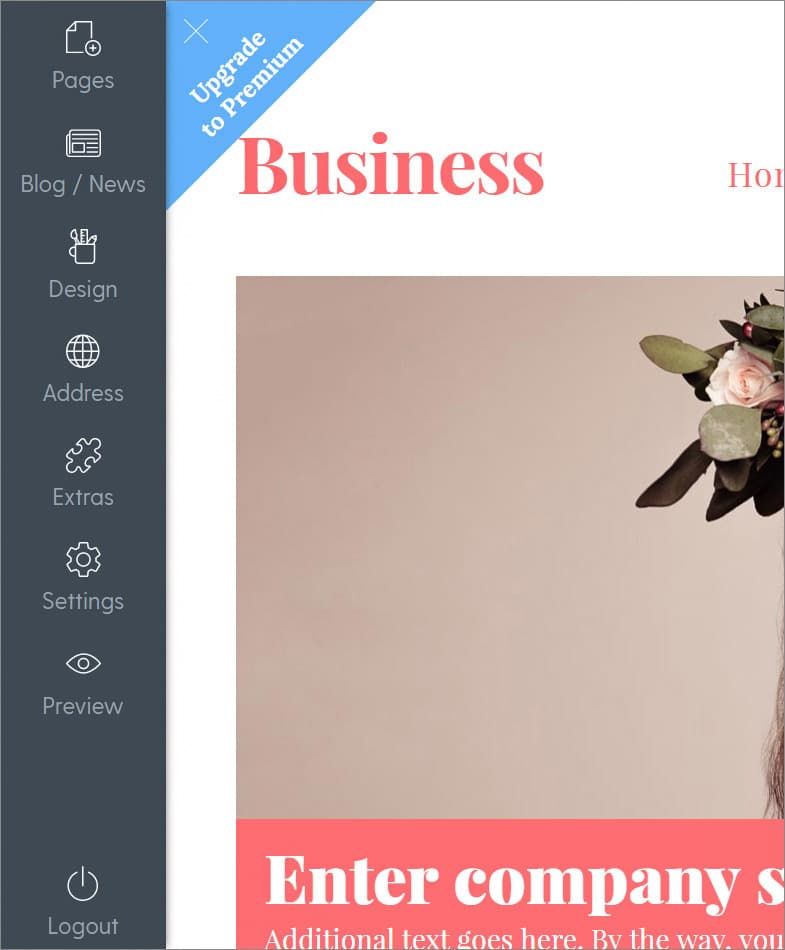 Now, pay attention to the ticker on the left-hand side of the user interface. It gives you access to more features. Pages, for example, provides an overview of the pages present in your website and you can easily access and edit any one of them, whenever necessary.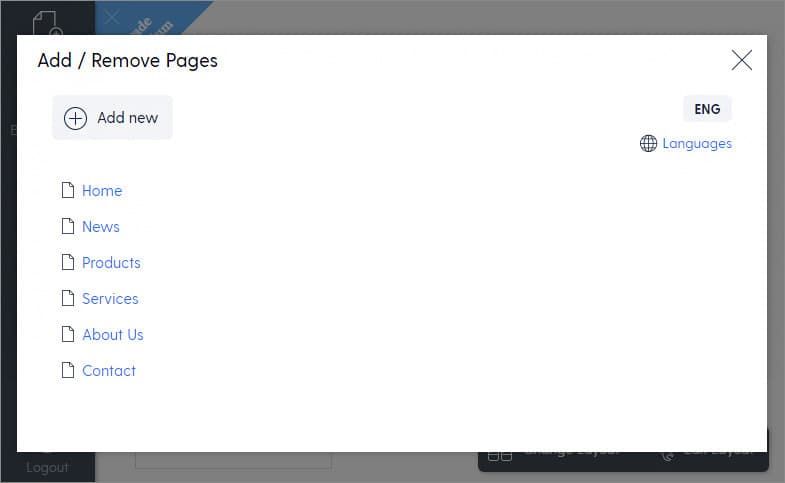 The Blog/News section lets you post noteworthy developments, product launches, and other interesting tidbits from your business. Publishing a blog is easy as you just have to hit the "Add new post" button" and enter your choice content. You can even add social sharing buttons for posts. "Advanced settings" lets you input the date and time of your choice, which is perfect for scheduling posts. There is even an optional space provided for entering Address suffix.
Things to get interesting in the "Settings" section as Mozello gives you the choice of posting user comments automatically or approving them before publication. Plus, DISQUS is also supported by this framework.
The Design section reveals three different options – "Change Design", "Change Colors", and "Change Font Scheme". The first takes you back to the design selection page where you can alter the entire look of your website, including the layouts, themes, backgrounds, and so on. Click on "Change Colors" and out pops a box containing various color swatches. Click on any combination of your choice and the color scheme of your website changes completely. It's extremely fast, easy, and responsive, and you should have no trouble finding a shade that suits your business aesthetics.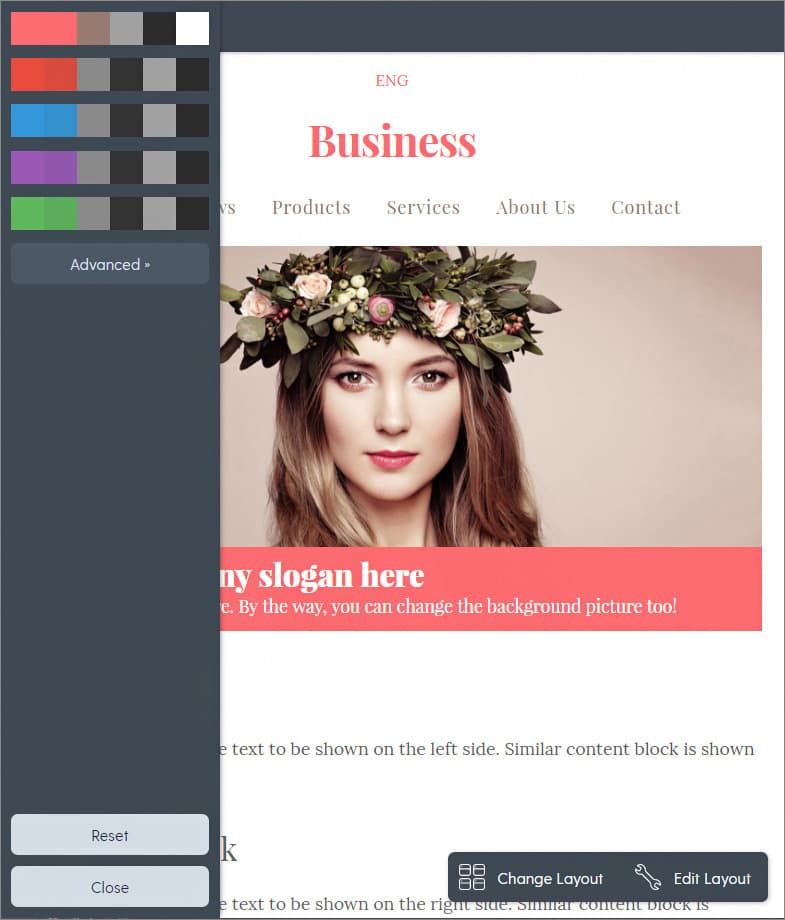 If you do not want a preset color scheme but want to customize the look of every aspect of your website, Mozello allows you to do that as well. Just press the "Advanced" option and you're shown various colors and which section of the page they correspond to. This way, you can determine the paintjob for every part of your website, from the title background to the menu text, the headings to the footers. And, if you mess up midway, you don't have to change the whole thing individually; just hit the "Reset" button.
Click the "Change Font Scheme" tab and a list of fonts for your whole page is displayed. Each option has two fonts – one for the headings and the other for the content. Click the "More" button if you want to view more fonts than the four displayed on the first page.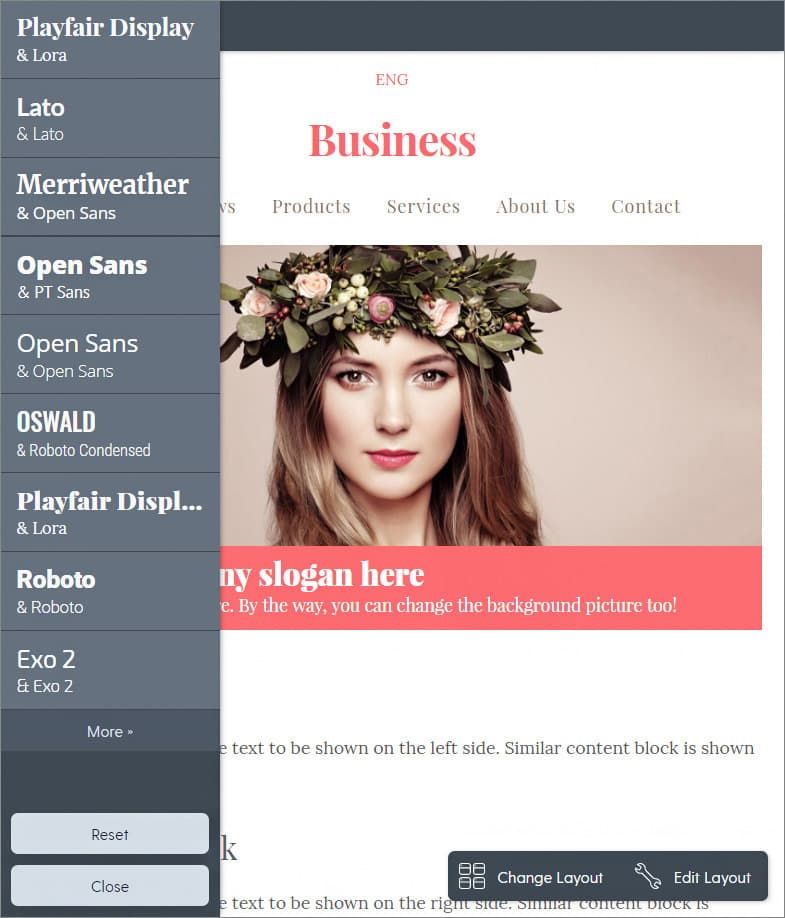 Press the "Address" option to view your free website address created by Mozello. You can edit the first part of the address in the "Edit" section, but if you wish to remove the ".mozello", you'll have to opt for the paid version of this service.
Paid customers can even get individual addresses, changing the ".com" to ".eu" or ".net" or ".org" or anything else of your choice. If you already own a domain, you can use that one for your new website.
If you think that's about the extent of Mozello's capabilities, you're dead wrong. Many new features help this website builder stand out from the rest of the competition. Take the Extras tab, for example.
The moment you click this option out pops a box on your screen that offers three choices –
"Cookie notice" informs visitors on the use of cookies by your website.
Clicking "Add" for "Share buttons" will add sharing buttons to all the pages of your new site.
You can also turn on Engaga, a service that collects emails, create popups, and runs marketing campaigns for your website.
The Settings page is crisp, well-organized, and above all, compact. So, you don't have to hunt for what you want.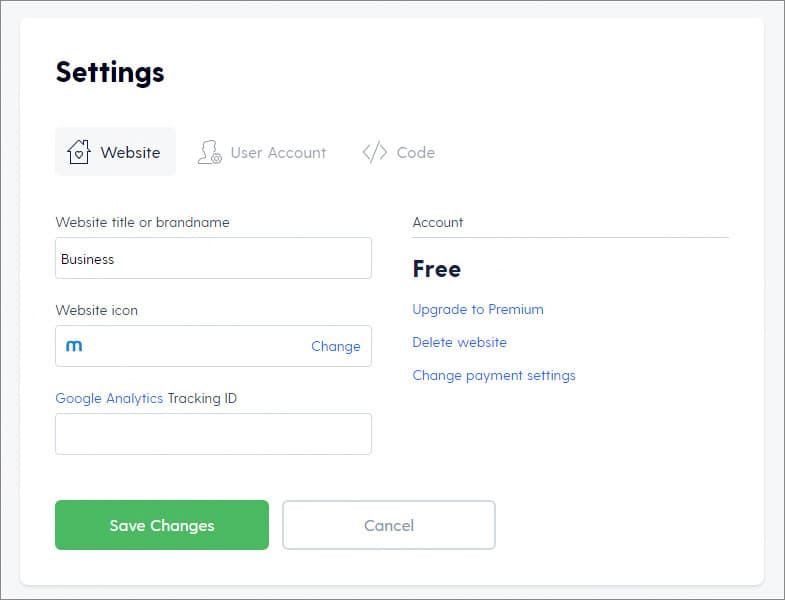 You can directly change the name or brandname of your website from this page. Plus, you can upload your own site icon or stick with the preset one. You can easily integrate your profile with Google Analytics by entering the Tracking ID.
Your account category is described on the right side. In this case, it is marked "Free" but you can upgrade to Premium at a later date. Mozello even offers the option of deleting your website if the need arises. You can even change the payment settings, but this option has not yet been made available to subscribers making payments via wire transfer.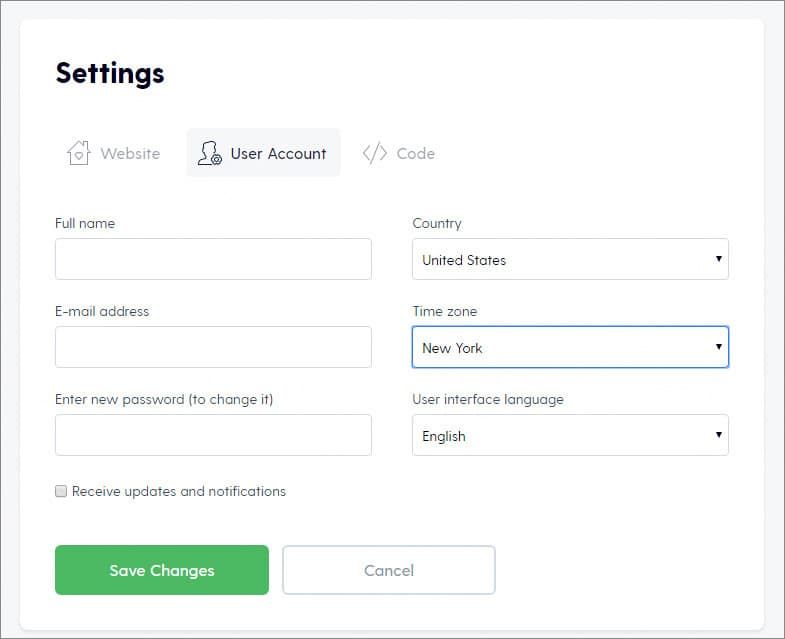 Head over to the "User Account" tab to enter details about yourself including contact information. This is also the section for changing the password of your website and setting your country.
As the name implies, the > Code section allows you to input any extra HTML code for the body of your website. Additional HTML codes may be submitted for the head section, but it is open only to Premium users.
If you want to see how your website appears from the perspective of the visitors, simply click on the "Preview" button. You can get a better look at your website without all the menus and interfaces cluttering your screen, and form an assessment of the final look of your website, specifically what works and what doesn't.
The only thing left to do now is to publish your site by clicking the Publish button. However, before you can finish this crucial step, you must verify your account via SMS.
Once you're done, you will the new website up and running for all to visit and buy products. Thanks to Mozello's streamlined website building interface and tools, the whole process hardly takes a few minutes.
If you find the experience fruitful and do brisk business on your site, you might consider upgrading to a Premium. There are two paid options available – the regular Premium Plan and the Premium Plus – that provide more storage space, showcase more items, and increases the maximum upload size. However, the free plan on Mozello is no slouch, providing 0.5 GB storage, online store for 10 items, and a maximum upload size of 5 MB, which is a lot more than what you get with other website builders.
Concluding Remarks
Morello might appear barebones, but scratch the surface and you'll find lots of great features along with unparalleled ease-of-use. So, if you require a tool to create a business website in minutes, this is the perfect choice.
Mozello Review