Moonfruit Review
Moonfruit – a basic yet flexible website builder for dummies
It's nothing short of baffling to note how something that used to be the luxury of technically adept web wizards is a freebie these days. The reference here is to a website. The 'surprise' factor doesn't lie in the fact that one can create a website for free these days. In fact, the wonder of the whole deal is that you can create a killer website with some super advanced additional features, for free! Creating a website that's rich in gripping content, and even adding a web store into the mix is a service that's offered for free by dozens of web based tools. However, what is to be noted here is that a lot of them are surprisingly tacky and leave you with half baked and practically useless websites. When you set out on your web site building project using a free website builder, it is important that you know which ones to look for and which ones to stay away from.
With a history of more than 10 years and the credibility of being a survivor of the dot com bubble, Moonfruit has some strong credentials up its sleeve. On a utility basis, it backs its claims substantially as far as first time movers into the world of web designing and website building are concerned. The drag and drop editor with some cool and useful widgets is a powerful website building tool, and other functionalities such as web store set up, blog and mobile website set ups make for some brownie points for Moonfruit. However, there's a rapid leap that a website builder has to take to make its free website building service great, and not just good. The answer for Moonfruit is explored in the subsequent sections of this review.
Moonfruit Free Website Builder
Moonfruit's home page welcomes you with pretty broad icons and buttons, and is hence a decent introduction to the world of contemporary website building for newbies. There's a prominent Login button to the top right of the screen, using which one can either log in to one's account, or seek the option of registering for a new account. Registering for Moonfruit's free service takes hardly more than 10 seconds, as you just have to fill out 2 fields.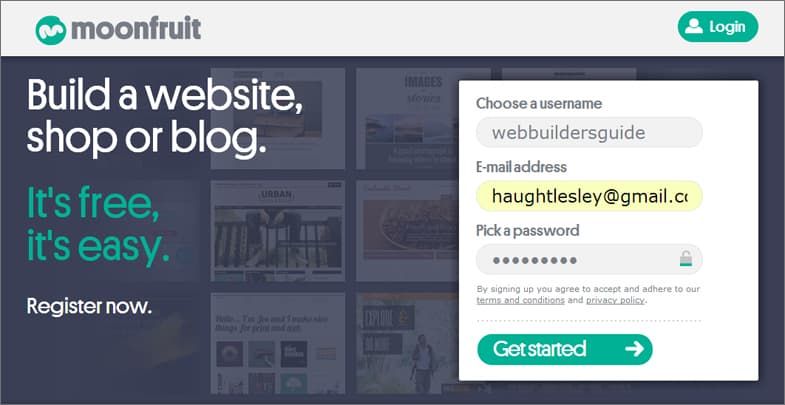 After you give in the required details, you see a screen serving you the option of either creating a new website, or opting for the KickStart package wherein Moonfruit's in-house designers and web building experts take your web projects' designing upon themselves, with you calling the shots. This, of course, is a paid service. Opt for the Add site option and get on with the free website building experience.
Now, you need to select a template to base your website upon. Now a template is certainly not the sole differentiator that can set a website building tool apart from the other. However, the essential role played by a template in giving a beautiful and attractive face to a website can't be undermined. Whereas some website building apps take the quantity route as far as deciding upon their template offerings is concerned, there are others that stick to a limited number, but invest more time per template to increase its attractiveness for a user. Moonfruit belongs to the second category. The templates it offers in its free website building service are easily comparable to many premium website templates floating around the cyber-sphere. Covering pretty much the entire color palette, the templates on offer from Moonfruit are enough to make any first time website maker drool.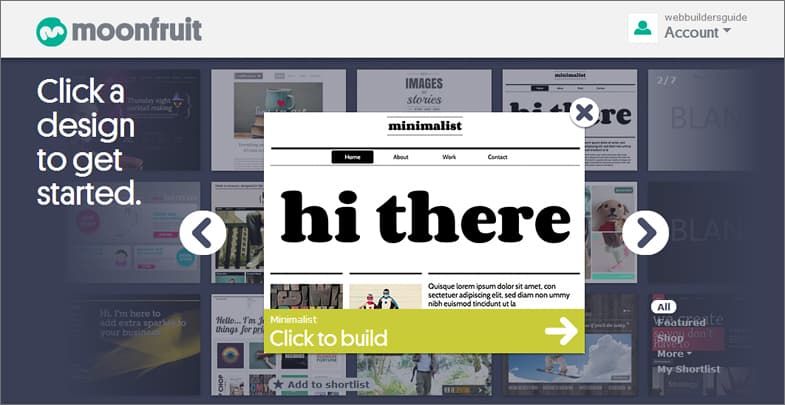 After you specify your choice of a template, you need to pick a name for the website, and the address you want it to be available at. This is the sad bit, as you don't get to use your owned domain name here, and have to be content with the Moonfruit sub-domain being included in the website address.
Now, the screen transforms into a cockpit of sorts; this is where the real action begins, as you enter the drag and drop styled contemporary website editor. A pop up greets you, and informs you that you just have a 15 days trial period of free usage after which you need to upgrade to a premium package. However, you can continue to use the free service, provided you commit to upgrade your website at least once every 6 months.
The difference between website builders that take the end user's core needs into consideration on every service design step and those that tend to ignore the same is clearly reflected in terms of the ease with which a newly registered user can play around with the tool. Considering the massive range of tweaking and customizing options that Moonfruit packs into its website builder, offering easy and intuitive usage becomes more of a pre-requisite than a luxury. The new and upgraded HTML5 version of Moonfruit gets a lot more marks on this front than its previous Flash only version. Though this might not be the most agile website builder you'll ever come across, you do manage to create presentable websites without much time investment.
Most of the actions you need to take with regards to the website creation initiate from the icons lined in the menu bar resting horizontally at the top of the editor screen.
Edit – Here is everything that you need to make easy and quick changes to the content already created for your web pages. Making duplicates of pages, copying content elements, pasting content from one page area to another, undoing and redoing changes, reverting to the last saved session – all these quick changes can be made with single clicks using the Edit option.
Insert – The name says it all; this is from where you get access to single click content insertion options, right from shapes to widgets. With Google Maps, YouTube videos, Vimeo videos, Twitter feed, Form widgets and image gallery, there are certainly some cool widgets for you to enjoy working with.

Pages – Options like adding new pages, organizing and shuffling the existing ones, copying and deleting pages – all are neatly packed in the list that thus button rolls out for you.

Design – We noted how Moonfruit's templates are right up there with the best in the business, but then, it really does not work it if you don't have complete customization flexibility as a user. Thankfully, Moonfruit manages to build on its early impressions and offers as much flexibility as one can hope for. This effectively means that you have a superb template to base your website on, and then you have complete freedom to change content and design elements as you please to make the resulting website perfectly acceptable to you. You can do all these customizations fairly easily, using the Design button. Some of the options include defining default font styles, site alignment management, setting wallpapers and icons, manipulating site size and site margins, and altering the background.
Blog – The fact that you can create a blog along with your free website indeed counts as an impressive feature of the free website building service from Moonfruit. Adding and managing your posts is easy with the blog builder.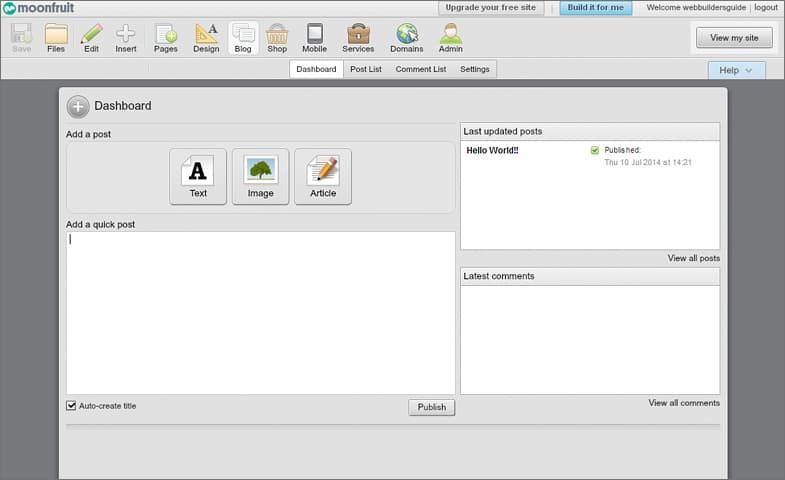 Shop – It's important that website builders include additional flavors of web based projects into the pot, and eCommerce is right at the top of the charts as far as these additional aspects are concerned. You can easily set up your web shop, using the pre-made store templates made available by Moonfruit. In terms of letting you absorb the power of eCommerce, and how a premium package of Moonfruit's website development services will help you get a functional eCommerce store up and running, this is helpful. For a basic experience of setting up a web store without getting bogged down by the technicalities of the full fledged experience, the web shop service that accompanies the free website builder is pretty sufficient. Although you do get to play around with a few settings and customizations, you would find the eCommerce functionality pretty limited in practical scope.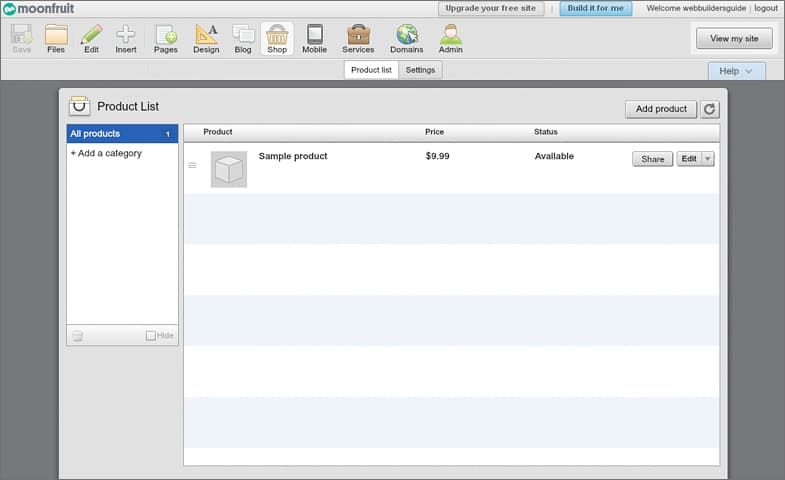 Mobile – As surfing on the move gets entrenched as a habit for us, it doesn't make any sense for you to leave out this massive channel of engaging your audiences. So, the mobile website editor proves to be a pretty practical and easily manageable tool that helps you to create a content rich website for mobile viewing.
Admin – This is where you make all the site-wide changes, right from copying the site to deleting it. Your plan information is also summarized here, and you can also choose to upgrade using this menu option.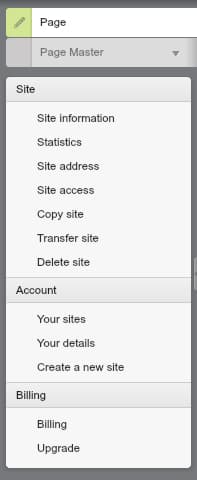 The SEO features packed into the free service also deserve a quick mention here. Considering that experimenters and first timers make for a huge clientele for any free and paid website building service, it is imperative that the skill and knowledge based aspects of website creation and website marketing be taken care of the tool itself. In this sense, Moonfruit scores big, as it takes care of the SEO considerations associated with website creation pretty well. Moonfruit based websites are pre-optimized for search engines like Bing and Google. Not only does this mean that you save all the fees that would otherwise go into the pockets of an SEO expert you hire, but will also elevate your website's rank in Google's search engine result pages, thus leading to a better influx of visitors.
What do the premium packages from Moonfruit have in store for you?
There's no denying that you can create a free and functional website using Moonfruit's free website builder. However, you will easily find more agile and dynamic players in the industry who are offering better free website building services. For all those who don't quite find Moonfruit's free website builder impressive, because of the few very obvious flaws that it has, there are 4 paid plans that they can consider in order to enjoy more limitless and adventurous website building. The paid plans come to you in 4 different versions – Lite, Standard, Plus, and Max.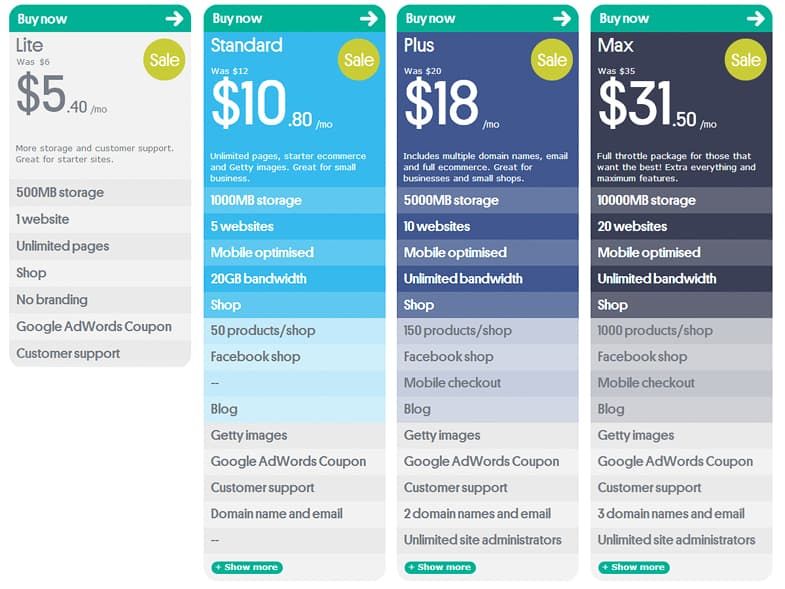 All the premium packs eliminate the limitation of Moonfruit's branding being visible on your free webpages, which makes the website a lot more useful for commercial and blogging purposes. In addition to that, you can also go ahead and make as many webpages as you want for your website, whereas the Free version just allows you 15 pages. In addition to all these, you also get Google Adwords Coupons and customer support in the paid website building packages. The Lite version is, in fact, an affordable enhancement of the free version, as it comes with 500 MB storage as compared to the insufficient 20 MB storage given in the free service.
The Standard, Plus and Max website building service packs from Moonfruit are the ones that you will need to look for if you wish to set up a useful web store using this service. That is because the Free and Lite plans do not allow you to use the shopping cart feature for eCommerce, which means that your web shop becomes practically handicapped. The Standard package is a decent pick, as it lets you add 50 products to the web shop. Plus, you also get to use your domain name, and email functionality associated with the domain. In addition to all this, you also get a Facebook ready shop, a blog, along with access to the Getty database of images. Moreover, you can create 5 websites with the Standard pack, which are also mobile optimized. The resource allocation improves to 1000 MB storage space and 20 GB bandwidth.
As you move on to the Plus and Max packages, you begin to really get into the groove with some pretty exceptional features. All these features are up and above those included in the Standard plan. You can add 150 products to the web store using the Plus plan. It packs in 5000 MB storage space into the package, and allows you to create 10 websites, all of which are mobile optimized. Moreover, there's mobile checkout option as well, thus allowing you to explore the potential of your web store in the best possible manner. The bandwidth is unlimited, so scaling up to more traffic will not be a problem at all. The 5000 MB storage space is also bound to motivate you into creating multimedia rich websites.
The Max plan is right at the top rung of the service ladder from Moonfruit. With the option of adding up to 1000 products per web shop, this pack is best suited for this looking to make it really big in the eCommerce arena. You can create as many as 20 websites using this service, and also have 10000 MB storage space to play around with.
Conclusion
Moonfruit is a difficult service to review, purely because of the fact that it does many things, but somehow leaves a few stones unturned in the end. However, there are many things to like in the service. The quality of templates, for instance, makes it a great choice for all those who are looking to just enjoy their first website building experience. Then, Moonfruit allows top notch flexibility if customization to its users, allowing them to tweak design elements to the finest level of detailing. In addition to all this, Moonfruit also scores well in terms of its SEO functionalities that help out first time website projects in a great way. The premium versions of the website building service offered by Moonfruit are pretty impressive as well, and pack in some terrific features. In addition to all this, you can also benefit from the periodic sales that Moonfruit offers on its paid packages. This is as far as the good impressions of Moonfruit go. What's a matter of concern for this website building services is the number and gravity of gaps that it leaves unfilled. It is certainly not the most dynamic website builder you'll come across. Then, the eCommerce flavors of the free and the Lite plan prove to be barely anything more than eyewash. Plus, you might want to be prepared for long delays in the customer support mechanism of Moonfruit. All this said and done, Moonfruit is a fair pick for free experimental website creation, and not much more than that if you insist on something free.
Create a free website on Moonfruit
Moonfruit Review