IM Creator Review
Easy, agile, drag and drop, simple, convenient – these are regularly used terms that almost all website builders include in their branding messages to prospective users. Indeed, drag and drop styled builders take the complexities of coding outside the scope of the website building exercise. However, a website builder can only be quick and agile if it backs a drag and drop styled editor with more powerful and time saving functions that can make the website building process more enjoyable and quicker for users. You would easily be disappointed by the mere sights of the long lists of buttons and menu options that most website builders pack into their interfaces, or must be prepared to accept the tradeoff between the simplicity of the website development exercise and the sophistication and extant of configuration options involved in the same. IMCreator limits the trade off, and delivers in all regards upon the promises it makes.
We mentioned the need for website builders to look beyond drag and drop builders to make the user experience more enjoyable, and IMCreator responds to the user expectations with aplomb. With swanky templates that are ready to rock with pre-loaded content, all you need to do is to replace the content with your own, and publish your work to sizzle in the virtual world. In terms of the user experience, IMCreator puts together the best from the world of coding-free website development, helping you build presentable websites within as little as a few minutes. Get ready for what is easily the most convenient website building exercise you will ever do with IMCreator.
IMCreator Website Builder
IMCreator doesn't leave any stone unturned in living up to its promise of a quick website, and nothing inspires more confidence in users than the fact that there isn't even a registration process to stop you from immediately enter the editing zone to create your website. Once you go the IMCreator website, you need to click on the "Start Now" button to begin the fun filled ride to arguable the quickest website you can ever create.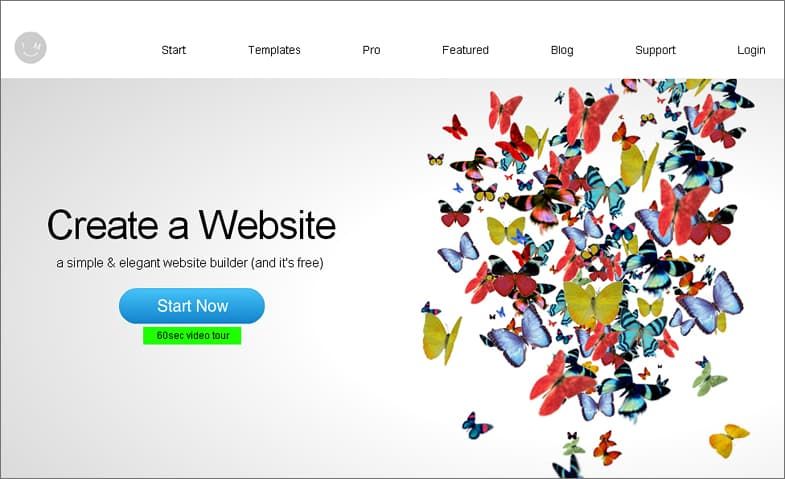 You are now greeted by the Start screen, offering you three different routes for creating your website:
Choose a Template – Use an IMCreator template and kick start your website building activity with a strong base.
Start from blank – If you are looking to create something truly unique, begin from a blank page and unleash the designer in you on the canvas.
My Sites – This option is for those who wish to edit a pre-created website or publish such a website.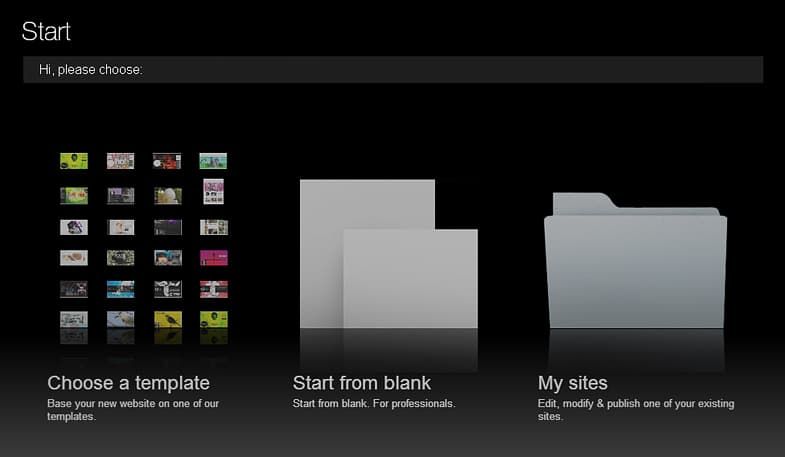 Going with the template option is a smart practice, as IMCreator pulls together some really special templates for you to use, without charging a penny for them. IMCreator templates deserve all the lauding in the world; they seem out of a premium collection and can easily create an impression of your website having been professionally designed after the investment of hundreds of dollars. You will find dozens of visually gripping templates organized under different categories based upon the industries and markets that are relevant for.
By using a template to build your website upon, you can save several hours that would otherwise go into designing from scratch. So, you see IMCreator to its promise of making things simple for you at all steps. Once you select a template, you are greeted by another time saver in the form of a pre-populated template. In effect, you have a ready-to-go web page that you just need to update with your own content and images. The readymade layout makes your planning part extremely manageable and saves you several hours.
Here are a couple of points you would want to remember at this stage:
IMCreator doesn't let you change your website's theme once you select a template, so be very careful in selecting a template you want to work with
Living up to its core idea of keeping things simple and quick, IMCreator compromises a little on the needs of HTML and CSS savvy experimenters as it doesn't allow much in terms of coding based template modification.
The screen you see after your template selection gives you a preview of the final picture. You need to click on the Customize Now button in the upper right corner of the screen to enter the editor. Note how you've quickly begun creating the website without having to register!
The Editor window is pretty neat and organized to look at; no scary rows of miniature buttons with their secret functions, and no confusing grid lines and rulers to make you feel uncomfortable. All you see is a smart looking menu bar with three options – Pages, Add an Element, and Settings. The right side of the same menu bar houses a different group of options that are more about taking actions on the pages you create with IMCreator.
Let's know the menu bar better
Pages – This is the menu button that gives you all the options you need to add more pages into your website. You can add a specific type of page or a black page, as per your requirements. Apart from this, you have the option of creating duplicate pages, renaming them, changing the ordering of the pages, and deleting redundant pages.
Add An Element – This is where most of the website building action awaits you. The best part is that you just need to drag the content element you want include in your web page and position it at the place you want it to appear. IMCreator is among the few completely drag and drop styled website builders, and the experience of creating your website with it is something different from what any other builder offers.
Here's more on all the elements you can find here:
Picture – Add all the images you want to, where you want to. You also get resizing and cropping options apart from scaling it.
Text – Right from selecting all sorts of routine and premium fonts to aligning your text perfectly with other elements, the Text option provides you the complete text management toolbar.
Video – Adding a video through a URL is easily managed through this element. It also offers you the option of setting AutoPlay and looping.
Gallery – Create eye catchy image gallery without any trouble. Use this simple element to add images to your gallery and rearrange them.
SlideShow – Take the impact of your gallery to the next level with SlideShow. Use options such as AutoPlay, configure behavior upon clicks, enable resizing and pagination, and impress visitors with vibrant interplay of images.
Contact – Add a contact form right into your webpage using this content element.
HTML – Use this content element to add HTML coded content to any part of your web page.
Line, and Area – Adding a dividing line or even one for decorative purposes is easy, courtesy the line element. On similar lines, you can add an area element wherever you please.
Menu, and Sub Menu – These options let you organize the menu structure visible on different pages.
Widgets – The world of widgets offered by IMCreator is impressive, ranging right from social networking widgets such as Twitter and Facebook to other useful ones such as Google Maps. Also, you can add SoundCloud and Vimeo widgets to add to the media richness of your website. The social media icons not only look great on your web pages but also go a long way in benefitting you with social shares and hence, more traffic for your posts.
Settings – You can site-wide feature selection from the Settings menu option and all the sub options it provides.
Here's a quick look at what all can be done here:

Page Size & Color – Changing the page size and the color tones can be easily done from here.
Background – If you wish to add a swanky new background to your website, use this option and give a single click makeover to your entire web page.
Favicon – If you wish to add a small icon for your website that is mostly visible when it is bookmarked, use this option.
SEO – IMCreator offers you very basic SEO options that you can use to give your website better chances of being shown by search engines in their top search results.
Domain – Linking your domain to your website can be done from here.
Website Analytics – Integrate your Google Analytics account with IMCreator and open up the gates to actionable reports on what your visitors are liking and what not. This can go a long way in helping you fine tune your content to attract more visits.
Presets – Adding more oomph to your website is easier with some cool presets that you can choose from.
Mobile – This is where you need to head over to create a mobile version for your website. However, IMCreator doesn't create a mobile optimized website for you. The catch here is that you can use the mobile specific templates that make your website look perfect on a mobile device, but that can only happen with a different account as IMCreator only allows you to use one template per account.
Once you are done building your website with the intuitive drag and drop editor and all the amazing content elements with their easy to understand settings and configuration options, you are ready to publish the website. There's a Publish button at the upper right corner of the editor. It is when you click on it that you finally are asked to register with IMCreator. Certainly, there's no quicker way to create a website.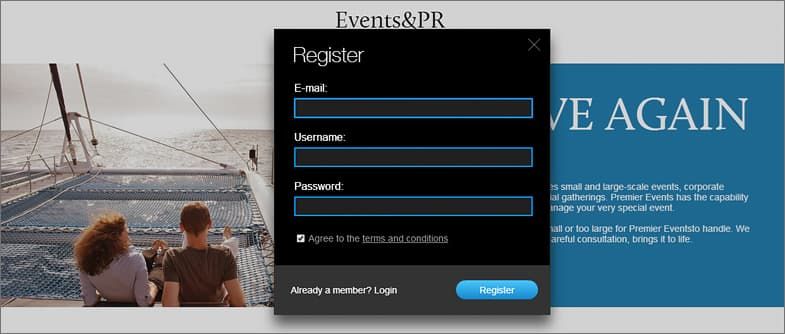 VIDEO Tutorial – How to Create Free Professional Looking Portfolio Website
What's there for you in the premium IM Creator plans?
After you are done with the preliminary creation of your free website using IMCreator, it's time for you to make a choice between the different plans and packages that it has to offer. The free account with IMCreator doesn't allow you to use your own domain name with the website, which could impede the business utility of your website. Also, the hosting space allocation is 50Mb, which could prove inhibitory for all those looking to create multimedia content rich websites. If you are impressed with the ease with which IMCreator lets you create professional looking websites, you might want to consider the Premium and Pro plans, which are explained here:
Premium – You will be able to use your own domain name as the Premium account allows you to add either an existing domain or a newly purchased one. Also, you will not be held back in terms of limited hosting space, as this plan allows you unlimited space. With all this, you will be able to use customized email accounts.
Pro – Adding multiple domains using single IMCreator account will be possible using the Pro service plan. The best part about this plan is that you can contact the design team at IMCreator and collaborate with them to have a website building interface that's perfectly suited to your interests and requirements.
Conclusion
IMCreator gets its branding perfectly right, pitching itself as a mix of simplicity and elegance. For all those of you who have had enough of website builders that flaunt their editors as tools that can help you create a website within a few minutes, IMCreator comes as a fresh builder that lives up to its promise and actually allows you to create a presentable website within a few minutes! The drag and drop builder is simple to its very core, and there are just 3 broad menu options using which you can create a vibrant website. Even before the editor impresses you, there are the stunning templates spread across multiple categories that can speed track your website project and help you quickly create appealing websites. Changing the outlook of the websites is also possible with the few customization options included with IMCreator.
Before you make up your mind about IMCreator, you would also want to measure the cons with the pros, Users will not take long to realize that in delivering the promise of simplicity, IMCreator does leave out some obvious flaws in the website builder. For instance, CSS and HTML experts will not be able to leverage their coding expertise to give massive makeovers to the designs of their websites. Also, IMCreator could seem rather limited to users interested in establishing global reach through World Wide Web because of the humble SEO features. Mobile optimized websites are not automatically created for you, as is the case with many contemporary website builders. All the pros and cons of IMCreator make it a decent pick for local businesses that are looking for a decent website that can be used to enhance the firm's reputation and image, and experimenters who wish to try out a simple drag and drop styled website experience to get comfortable with the exercise of creating a website. Thankfully, the provision of exporting your website out of IMCreator makes it a safe bet, and of course, the super quick editor is a massive motivator.
Create a website on IM Creator
IM Creator Review