HighWire Review
HighWire – an electrifying ecommerce platform to take you to the highs of web selling success
Have you been thinking hard about finally jumping on to the ecommerce bandwagon? Before you lose out on the fizz, let's give you a dose of the sparkling web-store development, management and scaling up experience that HighWire has in line for you. This feature rich, yet simplistic web-commerce platform has a lot going for both young entrepreneurs on the verge of ecommerce, and veteran e-sellers looking to take things a step higher. The feature catalogue of HighWire is a great blend of the e-selling essentials and some differentiators that are attuned to contemporary marketing based web-selling management.
As a preview, we are beginning by giving you three attractive, empowering, and irresistible benefits that are ample reason for you to choose HighWire as the ecommerce web-store builder for your web projects.
Store designs that entice shoppers – HighWire helps you get off the blocks with some literally fabulous web store designs that you'd love to use as a face for your online store. These pre-built templates give a professional look and feel toy our website, bridging immense gap between your offline business setup and online success. Control the design with HTML and CSS, fall back on the WYSIWYG for intriguing, coding free web store creation, and use your custom domain name to give an identity to your web store. To top it all, HighWire offers secure mobile checkout for unmatched mobile device based shopping experience, and equips store manager with a mobile app to remain in control of their store even on the move.
Top notch inventory, pricing and general management – Adding products to your store, modifying SKUs based on product attributes, customizing and setting up new categories and sub categories, importing and exporting data in bulk, and syncing inventories from all your digital selling channels for the most cohesive web-selling, all these and more store management features make HighWire a stunning ecommerce platform. Add product reviews and ratings, revise product details, automatically calculate shipping prices, offer shipping discounts, play around with custom shipping rate adjustments, and cross promote items for more sales using these features.
The complete sales and marketing management dashboard – HighWire gives you the best selling and marketing features, beginning with a dashboard that lets you sync with all the transactions going on the store, completed and partially filled orders, customized order labelling, customer details management, customized email messaging, and building upon these with useful marketing tools. HighWire lets you integrate a blog with your web store, add discount codes and gift certificates, bring in the magic of customer newsletters, and get more visibility with comprehensive and well guided SEO features.
Now then, interested about building and managing a web store with this killer ecommerce solution? Here's your guide.
Building and managing a web store with HighWire
Very simply put, a web store building exercise is just the beginning of your efforts, and needs to be matched with relentless store management, marketing and continual improvement efforts. HighWire equips you with powerful features and tools to ensure that you are well provided for in all phases of your web success journey.
When you're on the HighWire home page, fill in your store name, email address and a password and click on the 'Start Your Free Trial' button.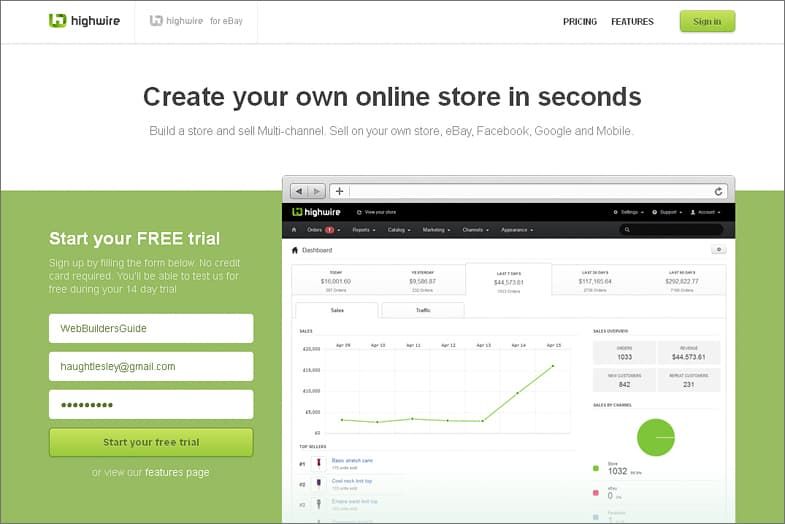 Now, you will need to key in a HighWire domain name, that's till the time you get a custom domain, along with some personal information. Once one, click on the 'Continue' button.
After providing all the details, you are taken to the Dashboard. Here's a look at the superb dashboard.
Before you begin experimenting with the various menu options and buttons here, it will make sense to work on finalizing a theme for your web store. To do this, head over to the Appearance tab from the Menu Bar, and then click on Browse Themes. Choose from the several superb looking themes and begin your web store development journey with a bang.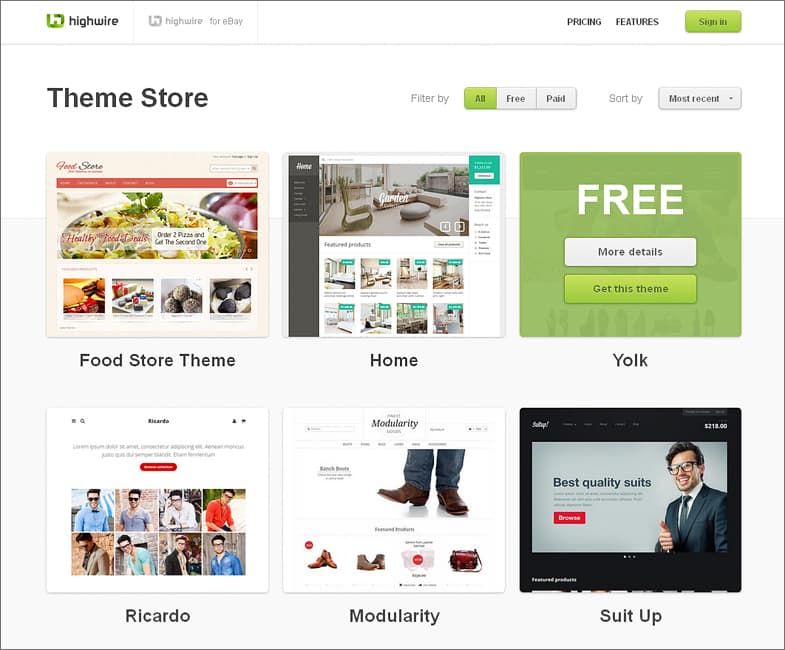 Now that you have selected a theme, you might also want to tweak it a little to make it absolutely perfect for your web store. Use the Template Editor to edit the theme's design.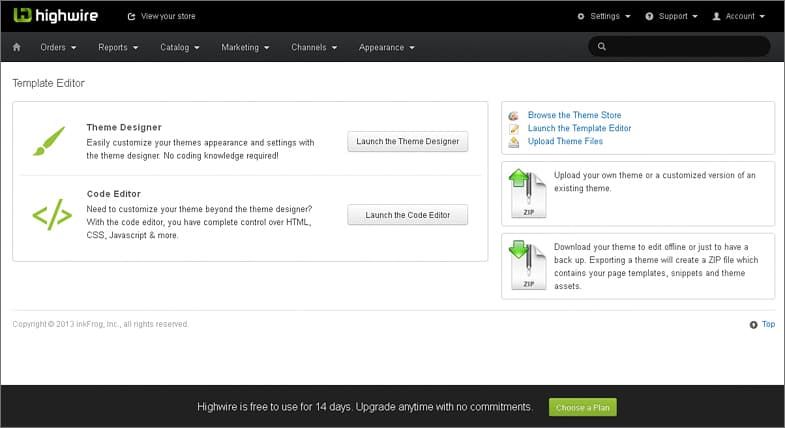 Here's a quick walkthrough for this sidebar:
General Settings – Right from selecting fonts for the different texts that go to your web pages, to enabling options such as store logos, this is where the general settings of your theme are managed.
Background – Need more than just a solid colour for your theme's background? Head over here to have an image shown as the background, adding borders to the background, and stretching it to fit the viewing area you want covered.
Carousel – Ensure that everything is spot on with the product carousel on the landing page, right from the speed of the images moving to the transitions they show, all and more from here.
Let's get back to the Dashboard and tell you more about all the wonderful options organized for you under various tabs in the Menu Bar.
Orders – Before you savour the unmatched tastes of more sales in the form of the orders that rush in to your HighWire store, here's some help for understanding orders management with this web-commerce solution.
View Orders – Does just what it sounds like. Use this option to see all the orders placed with your online store, so that you can know as to what is on your plate at a given point of time.
Order Labels – Everything about order labels and associated tasks is managed using this option.
Customers – Have A snapshot of all your customers here; there's a cool alphabetic sticker on top to allow you to find a customer just as you do it in your smartphone, and you can also export the data.
Reports – A key to success with web stores is continual improvement, and that comes when you have ready to use, actionable and practical information in the form of reports. Here's everything that you can do with HighWire's reporting features.
Sales Reports – The indispensible sales reports are up for viewing here, giving you a quick sync with the selling health of your store.
Top Customers, Top Products, Top Discount Codes – Know everything about the most frequent shoppers, the best selling products, and the best discounts in terms of exciting sales, so that you can do more of what's doing well!
Searches (Internal), Searches (External) – Identify as to what the users are searching for in your web store, so that you can maintain a decent stock or bring in new relevant products for revenue maximization. Also, you can integrate Google Analytics with the store, if you're using a premium package, and can see the kind of searches being made by visitors who are brought to your web-store by search engines.
Catalog – With extensive product management features housed under the Catalg tab, HighWire is all that you can ask for in terms of quickly creating a product rich web store. Here's more:
Categories – Make as many categories and sub categories as you want using this option, apart from deleting redundant ones
View Products, Add New Products – These options let you add new products, specify taxability of the added products, assign as featured products, include images of the product in action, and then view the product catalog.
Digital Goods Content – Want to sell downloadable stuff? No troubles, just head over to this option and upload the sellable digital content.
Bulk Import, Bulk Pricing Editor – Why not add all product information that you have saved with you rather than create them from the scratch? And, why worry when you want to increment prices across categories or store-wide by a fixed dollar value or by a fixed percentage? These options have you covered.
Reviews – Once you invite your shoppers to leave reviews, this is from where you can approve, disapprove and delete them.
Marketing – Your web store is destined to be stagnant unless there's a strong marketing focus. With all the marketing tools brought to you by HighWire, you can expect great results.
Blog – Make your web store really SEO friendly and content rich by maintaining a superb blog with it.
Discount Codes, Gift Certificates – Trust discount codes to add some excitement to shopping, and with the coupons management features on offer from HighWire, you have exciting times ahead. Not to forget, you can use Gift Certificates as well to gyrate actions from users.
SEO, Email Marketing, Twitter – Web marketing has a lot to do with SEO and social connectivity, and HighWire has you covered in both aspects. Also you can develop engaging newsletters and email to your customers to remain in their mind-space.
Channels – A momentous feature that not many ecommerce website builders offer to their users is coherent and cohesive web selling that draws from other channels that the businessman might have in place. At HighWire, you can simply use the features lined under the Channels tab to sell in an integrated manner with your store on eBay, Facebook and Google Merchant. Finer customizations allow you to post your product deals directly on Facebook, host live feed from Google Merchant, and set up shipping and product profiles from eBay.
Appearance – With web-stores, looks matter. So, use all the amazing and useful options housed under the Appearance tab for you.
Template Editor – Whether you want to edit any of the preset themes on offer from HighWire, or need to showcase your web designing skills with HTML coding, this is where you need to be.
Browse Themes – Here's the gateway to the world of superb themes from HighWire. Searching among the themes is a fun experience, and you might have a tough task in picking out the most suitable one!
Custom Pages, Store Logo, Page Text – Create custom pages suiting the requirements of your web store, add a store logo to give strong branding messages, and then populate the home page with killer text.
File Browser, Menu Builder – If you have uploaded theme and media assets, the file browser offers a convenient way to access and manage them. Your menu builder helps you to create main menu links and footer menu links.
Weighing the premium services offered by HighWire
Brace yourself for a unique e-store builder, that's what HighWire is, and the same reflects in the way it's been priced. If you've anticipated a bundle of indistinguishable packages that somehow vary vastly in their monthly fees, here's a surprise for you; HighWire comes to you in 2 very differently targeted plans, the Starter and the All-Inclusive.
Check actual prices on HighWire
Let's know these two plans a bit better.
When you're beginning your e-selling journey, it makes sense to take measured steps so that the technological environment does not unsettle you. The Starter plan is your perfect support system if you wish to take your offline business to the digital domain, and simultaneously want to try out some web marketing ideas before you really commit your resources to a no holds barred web commerce setup. The Starter plan lets you use the intuitive store builder, offers you the awe-inspiringly beautiful store design templates, and comes with room for 100 products, which is pretty substantial a number for medium scale sellers. The secure checkout experience created for your web store's shoppers will justify and payoff the price of the Starter plan in virtually no time, making it a safe investment of time and efforts for everyone ranging from the sceptic who just can't bring out the will to hit the WWW, or the excitable young entrepreneur who wishes to let his products breathe in the digital air! Starter plan lets you integrate Bay selling with HighWire, thus making the transition a lot simpler than with several other web-store builders. All this, along with the custom domain benefit, make HighWire actually a very simple and manageable ramp to the digital selling space.
The All-Inclusive service plan lives up to its name, pulling together the best from the world of web-store platforms and serving it hot and seasoned on a platter for you. Add up to 10,000 products in your online superstore, use the powerful HighWire dashboard to organize the giant enterprise, and trust the very intuitive, very smart, and very practical marketing tools that the fully loaded plan comes with. Create single time use or reusable coupon codes and add some fire to your web based selling with the good old coupons program. The in-built gift certificate system is certainly going to add impetus to selling and customer retention. Do all this and more with the peace of mind brought to you by unlimited bandwidth and storage space.
Conclusion
It's often noticeable that businessmen are reluctant to venture online because of the seemingly steep learning curve. With HighWire, you're on a chauffeured vehicle that easily manoeuvres through all the initial sharp turns that lead to successful web-store management, enabling you to experience fulfilling web selling. HighWire, in what sets it a class apart from the routine web commerce solutions, focuses equally on selling and marketing, and surrounds the strong selling core with a scalable marketing shell. Building upon the strong base of responsive, professionally designed and wonderful looking store templates, secure checkout, and safe payment options, there is a very exciting set of marketing tools such as coupons manager, gift certificates manager, multi channel selling, integrated web selling with multiple marketplaces, strong SEO leverage and reliable social connectivity. Short and sweet – if HighWire can't get you online, nothing will.
HighWire Review