AmeriCommerce Review
Powerful web store management packaged beautifully – the AmeriCommerce experience
The market for ecommerce solution builders in terms of web stores is teeming with great products. Some of them have been enjoying the advantage of vast experience of operating in the marketplace, and some have caught the fancy of web entrepreneurs and budding businessmen by unifying some really differentiating and relevant e-selling functions into simplistic DIY facilitating interfaces. AmeriCommerce is the prodigy from the latter family, and is creating some serious inroads in the vast virtual marketplace of e-commerce solution building tools. This shopping cart boasts of a robust feature set packed into a light and attractive user experience, which ultimately makes it the most customer friendly solution. Here are some numbers and facts about AmeriCommerce, to bring home the point:
Annual transactions in excess of half a billion dollars are carried out on AmeriCommerce empowered web stores
More than 5,000 web stores are already hosted on AmeriComemrce, and the number is swiftly swelling with every passing mon
AmeriCommerce is a PCI complaint firm and has been regularly awarded by credible agencies; it made the Inc. 5000's list in 2013 for the second successive year
The most striking attribute of the AmeriCommerce package is its wholesomeness; this online store builder encompasses a web based shopping cart that's hosted on RackSpace, a refreshed admin panel that makes multi-store management easy, and a WYSIWYG editor that helps you create dazzling web pages without drowning into complex coding. In the subsequent sections of this review, we help you navigate through all the steps required for constructing your web store. Also, we discuss the most differentiated features of the ecommerce platform, so that enthusiastic businessmen looking to take their businesses online can gauge the utility of AmeriCommerce as an option.
AmeriCommerce web store builder
With the marketplace flooded with several ecommerce set up solutions, the more contemporary web store builders of the likes of AmeriCommerce have no option but to provide wholesome services to users. AmeriCommerce is easily among the more popular and swiftly growing web store builders that have come up in the past decade. After the massive overhaul it underwent in 2013, the appeal of the ecommerce solution has enhanced fantastically, and that's more than evident in the user experience enabled in the new interface. When you log in to the AmeriCommerce website, you see very prominent fields wherein you can provide your name, email address and phone number to try out AmeriCommerce.
As soon as you hit the Start Trial Now button, you get a welcome email and are taken to the Password page where you need to key in a password and confirm it. Click on the Get Started button.
Your first forays into the powerful admin console of the AmeriCommerce web store creation solution are marked with a welcoming setup guide that takes you through the first few important activities of creating your web store, the first one of them being the selection of a theme.
The themes offered by AmeriCommerce are right from the top drawer of design brilliance, and that's true for even the free themes on offer. Of course, you could go for a premium one to enjoy more differentiation. Selecting the theme is made easy because of the presence of filters such as Features, Price, Industry, Color and Style. There are literally hundreds of themes for you to drool over. For more information about a theme, you can take your mouse over it and read info from the pop outs. Once satisfied with a theme, install it.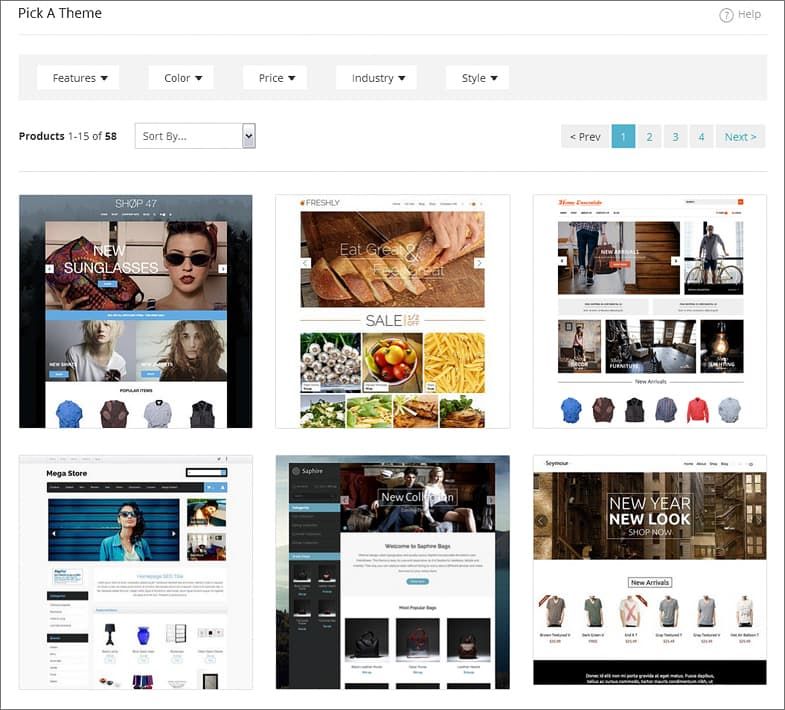 When you click on the Next Step button, you are taken to the product addition support. This is a great way to be able to get on with the real business end of affairs without losing precious time. Of course, you could choose to breathe easier and skip the step to know the builder more, which is how we take things forward in this review.
When you skip the product addition part, you are taken to the admin console from where all the business management activities relevant for your ecommerce ventures are performed.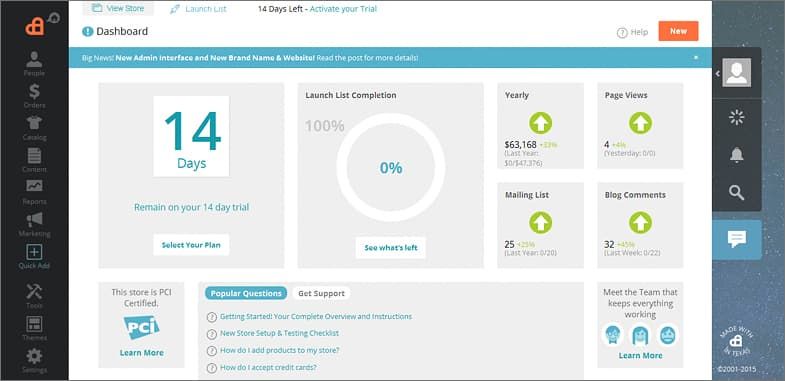 For a better understanding of the editor, it can be worthwhile viewing it as an information centre blended into an action center. Whereas all the business information regarding your web store is graphically and textually shown in the central space of the console, the action options are lined vertically in the sidebar to the left of the console. Apart from these two prime components of the admin console of AmeriCommerce, you have the View Store and Launch List buttons along with the Help and New button on the top section of the console. Let's quickly talk these 3 buttons through before we take you through a thorough experience of the sidebar, from where you'll pretty much do everything necessary for creating your web store and selling stuff.
View Store – Pretty obvious, this is what you need to click to have a quick preview of your store. If you click this button without adding any customers or products, all you'll see as a preview is a pre-populated version of the theme you selected earlier.
Launch List – An innovative feature, the Launch List helps you organize your thoughts and actions by offering you a step by step walkthrough for configuring important web store aspects such as shipping, taxation, payments, etc. The guide is a pretty explicit and intuitive, helping you speed track your web store creation.
New – Use the button to add all sorts of widgets to the console, for quicker management of the most important aspects of your web store management. Track store visits over a period and compare data to figures for different periods, get neatly drawn line charts and colorful bar charts depicting sales, enjoy single glance information through up/down indicator figures, take down quick overview of selling activities, access order summaries, and use other similar functionalities in the form of widgets.
We now discuss the main buttons that you find on the side bar, each of which unfurls a whole world of options and features for you

People – This is the quick connect to all your customers' information, which can be seen well organized and summarized under various headers when you click on the button. You can look for customers using the search bar and can even export the entire list of customers.
Orders – Look here for everything related to the transactions initiated on your web store. You can quickly and objectively get all the information pertaining to orders created on your store, including their status, using this button. Also, tracking number based search and Drop Ship Management can be accessed from here. In fact, it is because of features such as Drop Ship that AmeriCommerce is regarded highly.
Catalog – Manage all your products from this section, including functions such as managing categories for them. All product attributes can be configured easily from here. Embedded tools help you activate and enhance your product catalog quickly. Features like product variants, mass editor, lists of products, inventory editor and price calculations are all packed into this section of the sidebar.
Content – For managing everything related to your web store's content pages, this is where you need to head over to. Apart from pages, you can also do everything about blog posts from here, and can manage files for your web store. Menus and navigation options can also be configured form this section. Other important functionalities housed here include custom forms, texts and languages, custom merges, blog comment moderation, and Q&A moderation.
Reports – For the improvement and calibration of your web store, AmeriCommerce empowers you with advanced reporting, most of which can be accessed from here. Information about visitor sessions can help you design the shopping experience for better results. Moreover, dashboards for sales, visitor and marketing can help you measure results from your campaigns.
Marketing – AmeriCommerce's appeal for serious businesses stems from the marketing features it includes. Templates for email campaigns are presented, discount coupons can be easily configured, and mailing lists can be prepared – these apart from other integral marketing features such as Ad Codes, on site banners, drip series emailing, etc.
Tools – Fall back here to access tools for functions such as data import and export. Also, you can configure and manage everything pertaining to apps and add ones for your store.
Theme – If you need to change anything related to the theme you selected before configuring the web store, use this section. Moreover, you can use the WYSIWYG styled editor to create a completely customized storefront.
Settings – For all the detailed configuration related to functions such as marketing, store information, people, catalog, shipping, etc., use the Settings button.
The AmeriCommerce Advantage – why trust this web store builder?
Considering the expanse of the tools, features and options that AmeriCommerce provides to its users, it's suitability as a scalable and dependable ecommerce solution can't be questioned. Here, we explore the most remarkable flavors of the e-selling recipe prepared by AmeriCommerce.
Single cockpit to control all your online commerce
The first flavors of ecommerce are bound to excite you into contemplating unabated expansion. Whereas you'd ideally wan to establish a niche initially, scaling up is actually the real spice of the ecommerce ride. AmeriCommerce is up to the task, allowing you unified control for all multiple stores. This ensures that you are able to use AmeriCommerce for serving distinguishable markets with multiple online stores, without being burnt out by all the managing. The unified admin console of AmeriCommerce allows you to play around with all product lines across web stores, helps you manage vast pools of clients, and keeps you in control of the hundreds and thousands of daily transactions and business events occurring on your web stores. This centralized control of decentralized operations ensures that you are able to perform powerful functions such as running multiple stores with a single product catalog, hosting several micro stores within one online marketplace, marking out stores with brand identity by using custom look and feel elements, and controlling how your customers experience shopping on your stores.
With AmeriCommerce, you are not limited to your web store for the selling; all your social networks, personal websites, and CMS can be used to add impetus to your selling. You can allow customers the facility to add products to their carts right from these peripheral selling platforms. This helps you make the best use of existing clientele and viewers' base, apart from giving you the leverage of transforming all your online presences into virtual selling destinations. Moreover, this facility enables you to sell digital content easily, as all you need to do in order to enhance your portfolio websites it to have then link to the shopping cart facility available on your AmeriCommerce empowered web store.
Put on your designer shoes and create web stores that are designed to sell well
Your web store's design says much more than any sales pitch that you can throw at prospects. With AmeriCommerce, you get to be the designer-manager of your store, all that without adding to your work hours. This wholesome online store builder brings together some terrific designing tools that help you build upon the theme you choose for your store, to transform into something that captures the imagination and evokes trust in the minds of the web store visitors. Designing all kinds of pages such as product listings, search pages, and content loaded pages is a breeze with this builder. Also, the drag and drop building experience makes your job thoroughly enjoyable. Header, footer, sidebars, widgets – everything can be conveniently controlled using the AmeriCommerce web store builder. Among the most catchy benefits offered are:
Availability of widgets that give you enhanced functionalities with just a few mouse button clicks
Drag and drop theme editing without knowing even the basics of HTML
Vibrant slideshow options that help you nail user attention with great images
Experiment with different outlooks for different kinds of posts and pages, thus adding variety in terms of style to the web store
Showcasing your products is a pleasure with AmeriCommerce, and you will adore the ease with which you can implement all sorts of selling models, right from conventional cart selling to digital goods selling including subscription based billing. Recurring payments be easily configured, products can be organized into product lines, catalogs can be shared and activated across web stores, single SKU can be configured to multiple forms based on distinctions of size and color, and you can use advanced taxation and shipping calculation features to ensure that your online store truly behaves like an automatically operated selling shop. Moreover, you can try out all sorts of discounts and pricing options to finalize the most suitable web store business design.
Manage Your Store like the most seasoned online entrepreneur
You'll find it amazing to experience the leverage of online selling based on a platform as powerful as the AmeriCommerce builder. The returns on your efforts will easily supersede those from your brick and mortar stores, and this is facilitated by the management tools built into the web store builder. Backend management is efficiently handled courtesy the availability of dedicated yet simplistic tools for business functions such as shipping, taxation, logistics planning, inventory management and even complex processes such as drop-shipping. Activating your product catalogs becomes easy courtesy options such as product editor, import and export of product listings and preset pages. Moreover, you have smart reporting that helps you develop insight pertaining to the effectiveness of your products and pricing experiments. Managing customer information, order to cash cycle and trivial processes such as order entry and data maintenance are also quickly and conveniently performed. What makes AmeriCommerce popular as an advanced selling solution is the fact that you can configure it to emulate all sorts of workflow rules, which in turn helps you affect even the most complex business processes. The selling prowess of AmeriCommerce is also well exhibited in the form of features such as abandoned cart history, customer sessions, shopping records and advanced analytics.
Everything you need to sell more – ever expanding business
Stamping its authority as a result centric ecommerce platform, AmeriCommerce provides some seriously special marketing tools that help you create more revenue. Enjoy the most unbelievable efficient dose of marketing horsepower, guaranteed to deliver results. With a ready to rock Facebook shop provided to you free of cost, you have the perfect start for your marketing campaigns. You can push your product to comparison website and can automate emails to manage your store's informational campaigns easily. Abandoned cart email goes a long way in helping you convert skeptical shoppers into shopping addicts. SEO relevant areas can be controlled by pages and products, and all sorts of coupons can be used to motivate and reward shopping.
AmeriCommerce is built for scaling up, and it helps you get the feel of expanding your business by helping you with several sales driving tools. Cart pages can be easily customized, and payment types can be configured. Related products suggestion feature ensures that you have simple cross-selling and up-selling techniques available for action. Single click sales via prefilled cars can motivate impulse purchasing, specialized workflow rules help you offer differentiated shopping experiences to different customer groups, and easy order entry transforms your web store into a sophisticated sales management and information system.
Social marketing is an integral part of the selling strategies being used by top online businesses these days, and it's important that your web store leverages the reach of social media effectively. Facebook sharing and Facebook business page setup features help you speed track your social media success ride. Also, product reviews can be populated on social media to motivate purchases. Live chat sessions can be conducted, which is a terrific feature for those who want to sell complex and expensive products on the web.
The perfect cocktail of stability, flexibility and security
It's nothing short of amazing to note how AmeriCommerce infuses all desirable attributes to provide the most credible ecommerce solution. Import and export features mean that you are able to populate your website with a lot of content in a go, and also means that switching over to AmeriCommerce is not a trouble. Then, you are bound to enjoy the flexible approach that AmeriCommerce has adopted in terms of integrating with third party solution providers. Discerning e-sellers might want to take advantage of the SOAP XML API and ClientSideJavascript API integration that AmeriCommerce boasts of. Also, extending the functionalities of tax and shipping cost calculations is possible.
AmeriCommerce offers 99.99& uptime with Rackspace data centers, apart from PCI compliance and several security covers. Moreover, the ever improving approach that the makers of AmeriCommerce have adopted gives enough heart to those who're really looking to let their e-selling adventures mature over time.
The economics of AmeriCommerce – understanding the premium plans
It's nothing short of mouthwatering to note that AmeriCommerce offers a completely free experience of all its terrific features for a period of 14 days, so that users can have a thorough socialization with the ecommerce prowess of this store builder. After that, AmeriCommerce spreads its pricing across 5 premium plans, which differ primarily in terms of the products they can accommodate on the website. The resource spectrum facilitated by AmeriCommerce varies massively across the plans, ranging from 250 MB storage space to 5 GB of it, and 2 GB traffic handling capacity to 50 GB capacity for multi-branch online stores. Also, the product handling capacity varies from 100 products to unlimited! The Steel and Bronze plans are ideally suited for those who're either experimenting with ecommerce or serving niche audiences with specialized products. Silver, Gold and Platinum plans cater to increasing traffic levels and are hence more suitable for experienced web retailers switching on to AmeriCommerce or taking their well-established offline businesses online.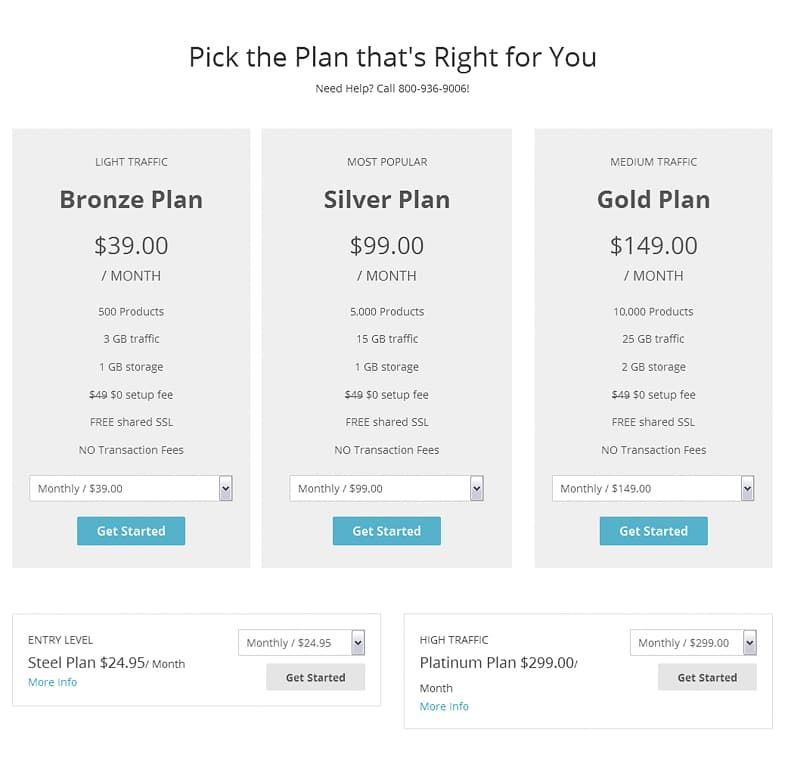 Conclusion
Contrary to misconceptions that commonly misguide entrepreneurs and businessmen, your decision to go the ecommerce way needs to be backed with the most careful considerations pertaining to the platform you choose to base your web store on. AmeriCommerce passes even the most stringent of analyses with flying colors and suggests itself as a remarkably relevant web based commerce platform for businessmen with all sorts and scales of requirements. Spanning the entire spectrum of ecommerce features, AmeriCommerce enables users to do more in less time, thus helping them really bring out the best results from ecommerce.
Managing a whole family of stores from a single console comes across as a real steal for all those who are really excited about transforming their business models into something centered on ecommerce. AmeriCommerce promises you competent ecommerce and a fascinating user experience, and more than lives up to its promise.
AmeriCommerce Review