How to Make Wix Website Even Better – Wix App Market Review
Wix App Market is another one reason why WIX can be called one of the best website builders. Wix App Market will allow you to significantly improve your Wix website by integrating in it many useful applications and additional tools. In this review you'll know more about most popular and useful apps from the Wix App Market.
The success and worth of a communication channel is easily calculable from the importance paid to the same by enterprises and endeavors that are always on the lookout for media to connect with large audiences. That Facebook is truly a force to take note of is evident by how each smart business setup has its faithfully developed, updated and tracked Facebook page. Social networking is the avalanche that it is because of the fact that it is built upon the leverage of broadcasting. Another similar force that has literally swept across the digital globe is in the form of apps, and uses the same leverage of broadcasting to emerge as magically marvelous smart packages of design and code that have the potential to move the world.
Wouldn't you want the same power for your websites? Don't you think that you'll be able to skim your website better if you could bless it with some of the smartness that most modern apps bring with them? Of course, the answer would be in the affirmative. Here, we intend to take you beyond the acknowledgement of the amazing benefits of apps for your websites, and actually tell you how you can step into the realms of truly smart website administration and development with the renowned Wix app store, a storehouse of apps lending you the differentiation advantage for your website. Before we discuss the amazing features and benefits of the app store, let's spend a few minutes in understanding and how the dedicated app store makes the Wix website builder absolutely sensational.
Your one stop shop for all the enhancements you need – Can you really enlist all the expectations you have from a website builder when you are yet to make a choice? It really is not possible; you can well be left with your hands tied when you realize that a particular requirement you have, such as the facility of creating memberships on your website, is not served by the website builder you opted for. Wix is different; with its fabulous App Market, you can be certain that any enhancements you need for your website in terms of added functionalities will be served hot and delicious to you. Dedicated social networking buttons, advanced marketing tools, aids for administrative functions – you name it, and the Wix App Market will have it.
Have fun exploring all that is possible, not just what's needed – You never really savor the complete flavor profile from your website unless you have a reason to improve. With the ever updating App Market, Wix gives you plenty of fun filled reasons to improve and add to the prowess of your website. Market yourself like never before using specialized apps, or add to the impact of your design using relevant apps. You are only limited by your imagination!
The amazing world of apps at Wix App Market
Among the many fabulous features of the Wix App Market are its pleasing layout and categorization of the apps in several categories. This makes it easy to search for the apps that you'd benefit from. Let's tell you more about the kind of apps that can be found here.
Social Networking made all the more effective – Looking for dedicated Facebook Likes, Shares and Comments buttons that are themselves configurable for best results? Better still, do you want your web pages to be studded with all sorts of social networking buttons that help viewers either share your content with their networks or commit to following your content with just a single click/ Wix App Market's social networking apps' ensemble is bound to blow you apart with joy, as you get to choose from among dozens of amazing apps. Not only can you add live chat feature to your website, but also can go for advanced integrations with social networks providing reviews, testimonials and related content, all courtesy the apps on offer.
Create the most innovative Forms – As a website administrator and content manager, your focus needs to be on smartly working towards improvement of the content, tailoring it to what the audiences want. Why not conduct quick surveys or offer well designed forms to you visitors to collect feedback? With dozens of forms creation and related apps offered at the Wix App Store, all you need to worry about is selecting the app you'd go ahead with. You can use appointment management apps if you wish to make your website double up as an appointment manager for your services. Also, there are event scheduling, calendar styled and Captcha code secured form creation apps for you to explore.
Enhance your Galleries and give a beautiful face to your website – A discerning website manager can never have enough of experimentation with galleries, as the visual appeal is what makes the website a heartthrob among visitors. Depend on terrific gallery related apps that help you organize images and present them in an effortlessly easy and effective manner. With several transition styles, thumbnail creation feature, collage making functionality and advanced image editing and enhancement features, the gallery apps presented to you in the App Market are guaranteed to give a remarkable makeover to your visual content heavy website.
Explore eCommerce like never before – Wix's eCommerce capabilities hardly need any testimony to prove their worth. With some top class ecommerce apps, you can take your web based selling success a step further than you'd have ever imagines. Right from integrated payment apps dedicated to specific online banks and merchants to apps that connect your web store's products with helpful content such as product videos and reviews, there's a lot to resist for the serious businessman! Moreover, you can also enhance the digital downloads based selling with the help of dedicated apps for the purpose.
Take a Marketing based approach towards selling – Helping you build upon the ecommerce apps are their marketing counterparts, which are almost as effective in helping you expand your online business. Use email marketing apps to engage visitors with worthwhile emails. Then, install live chat based apps to be able to offer vital assistance to customers and clients without any delays. You could also choose to install apps that bring in product and service testimonials to your product and service pages, adding to the content richness and credibility of the website. Mailing list and video gallery creation apps are also present for you to use.
No nonsense Business apps to make your web store ultra-powerful – How about having a cute and easy to use app that takes upon itself the accounting and invoicing responsibilities for your web store? Better still, how about apps to bring in more targeted traffic, apps to help your visitors make bookings for your services, apps that help you sell using QR codes, and of course, apps that integrate your informational website with classifieds and directories so that visitors know where to come to find relevant info! These are just a few of the business apps that Wix's App Market allows you access to, explore more and do more.
The most popular and useful apps from the Wix App Market
Now that you're well aware of the nature of the apps, let's tell you more about some of the apps that add amazing functionalities to the website. You will be able to access these apps comfortably from the Most Popular category of the App Market.
Facebook Like – Pretty obvious from the name; you can use this app to add a cool Facebook Like button to your posts. The great news is that the look of the button can be customized by you, and the post will be visible on the profile pages of the users who like your post or content. Also, the comments made by viewers expose your content to hundreds and thousands of Facebook users through visibility on the profile pages of the viewers' Facebook accounts.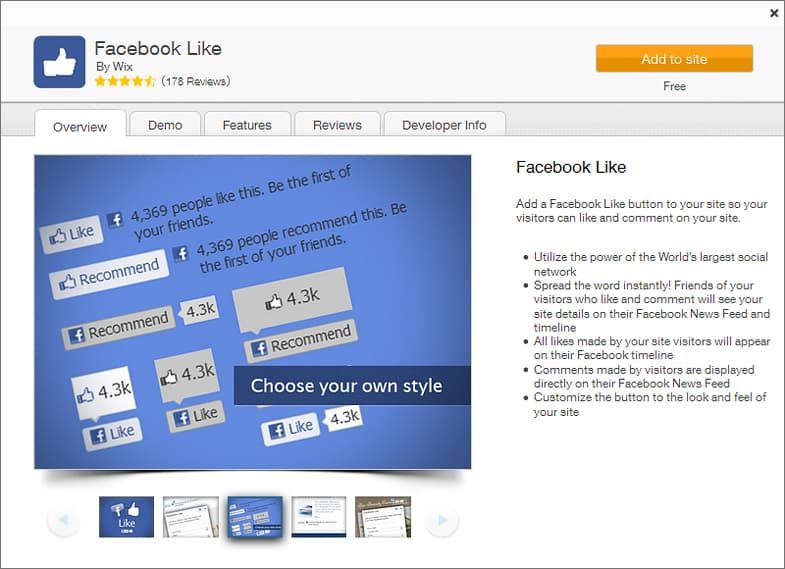 Comments – If you wish to allow viewers to post their opinions on your website's pages, use the Comments plugin that helps you do everything pertaining to enabling user comments. Moderating the comments is easily enabled, which helps you keep the look of the web page in shape. Moreover, you can enhance the SEO potential of the website using the comments section. You get email notification when a viewer posts comments on any of your website's pages. There are several design options for the comments section, so you can be certain that it will blend beautifully to the web page's design.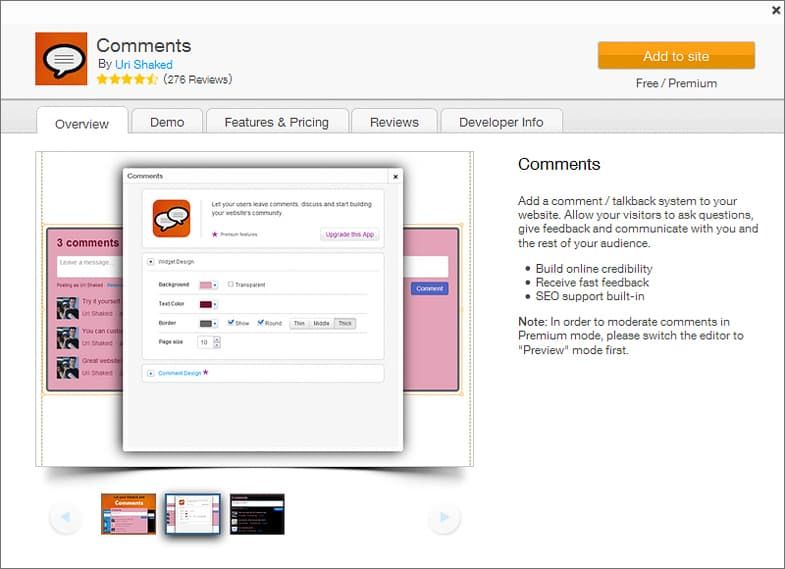 Tint – Bringing together all social network feeds to single platform, Tint is everything you can ask for to execute coherent marketing campaigns using social media. For starters, you can create Social Hub, bringing in feeds from all social networks, thus adding to the content richness of your web pages. Then, you can communicate all that is being said about your brand by people on other social networks, using hashtags. You can even integrate your Facebook contests into the mix and leverage the wholesome coverage of Tint to get in more participants.
PayPal – If your website began as a content centric collection of web pages, do not hesitate from making it a revenue farm for yourself, as you have the simple PayPal app seal the deal for you. If you're offering digital content for download, or just beseeching your visitors to donate to the website if they wish to see you continuing, you can depend on the PayPal button to allow visitors to make payments in a few clicks. Truly, the integration of the payment processor can make your website all the more powerful and financially useful for you.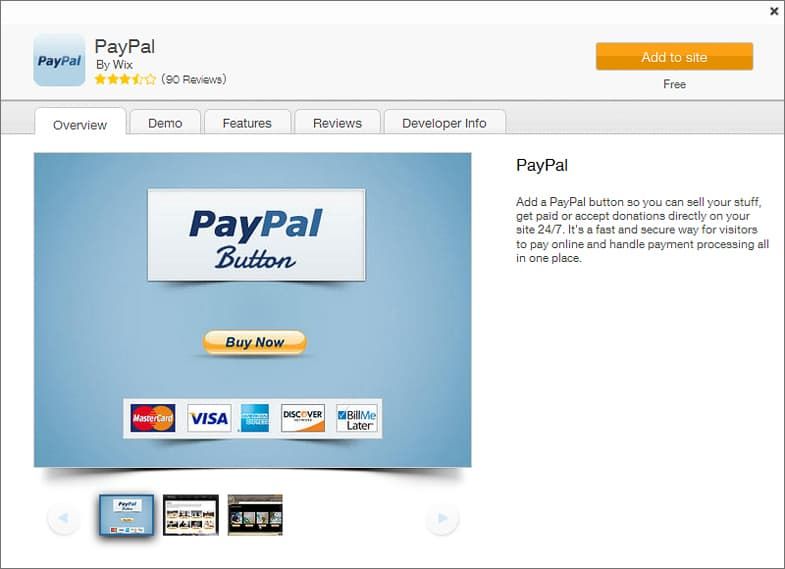 123 Form Builder – Making forms actually becomes as easy as counting 1-2-3 when you have this amazing app installed for your Wix website. Either choose from the dozens of preset forms that the app brings with itself, or create something unique and exactly suited for you web pages using the form builder. Personalizing standard forms is a breezy affair with this app by your side. There are literally thousands of combinations of styles and colors for you to experiment with, when you are done with creating customized forms.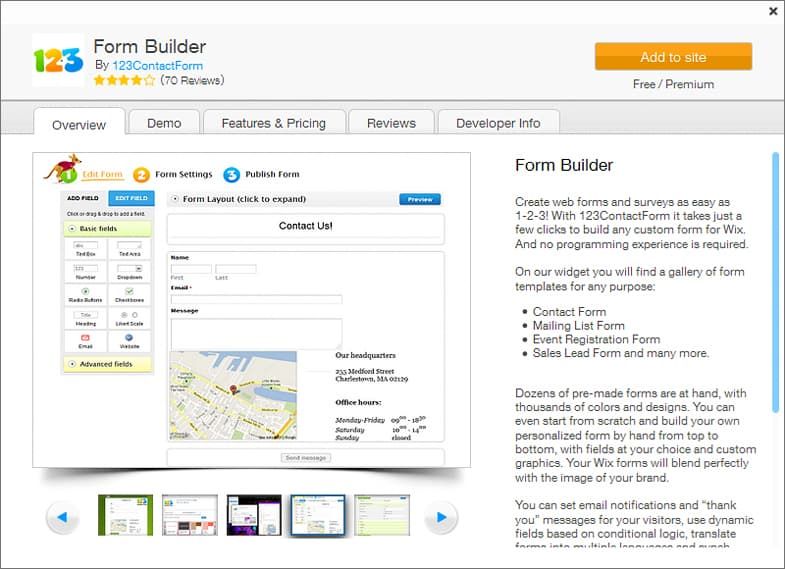 Web Stat – As a website's administrator or content manager, your actions should ideally be directed towards improving the content by making it aligned to the preferences of the viewers. Web Stat helps you do just that. Use important information such as the most popular and least popular pages on your website, the number of visitors online viewing your web pages, the search engines and keywords that lead people to your website, kinds of devices used by people to surf to your website and the geographical identities of the visitors, apart from much else to devise great content plans. Managing the massive data created by the app is easy, and you can print, email and download it as per your convenience. The app has been ruling the web and traffic analytics roost since 19997, and there's every reason for you to join the family of 10,000+ websites currently using this app to great effect.
Google Event Calendar – Here's the most desirable app for all those of you who're trying to use the website to promote your services. Integrate your Google Calendar with the website using this app and communicate about your upcoming performances, promotional events, discount hours, special menus, etc., to your visitors using a smart calendar. The looks of the calendar and level of detailing can be customized as per your desires.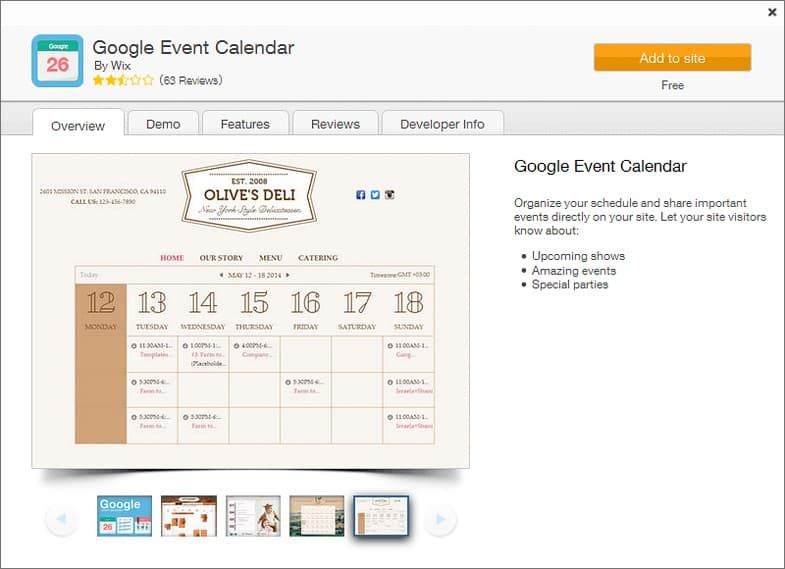 Adding your favorite apps to your website
Wix App Market is a thoroughly fulfilling experience, be it in terms of the coverage of apps or in terms of the presentation of the content and the ease with which you can use the same. Adding your chosen apps to your website is as simple as a couple of mouse clicks. When you're browsing through the App Market, just click on the app that you want to know more about or add directly to your Wix website. A little sneak peek into the features and functions of the app can be had even before you click on it, visible to you when you bring your mouse cursor on the app's icon. Once you see the App's window emerge on the screen, you can know all that you want, using the various tabs of the window. There are tabs such as Overview, Features, Reviews, Developer Info, and Demo. So, there's no information disconnection of any sort. The Features tab enlists all the top benefits of using the app, and the developer info is where you can know more about the development team or individual behind the app. Use the Demo tab wherever available to see how the app would look like in action, and once convinced, just click on the Add App button to make it a part of your website.
Money matters – How much do these apps cost your pocket?
We told you about the App information window in the section above; let's enlighten you about the money matters now. The price of the app will also be visible on the window, that's only if the app is a premium one. The good news – a huge percentage of the apps laid out for you in the App Market is made up by free apps. You could get the benefits of world class apps such as Facebook and Twitter integration, bookings and scheduling management, admin related apps, etc., all without having to feel inside your pocket! Of course, though there's no dearth of free apps that can bring in a lot of added aplomb to your website, you'd also not mind using the premium subscription based apps because of the sheer distinction of their features. You'd also see apps that are priced based upon the membership package you have with Wix.
In order to add an app o your website, you can go to the App Market right from the website editor and then click on the app that you want to add. The pop up that comes up has several tabs, one of them being Features and Pricing. This is where you can see the pricing info of the app. In order to add it to the website, click on the Add App button at the top of the pop up. If the app is free, you'll not need to pay anything. In order to upgrade the app to its premium version, which will not have any of the limitations of the free version, you can go to the app on your editor and click on the purchase option to be able to taken to the payment stage.
Final words on the Wix App Market
Whereas it is tough to be able to compare website builders before you've spent enough time with them, Wix continues to be an automatic choice for many. Its App Market can be credited with the applauses; that's because this marketplace offers several paid and premium tools for Wix users to make their website do things they'd never thought possible. Because of the availability of hundreds of terrific apps on the App Market, Wix users can continue to build upon the effectiveness of their website, making them loyal for the website builder. The App Market, undoubtedly, makes Wix such a forceful and popular website builder.
Wix App Market Review