Why Millions of People Use Website Builders?
What are the benefits of website builders over other ways to get a website?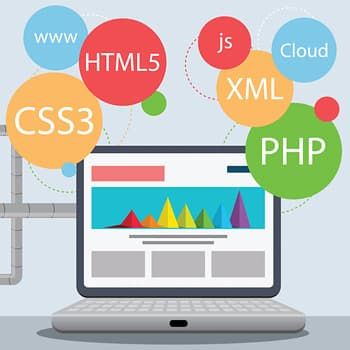 Contemporary website builders are the online platforms for creating ready-made and high-quality websites with many beneficial features. Thus, using a website builder does not mean you get a cheap and low quality website. Instead, the features of website builders guarantee that you can get an excellent online store with all the required features. You can also get a website with an interactive photo gallery and integrated with social networks. So, millions of people (and this is not a typo) around the world use website builders to get their websites. Why do they do this? What are the benefits of using website builders over other ways to get a website?
Despite that fact that now there are many different website builders new builders still appear, both free and paid. Demand creates supply. We decided to investigate why so many people use them and depicted advantages of website builders as infographic. For the research we've used 34 general website builders from our web builders list.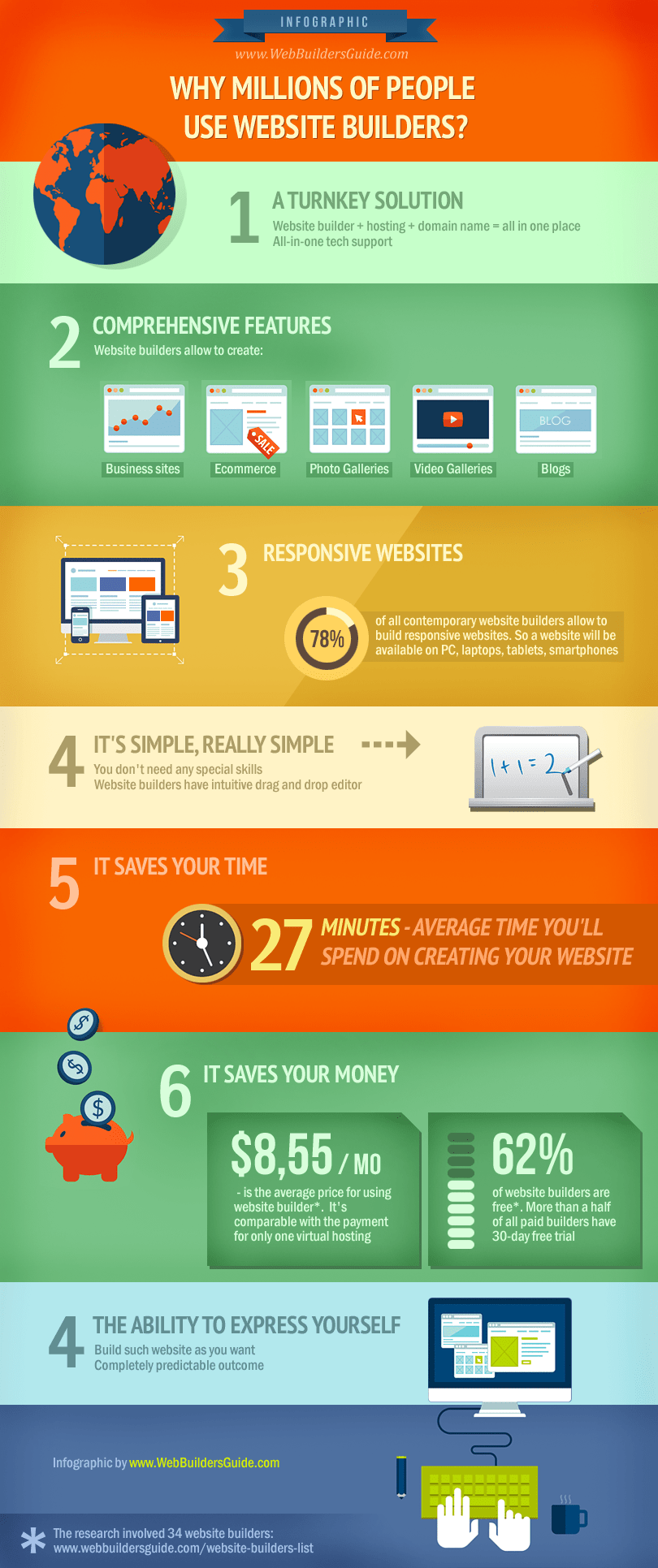 Important: If you like this infographic we would be grateful for its spread in social networks and on your blogs.
A turnkey solution
One of the outstanding benefits of website builders is that you get an absolute turnkey solution with a single technical support service. A turnkey solution includes a domain, web hosting and a website itself in one package; it can also be sold if the website builder is not free. It is rather convenient to have all the settings in one place. If you have any questions, you can always solve them using a single technical support service. 
Comprehensive features
Contemporary website builders help to create wide-functional websites. You can use your site as a blog, photo gallery; link it to your Facebook account, twitter or any other social network. With the help of web builders you can upload video or audio clips; you can sell those clips right from your website, or even use it as an online shop and sell any goods or services. Many of those features come for free; the others can be purchased by paying some extra or being included in a premium plan.
Responsive websites
At the present time up to the half of sites visitors using smartphones and tablets for Internet surfing. In future this number will become higher and higher so this is why it's so important to make your site available on all gadgets including PC, notebook or smartphone. 78% of all contemporary website builders allow to build responsive websites. So a website will be available on PC, laptops, tablets, smartphones.
It is simple, really simple
Another benefit of using website builders is that you do not need to be an expert in programming or web design. As a rule, you do not need to know anything about web development. The editing program settings of the best website builders are quite simple so that even a teenager can easily understand how to work with it. It has to do about a "drag-n-drop" editing program that works as if you drag anything you need and drop it anywhere you need. It is similar to moving the folders on your desktop. Everything is simple and at the same time effective.
It saves your time
The forth benefit of website builders is that it saves your time. Using website builders allows you to create a website in minutes and you can always adjust it based on your requirements. It is also possible to change the web template and your website will gain a completely different look. Most of the time is spent on selecting a suitable website template since many website builders have a great collection of colorful web templates. Then you edit website design based on your preferences. As a rule, it takes from 5 minutes to 1 hour. Compare this time to writing a technical specification for a web design agency; it is also similar to explaining the details to a freelancer. The benefits of using a website builder are obvious.
It saves your money
The third benefit is that it is economically very cost-effective or absolutely free of charge. Many website builders are free or they offer additional options for your website at a monthly fee. This fee is rather small and often it does not exceed the monthly charge for the shared hosting that is needed unless you decide to use website builders. It is also important that using website builders does not require you to pay anything in advance as in case of using website development companies or freelance services. There is no risk at all if you use website builders for developing your website. 
The ability to express yourself
The final but not the least important benefit is that the websites developed using online website builders are as beautiful images that please your eyes. A bit of your imagination and a good "taste" will make your website truly memorable. Today when everything is bought already assembled it is especially pleasant to know that you have developed your website on your own. Hardly you purchase clothing based on your own design or have the ability to create your own individual fragrance. Everything in our life is thought out in advance and made by other people. By creating your website on your own you put in a piece of yourself by creating your website exactly as you see it. You are the creator and that brings a great personal satisfaction. It is unlikely that you will experience this feeling, having ordered a ready-made website in any other company.
So, if you are ready – go ahead! Select the appropriate paid or free website builder and create your own website today.
Why Millions of People Use Builders?