Ucraft Review – what are its strengths?
WebBuildersGuide.com earns commission from some of the web builders and hosting providers listed on this website.
Learn more
Ucraft – the simplest way of designing the best websites for all purposes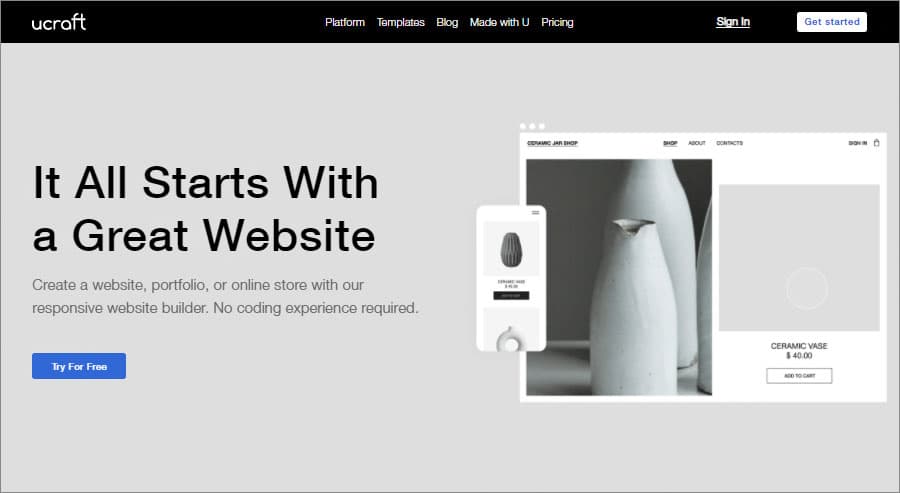 Ucraft is an great website builder which fulfills the deepest desires of the website builders who are looking to say goodbye to messy layouts, unnecessary coding hassles and poor domains. Ucraft is the only reality which allows novice builders to efface the differences between the concept of a responsive, live website and a true to life responsive website which can become a medium for all the bloggers, artists and entrepreneurs to reach out to a larger audience with a click.
Why Ucraft?
Ucraft makes it possible for anyone to go online with the click of a single button. Ucraft provides a huge selection of templates for all users and web developers. These templates range from the very simple dual-color responsive designs to the more suave, responsive, complex patterns with transition actions. You can pick any of the templates from the hundreds of categories as per your choice and requirement. Ucraft puts you on a path to a wonderful looking, unique website. In fact, all of the templates have drag and drop editing feature activated. This makes it even easier for website developers to create their own website without any kind of coding clutter.
You can browse the thousands of templates or experiment with landing pages for the website you are working for. But one thing is for sure, working with Ucraft gives you a 360 degree experience of website building while carefully bypassing all the fuss about coding. All the while giving you the option to choose from a wide range of colors, themes and design options for your upcoming website. Ucraft is a complete experience which encompasses a lot more than just website building. Working on Ucraft means gaining a wholesome experience of integrated blogging, social networking and web promotions. It is quite an amazing option for web entrepreneurs since it has features that include SEO enhancements, e-commerce application integration and payment method integrations.
Now without further ado, let us take you on a virtual tour of Ucraft website creation processes. This will include a regular dose of all the builder functions and a tinsel touch of the pros and cons of using this web-builder for personal as well as professional purposes.
How to get started with Ucraft?
To initiate the process just click on the "Start Crafting" option on the Ucraft website. Working with Ucraft is like taking a live coaching from the best web designing experts. So start your journey with the best guidance which will lead you to the best, original website design of this century.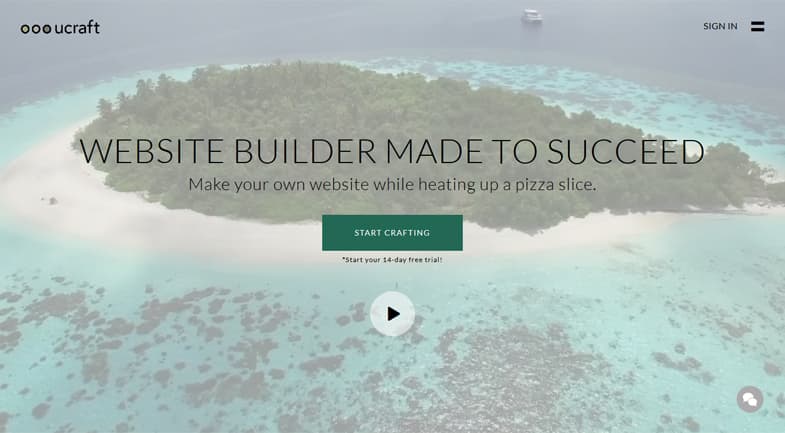 Ucraft has made it a child's play to design websites for all purposes with the blink of an eye. To begin with the designing process, you need to first select a template from among the hundreds of templates present in the library. From simple one-page designs to multiple page, responsive templates you can pick any that suits your fancy. You can select from among the eight different categories which host the most sought after templates of the day. From business to portfolio, you can find all categories of website templates at this one-stop shop.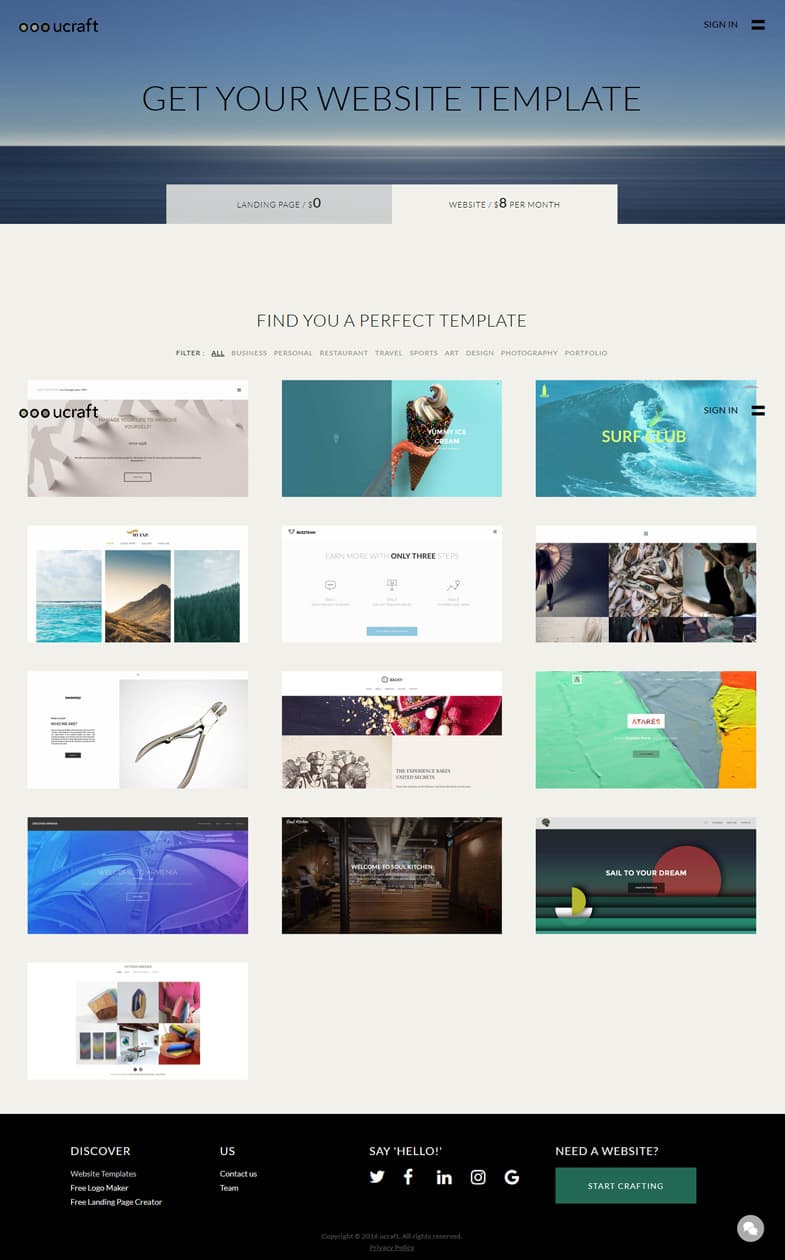 If you are not sure about an investment right at this moment, how about a trial period which gives you the freedom to explore all the possibilities of the new template without the imposition of paying precious dollars every month? The 14-day trial period offer actually allows users like to find the template the fits best with our necessities.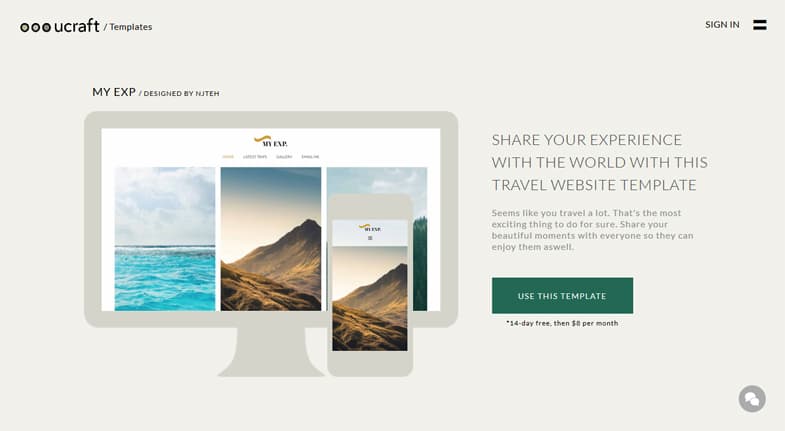 You can begin with christening your website. The name is usually personal or comes from the name of your business or enterprise. All you need to do with Ucraft is enter the name and hit the "Create Site" option beside the name. This is quite early in the website design phase and so we suggest that you take your time and pick a name that reflects your business personality and purpose.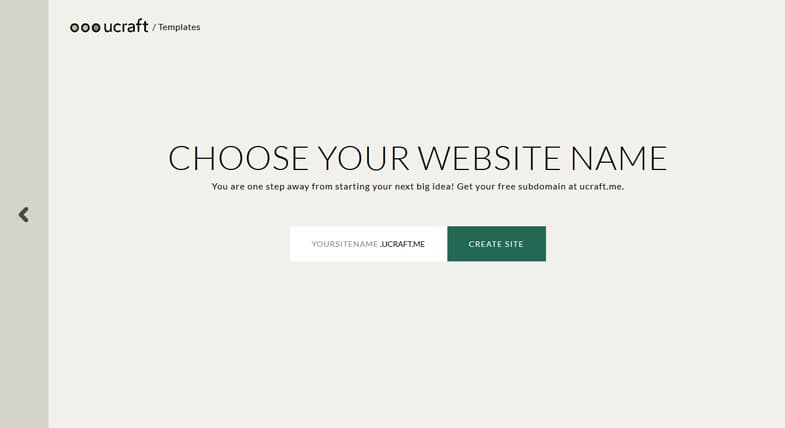 After this you will be prompted to watch a video tutorial which will describe the building process and the controls for the Ucraft templates. The steps are extremely detailed and make it perfect for laymen to create amazing websites. All in all, everyone will feel in control while making a website based on Ucraft templates and while using the Ucraft builder.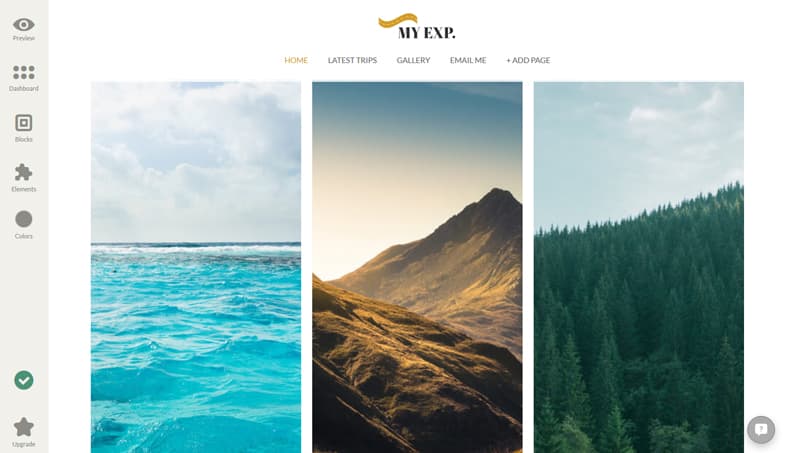 4. The main screen has a left panel with all the tools a rookie designer might need to craft something absolutely unique and stunning from the basic stencils provided by the website. Honestly, the left sidebar is where all the action begins. From preview options to colour options, one can find everything necessary for making their website stand out in the crowd. So let us explore the sidebar options a little further to understand what you will be awarded with, once you sign in to Ucraft.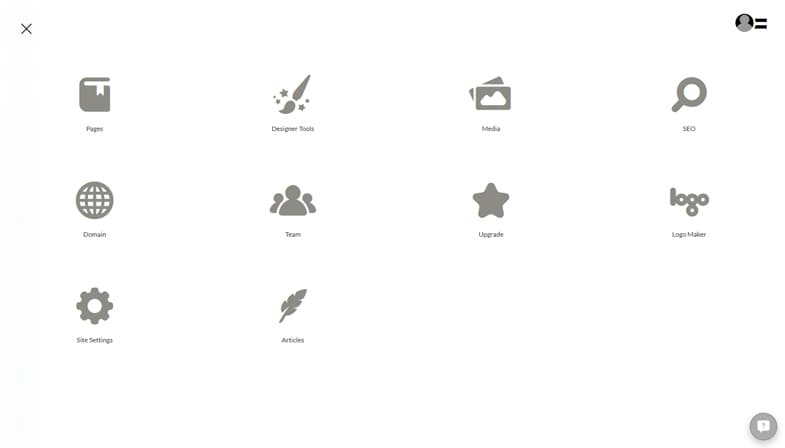 The options on the left panel include Dashboard. The Dashboard is one of the key options while building a website. One can find the option of adding pages, making logos, setting SEOs and media right here. So the Dashboard is where all the action lies in the Ucraft website maker. You can create the main pages including home, works, bio and contacts from the page button itself. All the pages are completely editable and believe it or not, it takes just 2 minutes to create each page provided you have an idea about your colour choices and content. You can also manage all your website articles from the articles option of Dashboard. You can edit and manage your domain, teams and even upgrade to a template with unlimited pages and personal support from Ucraft right from the left panel.
The elements option on the left panel gives you access to a plethora of options extremely necessary for all website creators. You can add separate titles to each of the pages in addition to creating and embossing logos on them.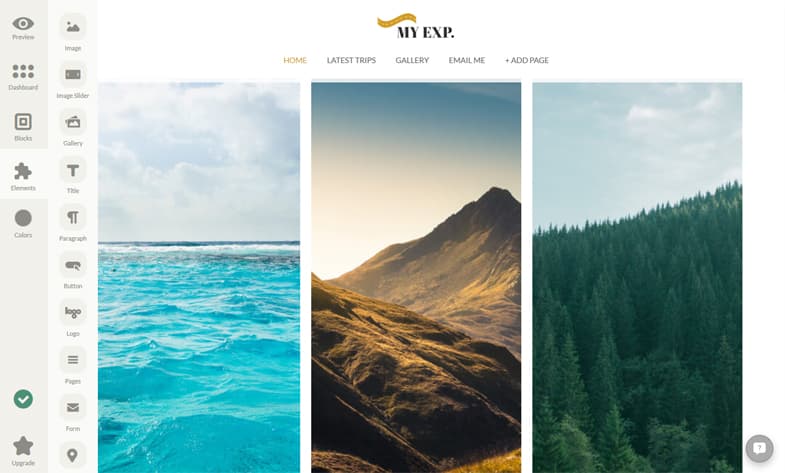 You can also add different forms with various fields for your website, complete with maps and videos which complement your website content with multimedia options. You can enjoy the functions of social icons, Sound Cloud integration and countdown timers simply by dragging and dropping all the elements from the left panel of the website.
Blocks are very important when it comes to personally crafted websites. You can add main blocks like forms, social widgets and icons and even covers for your websites with the click of just one button. Website building has evolved with Ucraft such that you do not have to insert each and every element separately. This option not only saves labor, it saves hours of hard work which would otherwise be required to add specific short codes for each element.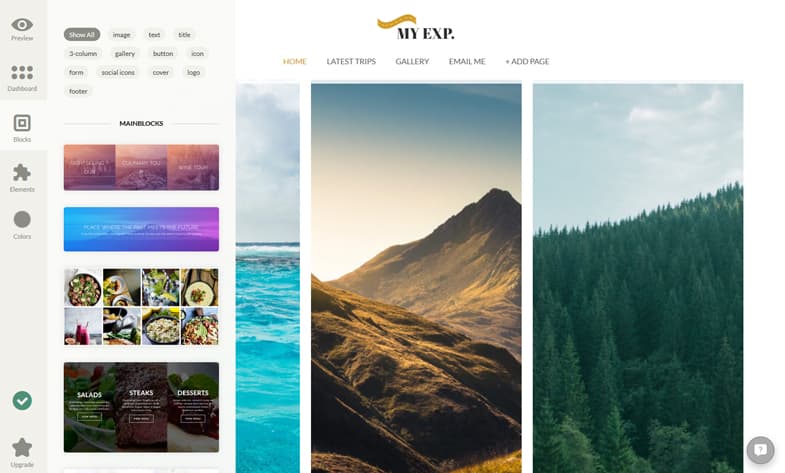 Quite surprisingly, this simplistic website builder does not come with a horizontal menu bar that is ubiquitous for the other contemporary website builders. The lack of the usual undo, redo and copy-paste buttons does not make it as difficult as one might assume since you get to edit each and every element individually. For example, every added image can be edited with the help of embedded magic tools. In addition to that, you can also manage each and every block at one go. From the addition of new images and backgrounds to the complete removal of the individual blocks, you can enjoy complete liberty when it comes to Ucraft and website building.
The best plans and packages from Ucraft
Ucraft gives a wonderful chance to try out the website builder for free for 14 days. This means, 2 weeks of basic tweaking with the free templates. However, this free trial period has quite a few restrictions. From the lack of access to blocks to limitations in using the designer tools, one can find their creativity restricted by the lack of available tools and online resources.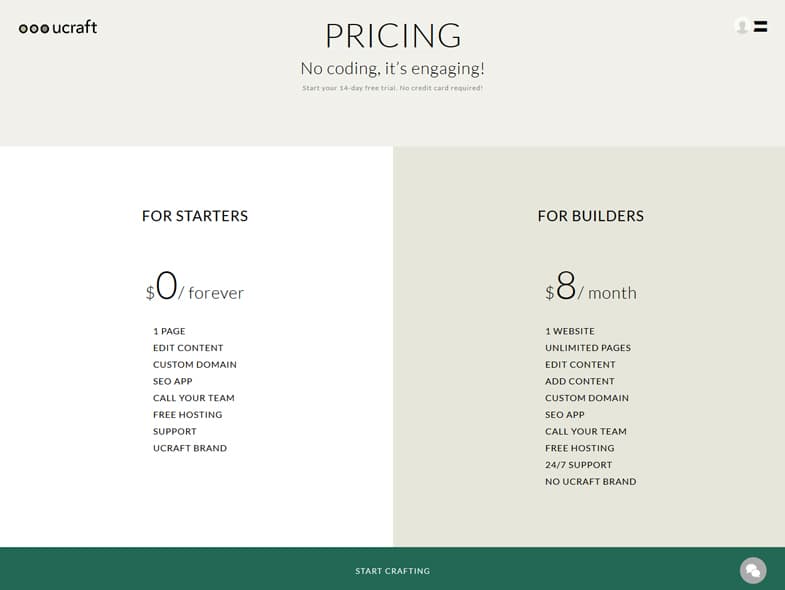 Check actual prices on Ucraft website
The $0/forever pack is ideal for starters who want to get an idea about website building. This provides users with a one-page template with demo content. You can add your own custom domain and SEO apps to idealize your website and get it up and running in less than an hour's time. Ucraft also provides free hosting and support for the starter pack. All this makes Ucraft one of the best free website builder software.
The one ideal for builders comes as cheap as $8/month. In this plan you can enjoy 1 website with multiple page addition. You can edit all demo content and add new content as well. In addition to the SEO apps and free hosting you can also enjoy 24/7 Ucraft support. In fact, the business plan from Ucraft gives you complete control of your website, you will not have any Ucraft branding to your brand new website. Once you are on the paid, premium plan you can have as many websites as you wish on Ucraft, however the number of landing pages are restricted to only 5!
In addition to these plans and packs you can add other tools which add more power to your website builder. They can be paid for, separately, just like the designer tool for $2.99, which you have to play just once for unlimited use and complete control. In short, this is like experiencing Photoshop like quality only with much more ease and dexterity.
With their premium plan you can enjoy the services of all the tools including the EO builder and domain editor for free. Ucraft ensures the creation of a premium website in the most hassle-free and efficient way possible.
What we want you to take away
Ucraft does not make you believe that there is a scarcity of good website builders out there. But it simply puts forth the pros of using a simple and well-designed builder which can get you your own business website within an hour. As a matter of fact, getting a website builder which will guide you through all the steps of making your very own and possibly the very first website begins with Ucraft. Using Ucraft is like taking premium training for the website building process from scratch. However, Ucraft also gives you the necessary platform which allows you to enjoy all the power of control and creativity needed for making the very best website in tech-town. You can permanently say goodbye to annoying forms and registration options posed by most of the other commonly visited website builders online.
Ucraft gives you much more than a few scattered images and reluctant demo content to begin with. That is how Ucraft is better than the other contemporary website builders. This builder has a responsive, drag and drop interface which can be worked on from any device and OS. The websites are also cross-browser and cross-OSx compatible. Ucraft allows the creators to explore the different nuances of website creation. What most builders find amazing is the free web hosting and domain provided by Ucraft for users, forever.
A number of website empowering features including SEO packs, designer tool packs, main blocks, logo addition, page addition and management. One can also enjoy guided keywords and SEO suggestions to integrate SRL friendly options into your website. Ucraft is possibly the most customizable website builder which is as suitable for professionals as it is for novices. Everything, including the prices of the premium packages make Ucraft extremely lucrative for all the users, all over the world.