Sky is the Limit With Zoey – A Fully Loaded, Powerful, and User Friendly E-store builder
Serious and ambitious entrepreneurs and business can do with nothing less than the most limitless, scalable, future proof, and value adding IT assets to grow their enterprises. For anybody looking for an ecommerce website builder and manager – all bundled into one – Zoey.com is the answer.
Zoey has been able to carve out a handsome reputation in a saturated market space, by differentiating itself from other popular website builders such as Shopify and Bigcommerce, by going a few steps higher in terms of features and functionalities offered.
We intend to not only apprise you of the wonderful and powerful features and benefits of Zoey as an ecommerce website builder, but will also take you through a quick ride explaining you can set a basic ecommerce web portal up in a few minutes. Let's begin with a quick look into how Zoey solves all your ecommerce builder issues.
Positioned as an ecommerce website builder that's fully loaded, yet simple enough to be used by an entrepreneur with no knowledge of coding, web development, or computer languages, Zoey is a one stop solution for anybody's ecommerce web builder needs.
Right from bringing you splendid storefronts in the form of brilliant customizable themes, to offering a pure WYSIWYG styled interface, Zoey gets the important boxes ticked pretty early. It's only when you deep dive into the interface that you come to know of the level of customizations and controls it offer.
Once you set your store up, Zoey unfurls its bouquet of marketing and sales oriented features that help you multiple your numbers, driven by your ecommerce portal.
Without further ado, let's take the leap into Zoey, and learn how to set an ecommerce website up using it.
How to set your e-store up using Zoey?
Visit the Zoey.com homepage to get started. The landing page packs a punch, as Zoey doesn't mince any words in claiming its supremacy in the ecommerce builder market space. We suggest you give the page a read, to get a whiff of the flavors that await you.
Once done, click on the "Start Free Trial" button to the top right of the page, your first step towards a kickass ecommerce store.
Zoey website builder
You can start enjoying a free trial for 14 days, and the best part – you don't have to part with your credit card details for that. Whereas most ecommerce builders only offer you the free trial once you share your credit card details, Zoey makes things simpler, just like you'd want it. Just key in your email address and a password, and off you fly.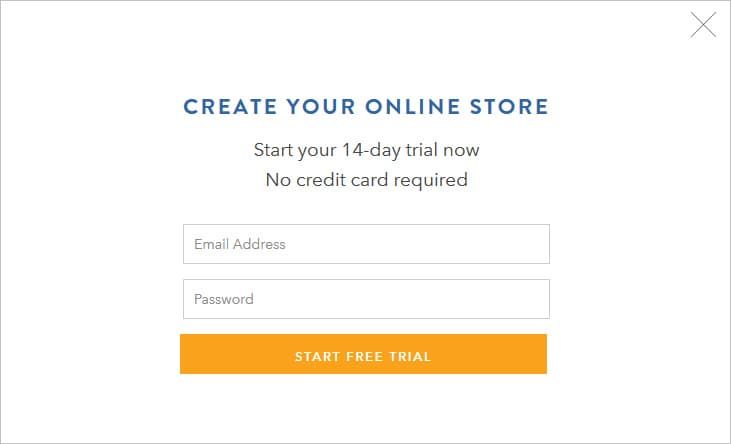 Start 14-day free trial
Prepare to be excited, as your store's basic structure is erected for you in the background.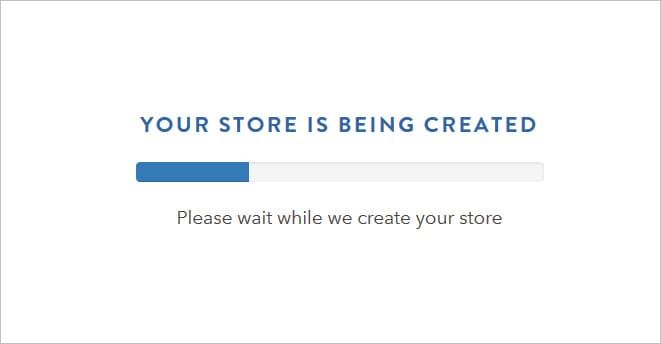 Creating a free website
Just like in any commerce management software, you begin by business name, address, currency, language, and contact information.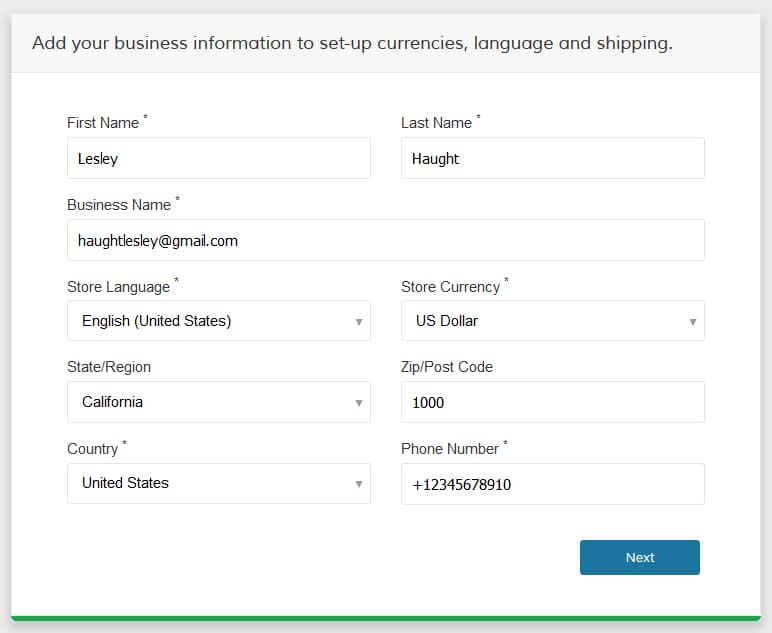 Filling a personal information
The next dialog box captures other additional basic details.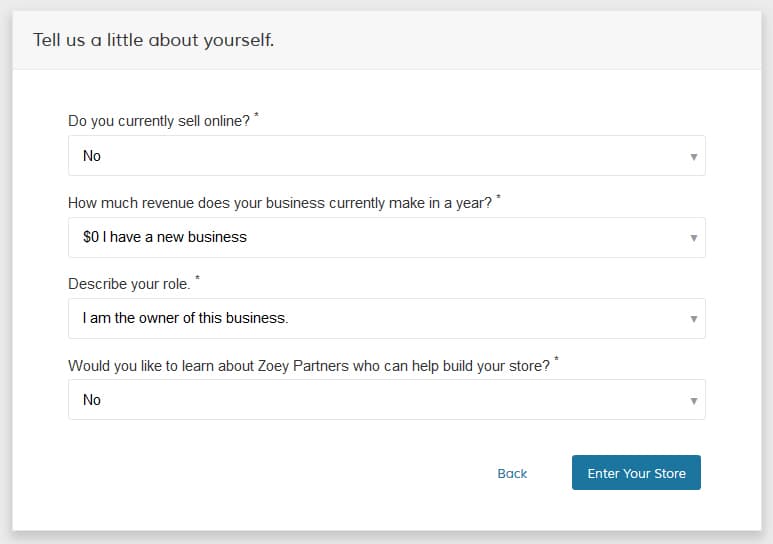 Additional basic details
Congratulations, you are now at the business end of the journey, as the dashboard appears on your screen.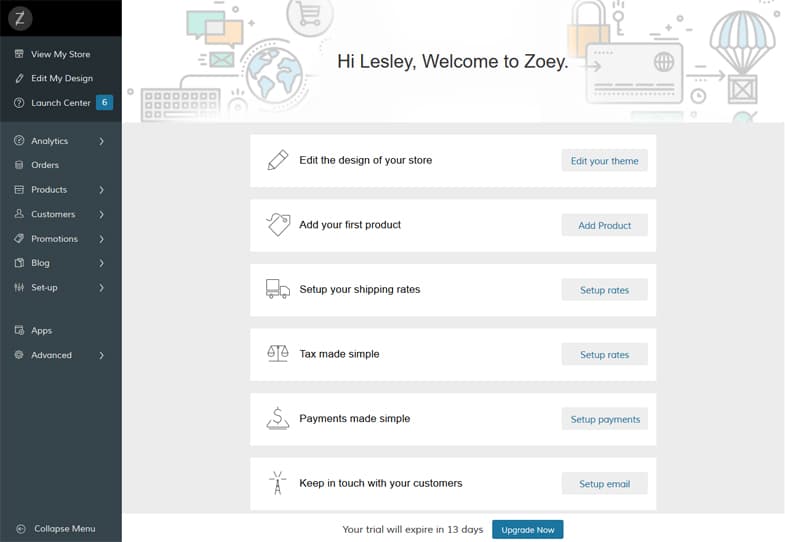 Zoey dashboard
Let's go step by step now, beginning with the aesthetics of the website.
Manage the Look and Feel – To manage this, choose the 'Edit your theme' button, which takes you to the theme management and editing options.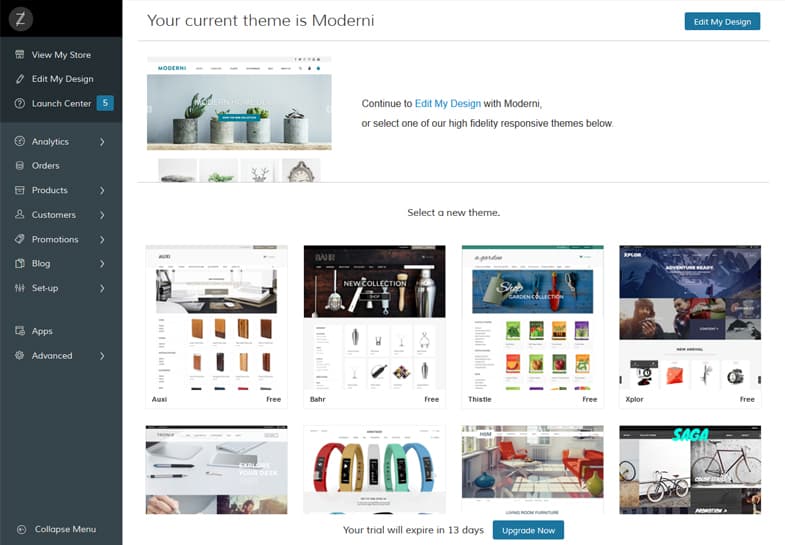 Zoey website templates
Here are key things to know:
You begin with a default theme, which you can edit, or completely replace with something else.
Click on the "Edit my design" option to edit current them.
Else, select from the equally amazing other themes. Zoey had gone the "quality over quantity" route here, providing you a limited number of splendid themes, bringing together modern design philosophies with intelligent choices of colors, stock images, etc.
The "Edit my design" option allows you to alter the look and feel of each page of your website.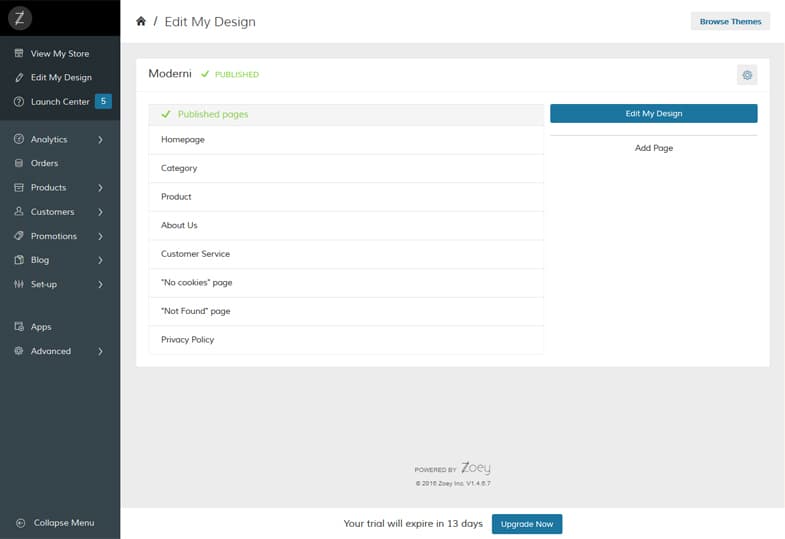 Edit list of pages
You can easily drag and reposition any content element of any page, right from the search box on top to any product tile. Plus, most content elements have their own settings, which are accessible when you move the mouse cursor over it.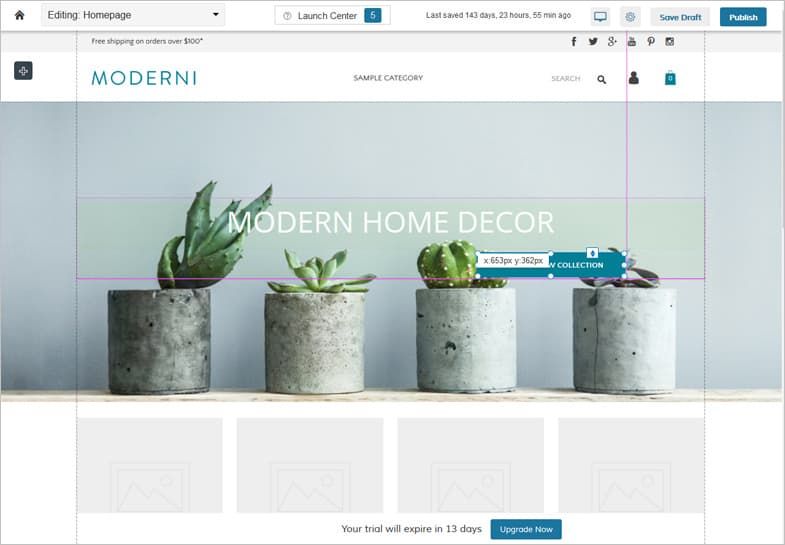 Reposition of any design element or content
We leave you to explore the exciting world of page design with Zoey's intuitive and powerful WYSIWYG interface, and jump on to the other major options.
Add Products and Configure – From the control panel, use the Add Product option to add your first product to the store. Provide the basic details, and save.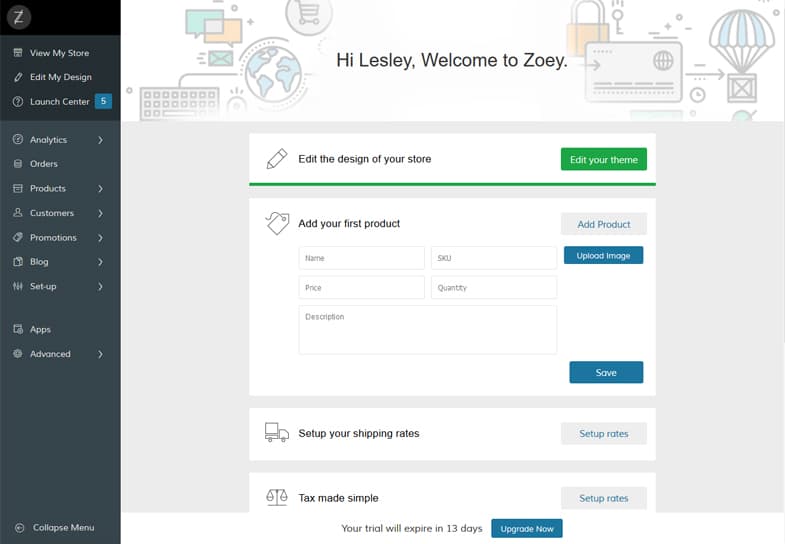 Adding a product
This creates other options, such as viewing the added product, and managing products. The Manage Products button takes you to the fully fledged product management control panel, where you can choose from several product presets and add all kinds of products and variants to your e-store shelves.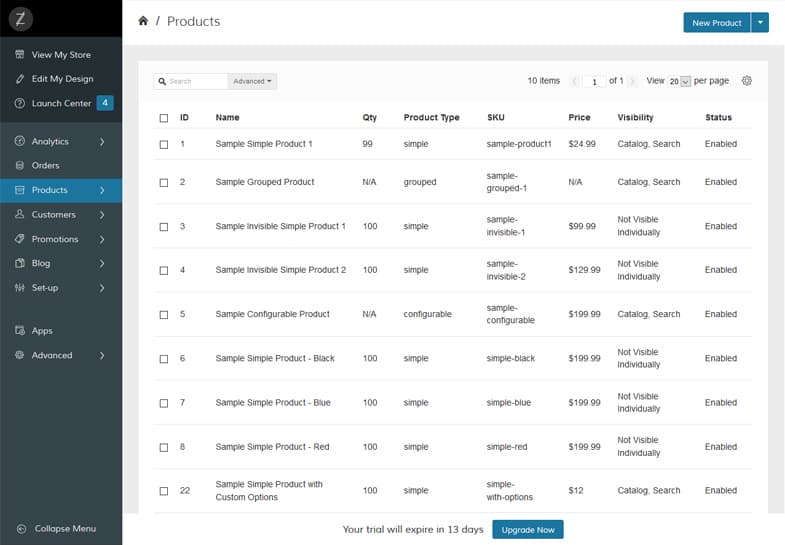 List of products
There is a lot of configuration and fine tuning possible with every product; just clock in the preset product type and get going. From product images to special pricing, inventory management to shipment handling, all aspects can be mapped in the e-store from this panel.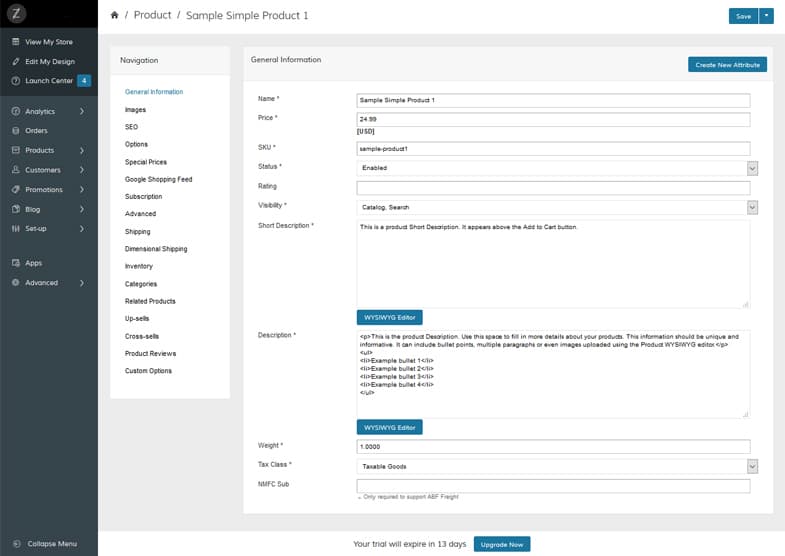 Additional information for a product
Manage Logistics and Payment Settings – Time to set shipping charges, taxes, and to manage payment options now.
Shipping – Click on "Manage rates" in shipping section, and define either a flat rate or conditional free shipping rule.

Shipping options
Too simple? No worries; go to the advanced shipping manager, and configure all kinds of shipping calculation rules. Plus, you can choose from several pre-configured shipping methods, that you can leverage if you are using dedicated shipping management services.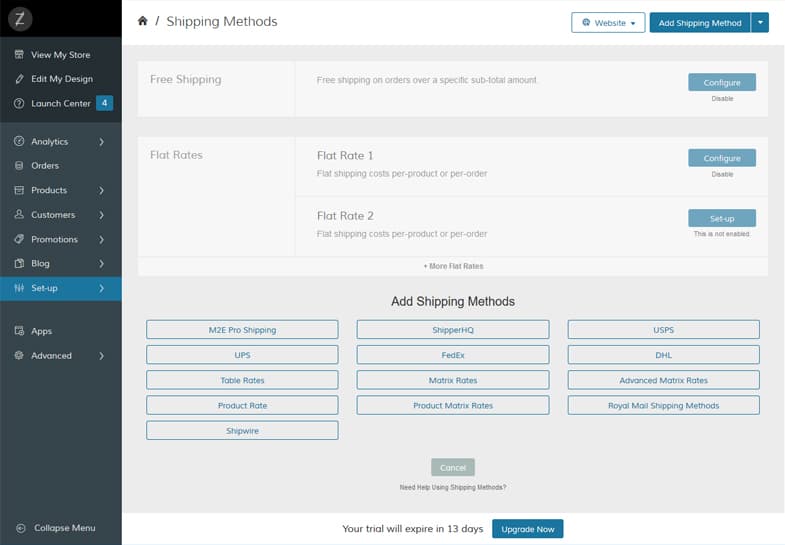 Shipping methods
Taxes – When you click on Manage Rates button, the expanded message shows you the Edit Tax Settings option, which leads you to the sophisticated taxation management panel. To make things simple; Zoey offers a tour, we recommend you take it.

Edit Tax settings
Tax rules for general taxation, product specific taxations, region specific taxations, and customer based taxation – everything is possible, from dedicated management settings provided by Zoey. Like we said, Zoey is all about no holds barred, fully loaded, sophisticated ecommerce management. So right from local sales to exports and imports, you can manage everything. Call it a very basic sales management system in its own rights.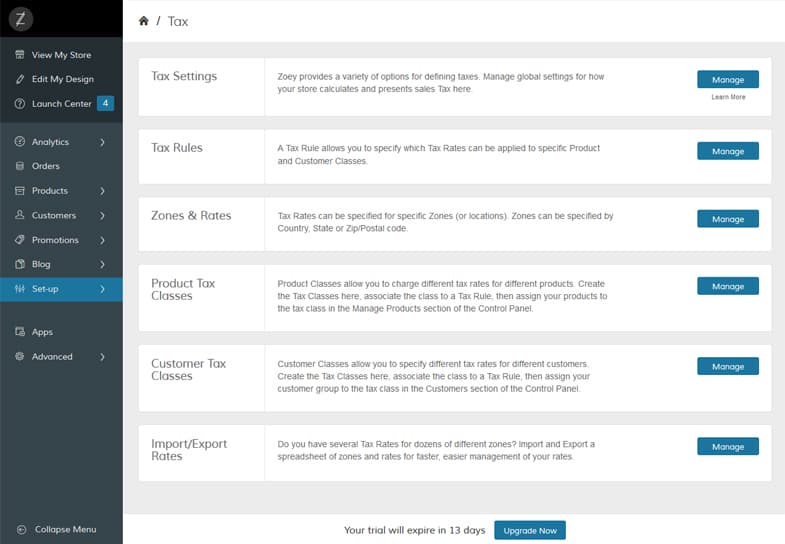 Tax settings
Payments – Click on 'Setup payments' and then 'Add Payments' to access the options. From Paypal to credit card payments, and even card-less checkout where customers can pay by cash – you can offer all kind of payment options to users.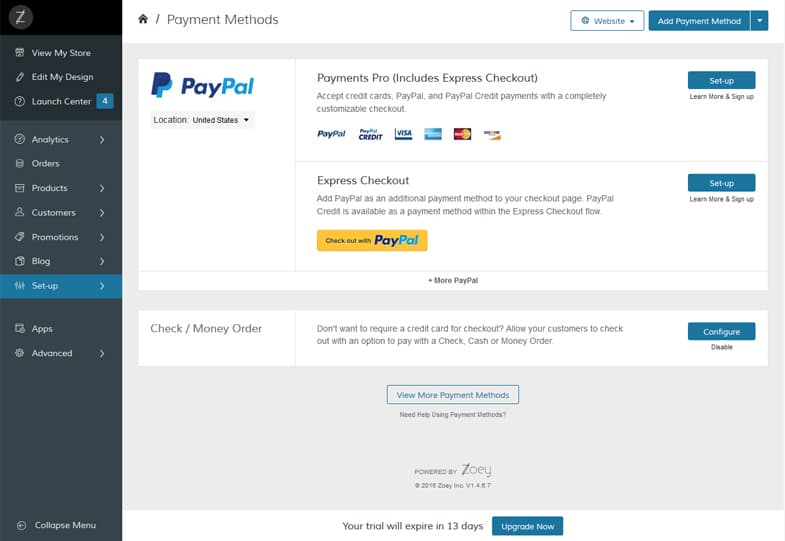 Payment methods
You can fine tune the basic settings of these payment methods, and add new payment options. Of course, there are several preset payment options too, from Stripe to X-Payments.

Add payment method
Setup email – In order to stay in touch with customers, add a store email address using the "Setup email" button.

Setting up email
Zoey Support Center – When in doubt, look no further than Zoey's support center.
You can access detailed instructions about everything you might need to do to set your store up, and to manage daily operations. Plus, you get instructions for raising support tickets and contacting Zoey, right here.
Till this point in time, most of the work is already done. Now, let's understand the sidebar of the control panel a little better. Because Zoey is a truly sophisticated and advanced e-store builder, the sidebar's options cascade into several levels, getting intricate. We'll just give you an overview of some of the major panels of this sidebar.
Analytics: This is where you get the black and white reports that will help you make sense of the data generated in your enterprise every day. Analytics related to customers, inventories, marketing, orders, purchasing – you get everything here.
Orders: This is where all your orders' info is saved; you can export this info offline.
Products: Create product lists, set product attributes, and manage product categories from here. Plus, you can manage reviews and ratings for listed products from this panel.
Customers: Manage customers, create customer groups, and handle all configuration settings such as customer login options, account options, etc.
Promotions: You can create all kinds of complicated promotional pricing rules using the options from this panel.
Blog: Modern e-stores are always accompanied by an integrated blog; Zoey lets you manage yours using this panel. Add posts, moderate comments, make edits – everything, right from here.
Set-up: This is your quick access panel to all the settings we have already discussed, that is, shipping, taxation, payments, etc. Checkout settings and site config settings are also housed in options placed under this panel.
Advanced: This panel houses options such as API config, URL management, data exports, caching and indexing, and maintenance.
There you have it, your e-store is not set up, and you are also aware of the kind of options, configurations, and functionalities that Zoey offers. Now, on to the next big question in your head.
Why Zoey?
Good question; let's tell you how Zoey excels by delivering great value without clutter on 4 major parameters.
Aesthetics The pure drag and drop interface makes the presence of any web developer redundant; what more does an entrepreneur ask for? Create responsive web pages in a jiffy; use any of the dozens of preset design assets such as slideshows, menus, and banners. Snap to guides help you create crisp looking pages in minutes. The, there is the style editor to help you move past competitors purely because of a mor appealing web design. Zoey sends out regular updates, so there's always something to look out for in terms of added functionalities, design or otherwise.
Marketing and Sales With Zoey, you can do a lot more than just sell; you can sell more. The simple yet powerful customization settings allow you to create all kinds of promotional pricing deals. Organize customers in groups and price products to them accordingly. Also, you can offer gift cards for existing customers, indirectly paving way for more customers. Your SEO admin can manage even the most sophisticated campaigns in-house, courtesy the plethora of strong SEO tools. Plus, conversion rate optimization tools mean you will always sell more than what you'd dousing any other platform. Then, there are features to help you manage abandoned cards. Run email marketing programs, and make sense of analytics without hiring a dedicated analytics expert.
IT Infrastructure and resources It's imperative for any ecommerce website to be swift, scalable, secure, and stable. With Zoey, you have everything looked after. CDN ensures super quick site page loading, unlimited bandwidth makes your web portal enabled for peak traffic handling, and in-region hosting option means you can pick the most appropriate server based on the geographies you with to cater to the most. Zoey team monitors the platform 24×7, and there's HTTPS and PCI compliance to top it all, delivering security that makes you feel at ease, always. You will never have to contemplate the question of making a migration once you're on Zoey; like we said, it's future ready.
Agility in Operations An ecommerce builder has always got to be measured on two fronts; the visual quotient, and the functional quotient. Any hassles in how you handle daily operations with the portal can bite back your business. Zoey is the perfect cocktail o all flavors, delivering the best in terms of operational control. Manage billing and payments with integration to more than 50 gateways, handle shipping with advanced customization options, take control of all kind of inventory easily, and integrate with other channels, POS, etc.
Plan Comparison
Now that you're interested, let's tell you about the different plans offered by Zoey. These plans have been structured so as to capture essential features for different scales and categories of businesses, and organizing them in differently priced packages. Zoey routinely offers discounts on long term membership.
Apart from the free trial, that we used to demonstrate the e-store building process in the last section, there are 3 different plans on offer – Professional, Business, and Premier. Let's find out the common features, and the differences among them.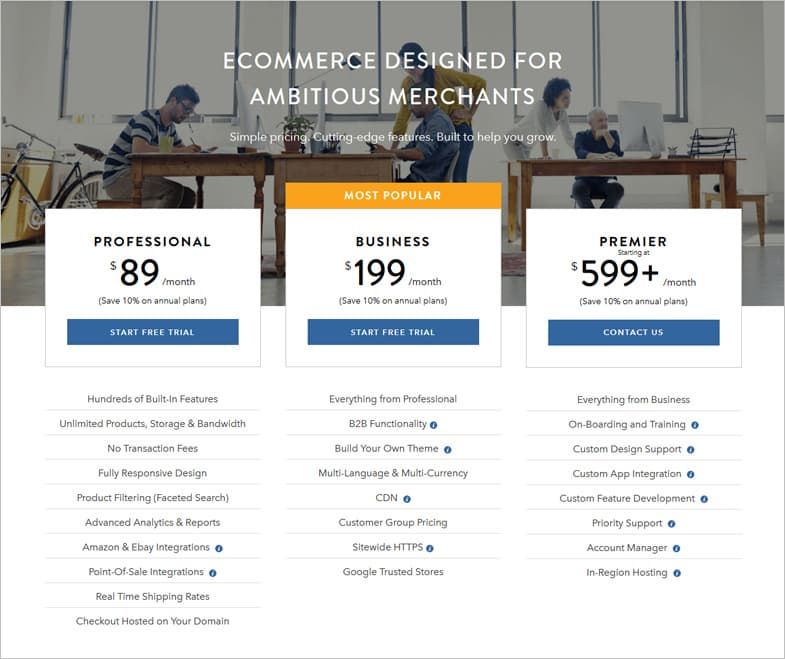 Check actual prices on Zoey.com
Professional Plan: Suitable for majorly all kinds of e-businesses, this plan brings to the table the standard features related to management of pricing, shipping, taxation, marketing, and operations. No transaction fees, real time shipping rate updates, unlimited bandwidth and storage, and your domain hosted checkouts – all make the Professional plan a suitable option for startups. You also get advanced analytics, apart from eBay, Amazon, and POS integration.
Business Plan: Ideal for businesses that have ideally gathered mass, and have a database of products, customers, transactions, business processes, and operational rules that need the computing power of advanced software, Business plan bundles together some exceptional features. Engage in B2B commerce, create aesthetics that suit your business the best, and enjoy multi currency and multi language support, truly globalizing your web commerce portal. Leverage customer pricing groups for segment management. Plus, you get more IT resources, with CDN allowing super swift page accesses, and site-wide HTTPS delivering the best in terms of security. Of course, this all's up and above what you get with the Professional plan.
Premier Plan: If even the Business plan's swashbuckling ecommerce management features are not enough for you, the Premier pack will have you satisfied. With a dedicated account manager, and on-boarding plus training, all you have to do is call the shots, as team Zoey does the customizations and setups for you. Also, you get custom design support and custom app integration, which makes your web store a truly powerful e-retailer. Priority support ensures any hassles you face are attended to quickly, and resolved. The best part – If you have a business process that demands more features, just ask for it, and Zoey's developers will do it for you.
Final Thoughts
An ecommerce website builder is a lot different from any other website builder, because there's so much more to do, and there's massive money at stake, every single day. The ecommerce builder market has always been known to be competitive, but with recognized couple of leaders.
Zoey changes all that, bringing together the best of all worlds, and positioning itself as an e-store builder for enterprises that are looking to leverage the power of web and IT to achieve significant success.
Zoey is all about no holds barred, no compromise, and user-centric e-store building. The software delivers powerful e-store building capabilities, and more importantly, does so without necessitating the need for dedicated web developers and designers.
The 3 plans are intelligently crafted to serve upon all kinds of business requirements while maintaining the pricing competitiveness of the service. The learning curve, for some, could be steep, because there are so many options to use. However, you'd rather have more options and not need them, rather than need them and not have them.
All in all, Zoey is here to stay, and is the perfect platform for you to jump on, if you are looking to setup or drive forth an enterprise in the virtual marketplace. Go for it.